Playwright and international artist Tony Fitzpatrick opened his third of three plays, Nickel History: A Nation of Heat at Steppenwolf's Garage Theatre in Chicago last Thursday. Fitzpatrick has a natural knack for storytelling, commanding a crowd and summoning the crowd to follow his lead. In this trilogy of plays, he uses this skill to probe the audience to find their deepest memories. In his first play, This Train, Fitzpatrick challenged our memory as a nation bringing into question our history with American Indians and the displaced hobos and immigrants through the years. In his second play, Stations Lost, he engaged us with stories of culture, racism and identity, begging our reflection on the same, using both humor and intellect as you can see in the clip below of a small excerpt performed on The Dinner Party. In this final play, Nickel History, he prods us to ask ourselves who we are as people by conjuring up his own ghosts and demons.
Fitzpatrick constructs his plays, in which he also stars, like he constructs his artwork: layers and layers of rich imagery, stringing stories together from varying points in time to make a complex and textured whole. In Nickel History, as in the other two plays, video images of Fitzpatrick's art work and Americana play intermittently throughout, as does live folk music. In bringing together these stimulating elements, he brings to the stage the essence of memory. In deed, what is memory except a collage of images, sounds, stories and smells that take us back in non-linear fashion to important moments of our history? This reconstructing and compounding of personal and common history over time is what makes the soul of a person, the soul of a culture, the soul of a nation, as we are all but a collage of our experiences tied together through hazy and powerful memories.
In Nick History, Tony resurrects his Father through the lessons that he tried to extend to the young and defiant artist-to-be. When Tony tells his Father that he will never put any real effort into much except drawing pictures, a stern life-dictate is delivered, " Then do it like you are fighting a war! Not one step backwards!"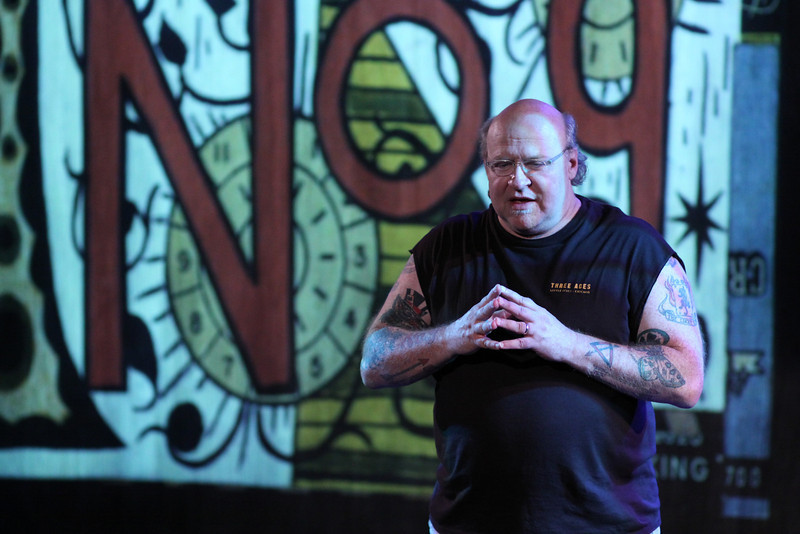 Photo Credit: Johnny Knight
Long-time friend and business manager of Fitzpatrick, Stan Klein, is the continuing sidekick in the series and it is great to see Klein come into his own in Nickel History. Klein brings to life images of his Father half-starved and joining the army, reminding us that they don't make men like this anymore. Both Klein and Fitzpatrick revive the past through personal histories, stories, lessons, and key junctures that made them who they are today, all from the modern day stage setting of their offices at Black Shamrock Press and Firecat Projects, and with the help of a 1940s pin-up muse, known as "Angel of Death." Their memories, some entertaining, some bone chilling, roll in and around music performed by John Rice and Anna Fermin, video created by Kristin Reeves, and a sometimes rollerblading muse, played by Carolyn Hoerdemann. For good measure, Fitzpatrick has also peppered in a few fun and endearing dances scenes, including a bit of disco from two decidedly un-disco-like men in a modern Stan and Olie type moment.
Directed and adapted by Ann Filmer of 16th Street Theater, Nickel History may travel to other cities, as did Stations Lost, when its run at Steppenwolf is over on Aug. 5. Like the collages for which Fitzpatrick is known and collected, the rich tapestry that is Nickel History fosters self-reflection and a review of one's own history, one's own personal tapestry. Check out Nickel History: A Nation of Heat and through this artist's particular funny, irreverent and poignant take on his history, revisit your own memories of what and who has made you who you are.
To view Fitzpatrick's artwork, click here. For an interview from his home studio, click here.
Author has permission to use included photo