I have been following Academy Award nominee Diane Lane since A Little Romance -- still one of my favorite films -- came out in 1979. Fast forward 33 years to a question-and-answer artist talk, moderated by Alison Cuddy, at Chicago's Goodman Theatre with Sweet Bird of Youth co-star, Finn Wittrock, and, to me, Lane has retained all the qualities that made her such a captivating actress in her youth. As she discussed her role in the Tennessee Williams play that seems destined for Broadway, she remained unassuming, humble, down-to-earth, smart, funny and roll-up-her-sleeves hard working. No wonder Chicago has received her so willingly. That's just the sort of woman we love here. Add her elegant and natural beauty and its easy to see why she has enamored audiences for decades.
Lane and Wittrock are a stunning pair playing opposite each other as the fading Hollywood actress Alexandra Del Lago and the down on his luck gigolo, Chance Wayne. Lane takes on her role as the aging star destined to implode with the bravery and power of a seasoned actress of stage and film. Wittrock 's undeniable good looks and youthful gleam lend themselves perfectly to the spit-fire role of the desperate Wayne who realizes that his few good years are already behind him. Knowing that these two vain characters cross paths for an important moment on their respective spirals, it was equally interesting to see Lane and Wittrock come together, unrehearsed, for the artist talk.
If Lane brings a worldliness and sophistication to her role on stage, she brought an undeniable and authentic schoolgirl charm with her at the artist discussion. In speaking of taking on the role of Ms. Del Lago and working with director David Cromer she said, " I came with the mentality of a student, learning from the learned." She continued by commenting on Cromer's excellent communication, allowing the actors to bring forth their talents before directing them. "I am open to creative criticism. I want that guidance. But I also first have to offer up something to be corrected."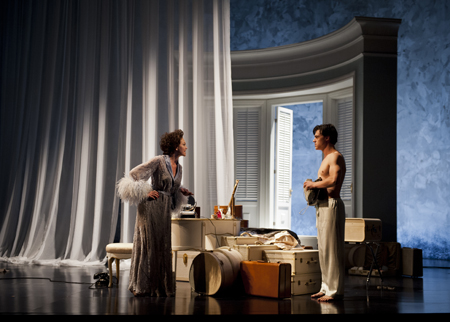 No doubt, Ms. Lane's incredible candor and girl-next-door attitude took me by surprise given her veteran performance channeling Del Lago's anger and humiliation at becoming a relic. "If you are given beauty, its just another thing to lose, " Lane said referring to the sufferance of vanity.
However, even more shocking for me was the almost alarming maturity the mere 27-year-old Wittrock displayed in talking about the challenges of taking on Chance Wayne. "Chance is (sort of) the person I fear coming, " he said in speaking about how Chance's perception of himself might do more to harm him than the actual physical harm coming to him in the play. He also spoke about the almost athletic challenge of doing the whopping three-hour, three act play. "This is the hardest thing I have ever done, " he said. Lane agreed, stating that every performance was like pulling a huge locomotive out of the station.
However, Lane contrasted the grueling nature of the play with the benefits of doing theater. "You can feel the energy of the audience if they are with you... It is such a team sport... Everybody is agreeing to believe together. " Unlike the movies where the delay between filming and release can be years, she noted that this immediacy is the emotional reward of being on stage.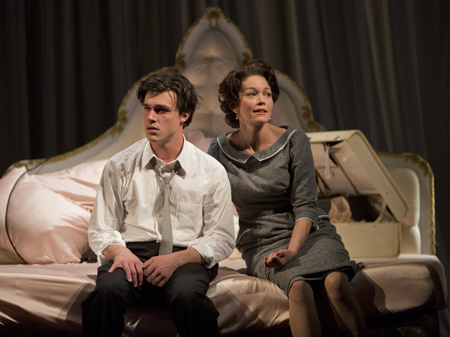 In the comfort of being surrounded by patrons of the Goodman Theatre, Lane and Wittrock seemed to have quite a camaraderie and respect for one another, despite a gap of almost two decades. "You have so much courage, just diving into it, " Wittrock said of Lane at the end of the discussion in a genuinely lovely moment.
To see these two before they potentially head to New York City, visit the Goodman Theater website. The Tennessee Williams play, Sweet Bird of Youth, directed by David Cromer and starring Diane Lane and Finn Wittrock, plays in Chicago through Oct. 28, 2012.
Photo Credits: Liz Lauren