One of Chicago's most brilliant gems will be exporting itself to New York and beyond in the coming months. The Chicago Children's Choir, headed by president and artistic director, Josephine Lee, will perform at Carnegie Hall's opening night gala with the world renowned Chicago Symphony Orchestra under the direction of Music Director Maestro, Riccardo Muti. The Chicago Children's Choir and the Chicago Symphony Orchestra will perform Carl Orff's powerful oratorio "Carmina Burana" on Wednesday, October 3 at 7 p.m.
"We are honored to once again travel and perform with Maestro Muti and the Chicago Symphony Orchestra and Chorus at Carnegie Hall," said Ms. Lee. "Our singers are learning how to become global ambassadors and world citizens through the power of music. This partnership gives these children an opportunity to experience the best of what Chicago has to offer to the world."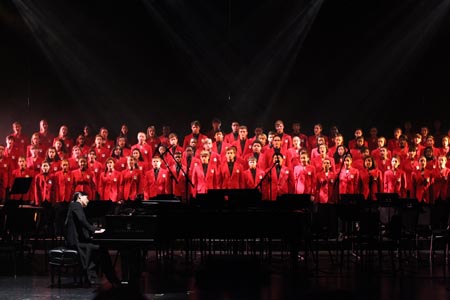 Chicago Children's Choir with Josephine Lee, photo credit: Kenny Kim
Thirty-four members of the Choir between the ages of 8-14 will perform "Carmina Burana" with soprano Rosa Feola, countertenor Antonio Giovannini and baritone Audun Iversen, along with the Chicago Symphony Orchestra and Chorus. Hearing is believing and listening to the Chicago Children's Choir perform - with the Chicago Symphony Orchestra no less! - can be a life affirming moment for audience members. If you have to occasion to be a part of this extraordinary event at Carnegie Hall on October 3rd, you won't regret it.
Under the tutelage and passion of artistic powerhouse Josephine Lee, an accomplished musician and composer in her own right, the Chicago Children's Choir has evolved into a dynamic, national tour de force, giving children a voice through music. Founded during the height of the Civil Rights Movement as a way to unite children from different backgrounds, the Chicago Children's Choir is a nonprofit organization committed to providing multicultural choral music education. Serving 3,000 children annually through choirs in 60 public schools, after-school programs in eight Chicago neighborhoods, and the internationally acclaimed Concert Choir, known as The Voice of Chicago, the Chicago Children's Choir shapes the future by inspiring and educating youth through the pursuit of musical excellence. Of the children served, ages 8-18, the majority come from low-income homes and would have no other access to music education. This year, the Chicago Children's Choir hopes to raise $2 million in order to ensure that music is part of every Chicago child's life. Ms. Lee is a passionate powerhouse indeed!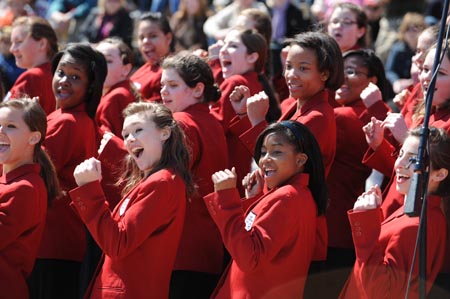 Photo credit: Steve Kagan

Carnegie Hall isn't the only destination to which Ms. Lee will take the Chicago Children's Choir in the near future. In January 2013, teaming up with World Business Chicago, members of the Choir will travel to India to further expand their understanding of Indian culture and share the music from "Sita Ram", an original world musical based on a modern interpretation of the ancient Hindu epic Ramayana. The Choir will tour the cities of Jaipur, Delhi, Bangalore, Agra, and Chennai "for this a unique opportunity to build strong relationships that promote business investment in Chicago, while supporting Chicago's global cultural presence," Rita Athas, president of World Business Chicago, said in the press release, quoted by Shia Kapos of Crain's Chicago Business. This partnership comes at an important time for the city of Chicago when Mayor Rahm Emanuel is determined to put Chicago on the international cultural stage with the development of the Chicago Cultural Plan. Ms. Lee served on the Mayor's Arts & Culture Transition Committee when he first came into office and hopes that the Mayor will make the voyage to India with the Choir.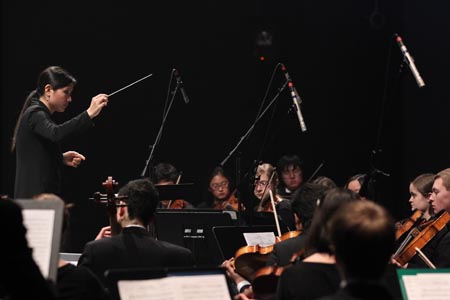 Josephine Lee performing, photo credit: Kenny Kim
For more information on the impressive and inspirational Chicago Children's Choir, visit http://ccchoir.org