We are what we own, as the saying goes. With the creation of his infamous Soundsuits, visual and fashion artist Nick Cave takes this one step further. If we are what we own, when we cover ourselves into obscurity with what we own, who then do we become?
Playing with the concept of identity, Cave scours thrift stores and markets for bits of memorabilia, every day nostalgia, and found or hand-made scraps of left behind lives. He covets anything from buttons to bags to statuettes, both small and large. He will then, for example, create a suit, covering the bearer from head to toe, in silver buttons he has collected over the past months. The creation of the suit can take up to 4 - 6 weeks for his team to sew together and can weigh up to 70 pounds. On the day that I was visiting his Chicago studio, Cave, a dancer and previous choreographer with Alvin Ailey, was donning this particular suit for a photo shoot. Even for his formidable body strength, the suit was a force to be reckoned with.
However, as I saw first hand that bitter cold day in January, something very particular happens once the sculptural Soundsuit, named for the tremendous sound that is emitted when one walks in, say, thousands of buttons or other knickknacks, is placed on someone's frame. It isn't just that the suit takes on life, although it does, as one would expect. And it isn't just, like at Halloween, that the human puts on a costume pretending to be something else, although that takes place, too. It is hard to define; but, what takes place is a third creation all together: the suit and its corporal mate become one and a third reality emerges that fills the room. The now human Soundsuit becomes a force of energy that lives and breathes and moves and dances with no preconceived identity. It is hard to do racial profiling on a bunch of buttons. What is thousands of buttons, or multitudes of acrylic birds or a gazillion, long threads of string, beads or socks anyway? Nothing...until Cave gives them a silhouette and a bit of life. What are they then? Still nothing, albeit an interesting and aesthetically pleasing sculpture that probes the question, 'What am I?' and thus, reflectively, 'Who are you? ' Yet, this isn't the amazing part. The part that truly becomes inspirational to a higher plane of living is when the suit, now fully infused with human energy, can be something of its own without the external judgment of the viewer and without a predetermined notion from the model of who s/he is supposed to be, how s/he is supposed to act, how s/he is supposed to feel and how s/he is supposed to communicate. Thus, in a world filled with rules and regulations, there are suddenly no barriers, no restrictions, no mandates and no guidelines. The result is pure freedom of expression and it is nothing short of magical.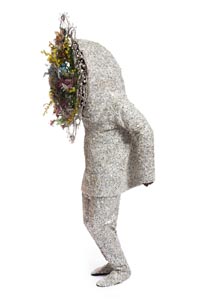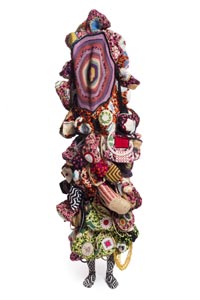 Nick Cave, Soundsuits, 2013, Photo by James Prinz Photography and courtesy of the artist and Jack Shainman Gallery, New York
As Cave explained to me, "What the sound suit does - -being in it gives you permission to explore other avenues around movement and performance. It is a crash course on expanding and exploring one's sense of self. The process (of putting on a suit) allows to you to become more aware of what your potential is and it can be an awakening.
I am a director and choreographer and I try to get the wearer to pull more of himself. It is a different type of confidence that sets in when you wear the suit. You can allow yourself to explore your boundaries because your identity isn't relevant." It is this sort of engagement between suit and suit-sporter that makes Cave's work so life affirming.
A tireless creator, Cave still hunts down most of his finds himself and says that an impulse from one obscure, discarded object can send him down an entirely new path. " When I look at an object, I want to know if it has options, multiple readings, can be turned upside down, viewed differently and connected to other forms."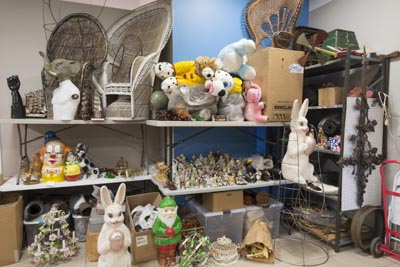 A small sampling of Cave's found object stash in his Chicago studio, Photo by James Prinz Photography and courtesy of the artist and Jack Shainman Gallery, New York
While best known for his suits, Cave says that he doesn't want to be pigeonholed for only making Soundsuits and that he is creating new, sculptural work. "The essence of the way in which I approach my work will remain constant: a high demand of execution, built on a history of discarded materials and the creation of sound. I like creating dream-type moments within and around ideas that are nostalgic; connected memories in time, stemming from repositioned, period objects that then give birth to something new."
To experience part of a dream-type moment, catch Cave's Soundsuit performance of horses in NYC. From March 25-31, 2013, Cave will transform Grand Central Terminal with 30 life-size, multi-colored horses, peacefully "grazing" and periodically breaking into choreographed movement to the accompaniment of live music. Titled HEARD•NY, the installation- and-performance piece is presented by Creative Time and MTA Arts for Transit on the occasion of the centennial of Grand Central Terminal. It is Cave's first public art project in New York City, introducing locals and visitors alike to his wearable mixed-medium sculptures, aka "Soundsuits," and turning the busy railway station into a place of surprise, awe and spectacle. For HEARD•NY, sixty students from The Ailey School will don Cave's Soundsuits and perform specially choreographed movements, or "crossings," at 11 a.m. and 2 p.m. every day.
For a preview of what is to come, enjoy the video below and get a glimpse of Cave's magic in action.