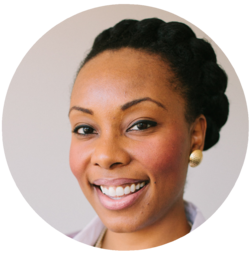 Corinn is a California native and advocate for survivors of sexual assault and domestic violence. Ultimately, it's her goal to become a prosecutor focused on sex crimes.
But her path to achieving that vision hasn't been a straight line.
With an academic background in sociology and legal studies, and experience working as a litigation paralegal in environmental law, she's currently taking the steps to make her way to law school and pursue her JD.
As comedian Demetri Martin writes in his book, success is not a straight line from A to B, but rather a squiggly adventure full of starts and stops, steps forward and backwards.
Similarly, Sheryl Sandberg did away with the concept of the climbing a corporate ladder in Lean In and instead proposed we think of our career paths more like a jungle gym.
Just because Corinn's not in Law School just yet doesn't mean she hasn't been making progress. She recently earned her Master's of Science in Legal Studies, and maintained a 4.0 GPA while working full-time.
Moving forwards toward a goal on your own time, without being paralyzed with guilt for not making that objective an all-consuming focus, is a marvelous thing.
So many of us struggle with feeling under-qualified until we have some external evidence of success (like a law degree). We delay action and get stuck in analysis paralysis: preparing and studying up for our big performance.
But the truth is, successful people start before they feel ready. It's part of the reason I so admire Corinn for the many ways she's pursuing her passions and already taking action through the communities she belongs to outside of work.
"I take an active role in this field as a hotline volunteer and backup supervisor at the local Rape Crisis Center," says Corinn, "And I'm also extremely passionate about women's rights and policy affecting women and youth, which has driven my involvement in leadership roles with Women's Information Network (WIN) for the past 4 years."
Corinn reminds me that we're under no pressure to perform along anyone else's timeline but our own. Our sense of self-satisfaction and achievement in many ways lay in our perception alone - a powerful reminder of our ability to shape our own reality.
This post is part of a series recognizing the achievements of Bossed Up's Boss of the Year nominees, in celebration of Bossed Up's official #LaunchLikeABoss Launch Party July 24.
Need help? In the U.S., call 1-800-799-SAFE (7233) for the National Domestic Violence Hotline.
Need help? In the U.S., call 1-800-656-HOPE for the National Sexual Assault Hotline.