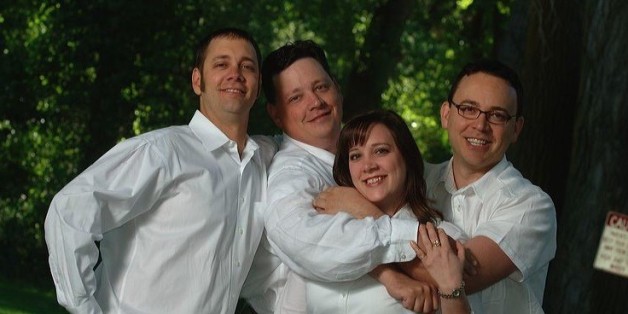 September 8-12 is National Suicide Prevention Week. The story you're about to read was written by someone who was deeply affected by suicide.
March 20, 2009, 3:10am the phone rang. It was my parents ... both of them were on the line ... telling me something that even five years later I still can't understand, and barely believe. They told me that Jed, my brother, was dead. He had killed himself. What?!?! How is it possible that Jed, the joker in every crowd, the "party guy" who instantly made friends with anyone and everyone, the world traveler, the chef, the "I can fix anything" guy, the light and energy of every room, my big brother, could be gone? This was the beginning of a spinning, spiraling, roller coaster search for answers to a question I'll never truly be able to answer. Why?
Nearly five months later, through a haze of indescribable grief, I was walking into an appointment with my hair stylist and what I saw stopped me cold. It was a poster for a walk to prevent suicide! I walked into the salon on very shaky legs, but I knew that I was going to participate in that walk. Five months to-the-day after Jed died, I dragged my mom with me to my first walk planning meeting. It was surreal. But it was the most welcoming group of understanding people I'd ever met! They hugged me and welcomed me into the club that none of us ever wanted to join.
Through our pain and grief my mom and I, with the incredible support of our family, did what we "do." We jumped right in to help organize and plan an event. It gave us something to focus on, something positive to put our energy into, something to keep us putting one foot in front of another.
One month later we held the walk. There I became a survivor.
It was at the walk where I met and grew close with other survivors who knew and fully understood my pain, and where I realized that I am not alone in this loss. I was able to take a deep breath (for the first time in months) and see, through other survivors stories, that I could make it through another day ... another month ... another year ... one moment at a time. I began to understand that suicide loss is so much bigger than I could ever have imagined and I knew at that moment my mission would be to save one sister from suffering through what I had survived. Sometimes in tragedy we find our life's purpose.
Over the next year I met other survivors, I continued to heal, I helped plan another walk, and began to lay the foundation to form the Utah Chapter of the American Foundation for Suicide Prevention (AFSP). On October 15, 2010, with my mom by my side as a board member, our chapter became official. In 2012 my brother Erik joined the board of the Greater Minnesota Chapter of AFSP, making us a multi-chapter AFSP Family.
Over the past five years I have learned more about suicide prevention and mental illness than I ever thought possible. I have shared in others' loss and I have helped to spread suicide awareness and messages of HOPE! I realize that I will never have the answer to my question of "why" but I know that because of my loss I will help save lives. I will continue moving forward knowing that my sacrifices and service will ensure that other sisters will never have to feel this pain. I will continue to help save lives!
Need help? In the U.S., call 1-800-273-8255 for the National Suicide Prevention Lifeline.
This blog post is part of a series produced by The Huffington Post and the American Foundation for Suicide Prevention, in conjunction with National Suicide Prevention Week. For more information about the American Foundation for Suicide Prevention, visit here.