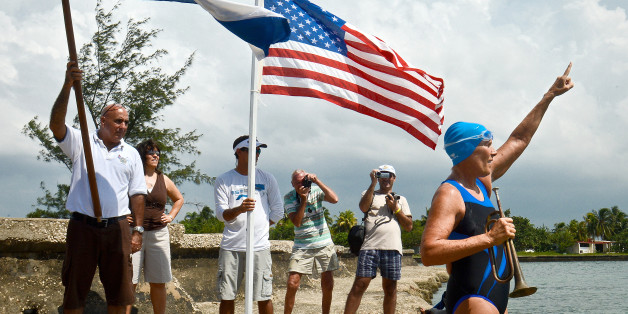 "When she took up squash," said my former boyfriend, a professional squash player, way back in 1985, "she seemed to bring nothing to it." What he meant was that she had been swimming so long and so hard that her arms and upper body were extremely well developed, and even though she had the lung capacity of three men, she couldn't dart around the squash court.
That didn't stop Diana from drilling hour after hour until her accuracy improved. She soon "got legs. Within months of taking up the sport in 1975, she was on the "A" team at the Uptown Racquet Club, and was one of the best squash players in New York -- and in fact, Nyad soon became the 12th ranked woman in America.
I spent many hours with Diana back then and wrote an article called "Out of the Water and Onto the Airwaves" for Ms. Magazine about the irrepressible Ms. Nyad, whose iron-will -- coupled with a wonderful sense of self-deprecating humor -- made her so much fun to be around. I admired how she threw herself so completely into everything -- squash, life. Losing to someone who she regarded as a lesser athlete made her mad, but she would come back the next day and drill for four hours. She was the bravest person I knew -- for she shrugged off physically suffering in a way that I couldn't, and wouldn't. She was very smart and very sassy. But I did wonder if she had a death wish.
By 1980, she had hung up her bathing suit and become an announcer for ABC Sports. Two years before, her first Cuba to Florida swim was thwarted by choppy seas and stinging jellyfish. She made progress to the north on her own steam, but was swept far west by 30-knot winds. Forty-two hours and 70 miles out, unable to keep food down and with her lips and tongue dangerously swollen, Diana wanted to keep swimming.
"Diana, we are off course," her trainer, Margie Carroll, finally informed her.

"You mean I'll have to swim another twenty hours to reach Florida? I can do it," Diana replied.
"No, Diana, you couldn't reach Florida if you swam fifty more hours," Diana looked up at Margie, uncomprehending. All six trainers looked down at Diana in silence, staring at her stunned, swollen face. She was pulled from the water in tears.
Momentarily crushed, Diana was herself once again as she returned to New York. "I walked around the city for a week, ecstatic, not knowing what to do, just reveling in the extremity of the experience. I need those dramatic feelings. I just don't like feeling blah and even-keeled. I envy it sometimes. I'd like to be an easy-going person who sleeps nine hours a night, but I'm not."
At 10, Diana began to swim with the same zeal that she had put into her previous passions of science and music. When she was in the 10th and 11th grades, she won the 100-yard backstroke at six state meets. Slogans like "there is no gain without pain" hung over her bed. She was so excited about the next 4:30 a.m. workout and the possibility of competing in the 1968 Olympics that she wore her bathing suit to bed every other night.
"My mother thought it was such adolescent, eccentric behavior to be crazy about something and to isolate myself," Diana said. "And it really irked her when I wasn't sociable. I didn't want to spend any time with my brother and sister any more; I just wanted to swim."
She developed viral endocarditis, a severe viral infection of the heart and her Olympic dream evaporated. Ironically, her heart failure caused her to be extreme in other ways. As a premed student at Emory University in Atlanta, she put up signs around the campus heralding a great happening. Then she went to the fourth floor of a dormitory and parachuted out of the window. This "great feat" got her thrown out of college. She now says that she was then "a real basket case" and this was "an exhibitionistic cry for attention." She wandered -- and then landed safe and sound once again, enrolling at Lake Forest College, switching her major from premed to English and French, and graduated Phi Beta Kappa. She then went on to study for a Ph.D. in comparative literature at New York University.
Though she was on the swim team at Lake Forest, she gave up all-out sprints for open-water marathon swims -- which didn't pose the same dangers to her heart. 10 miles, 20 miles, 50 miles -- she swam in the Suez Canal, the North Sea, the Nile, the Parana River in Argentina, the Caribbean, Lake Ontario, and the Bay of Naples.

She soon found marathon swimming to be the most punishing of sports. Although given high-energy drinks at frequent intervals during a swim, afterward Diana usually loses at least 15 pounds. Often as not, hospitalization and intravenous feeding is required. During the swim, there is virtually no contact with the outside world. Half-blinded by blurred goggles -- and in this last swim, a jellyfish-proof mask -- the outside world floats away.
For Diana, marathon swimming has offered an opportunity for self-revelation. "You drop into a hypnotic trance. Childhood and sexual images flash through your mind like pictures on a screen. When I've finished a swim, I feel I know myself better." Often she counts her strokes -- 52 per minute, 3,120 per hour, to choruses of "Row, Row, Row Your Boat," and other songs.
As is typical in a low-profile sport like marathon swimming, there was little recognition and no reward for these incredible feats -- except when she swam, in 1975, around Manhattan (dodging dead bodies!) and during her 4 failed Cuba to Florida swims.
Always there were obstacles -- staying on course, sharks and jellyfish, rough seas. She tried to surmount them in 1978, twice in 2011, and in 2012. She always had to be pulled out by her team, her face brutally sunburned and her lips horribly swollen. With each attempt, she would learn something about what it would take to succeed.
But this time, "2013" was her lucky number.* Even though I haven't seen Diana for years, no sight was sweeter than seeing Diana finally stumble out of the Florida waters, onto dry land. She had finally made it, and at 64 years old! One small stumble into the sand for Diana was like one giant leap for female athletes of any age, who dare to dream big and work relentlessly towards a goal. Diana shows us that we might not make it on the first try -- or even the fourth -- but eventually we can.
*Even though her historic swim has been challenged, I don't doubt for a minute that the stars aligned for Diana this time.
This profile first appeared in Women's Voices for Change