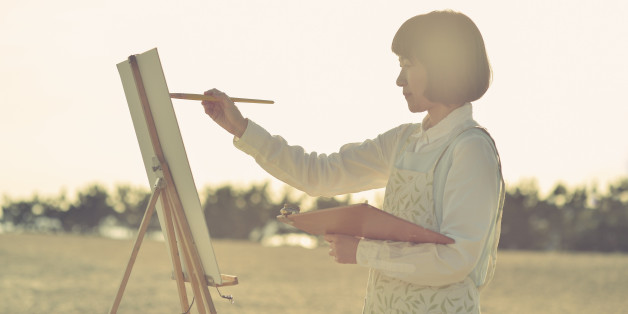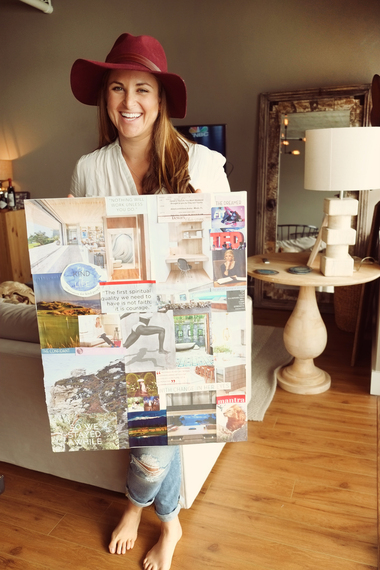 I'm a creative businesswoman.
I've been through plenty of exciting, "Create the life you want," workshops. However, I still feel like there is much more field to plow in the business arena for creative people.
Before I left for Europe, I reached out to model-turned-coveted-art therapist, Gabi Torres, who guided me towards my goals in a more creative way. Gabi came over to my house with several sizes of canvas and mentioned she brought a big canvas because she knew I liked to play big (I liked her style already).
We proceeded to go through the images, trinkets and quotes that I preselected before our meeting, organizing the vision board pictures into the categories we noticed that I was selecting in my images: Work life, House, Style, Relationships, Spirituality, Goals and Quotes.
We both then went onto my Pinterest board and printed out some more images that I wanted on my canvas, my soon-to-be vision board that I'd add to my business plan.
We started cutting out the pictures that I wanted for my life and I arranged them around the canvas in a way that creatively felt right. At first, I was skeptical and had a bit of fear wash over me; I hadn't taken an art class since college. Gabi was kind and explained that any arrangement of images was perfect. Her response made me think about the divine energy, and how God always works through me (I was not to blame if the piece came out in a big blob).
I started gluing the images onto the vision board, beginning with the big, important pictures first. I clustered the images by category, and overlaid some of the categories when I felt it made sense or looked nice.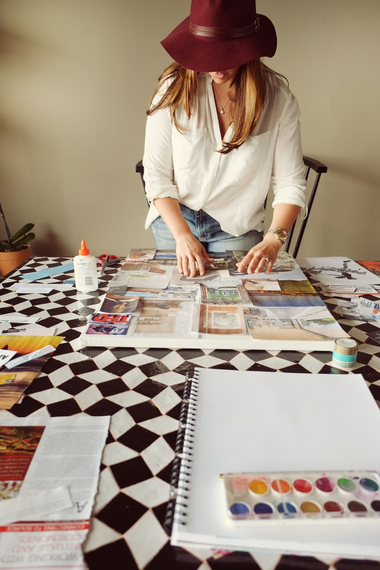 Once I felt like my board was complete, Gabi took the leftover images that I hesitated to use and held them up to the canvas in different areas to see if I wanted to add them to the board. This was interesting to me, because I found myself clearly saying, "No" or "yes" to ideas I have flip-flopped over for years. What state was I to live in? What was the size of my company? Were kids in the equation? After I added a few more images and quotes, I was done with my board.
When my canvas was completely full of images that I saw in my future, Gabi had me go deeper and journal about my vision. She asked me what the timeline was for my goals, what I needed to do to accomplish them and how I felt about the board in general -- was there any insights I drew about myself from the practice?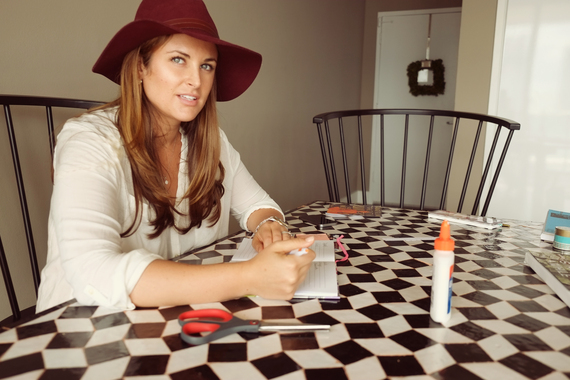 Gabi likes to say how art therapy is as important as a gym membership, and I'd like to agree. Art therapy exercised my mind in a creative way, and I left the meeting with a canvas that acts as a map for my future decisions. At one time, I felt like I had all of the puzzle pieces scattered on the table, and now, I've finally seen the entire picture and can start piecing the puzzle together with the whole image in front of me as guidance.
Join me in creating your board or art journal, and tag a picture of it on Instagram with #MKOLVisionBoard and @MyKindofLife_Em. I'll repost your pictures to the My Kind Of Life Facebook page.
This activity took about 1.5 hours to complete.
Here's what you'll need to make your vision boards:
A
canvas or artistic journal
A writing journal
Liquid glue and a hot glue gun (if you glue on heavier trinkets like mala beads)
Scissors
Pictures and quotes from Pinterest and magazines (20-25 images)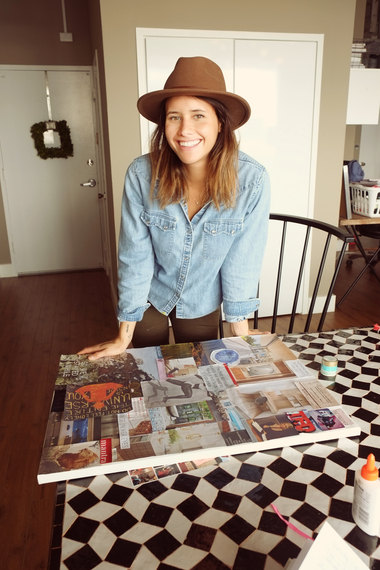 Follow Gabi's Instagram account (@ThePositiveArtTherapist) for more positive art therapy goodness. www.thepositivearttherapist.com