"You have to want success more than you want to breathe." That's what she told me when I called her last week in tears. My Mom, so full of inspiration.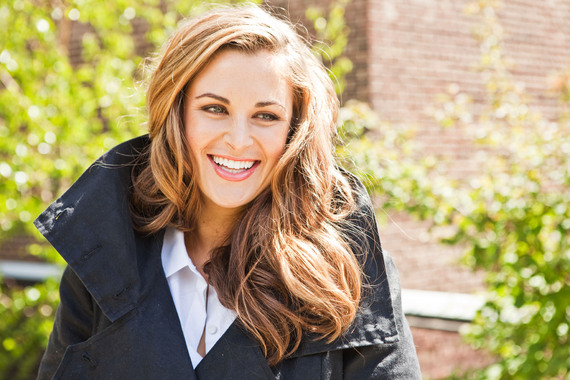 I found myself sharing similar tears a day later, after my weekly call with a devout volunteer and ambassador for Topless. For the first time, I started consistently experiencing a side to success that I'd never expected to be true.
My grandfather is a very successful businessman. I had the opportunity to work with him for several years before I started traveling around the world modeling. What Papa taught me -- and still teaches me -- is tough love (am I giving away the family secret?). He taught me how to confidently lean into big time businessmen and women at a ripe young age. He taught me how to catch someone off-guard by calling them before they were fully prepared for the meeting. He taught me that information is power, and how to lure in the interest of Senators, Governors, Congressman and Presidents for our projects.
It all worked so perfectly. And that's the recipe I knew. His recipe for success was like eating my french grandmother's "pizza fish" during my childhood. I always ran the other way when I saw Nanette stuffing the entire fish with broiled tomatoes -- the taste of the meal was not much better. Though, at the end of the day, the dish was nourishing and I was successfully fed. Like the pizza fish, Papa's way to success worked really well, but it always left a neutral taste in my mouth. Like, "Okay, I'm fed, but I'm not fully satiated."
Certainly I've learned more than I could ever imagine about business from my old man. I've acquired more knowledge about international crude oil sales in Russia and China than any 20-something woman could dream of. I've worked directly with Governors to build green-grid technologies to keep our Heartland produce safe in ice storms and natural disasters--all before the word "green" was cool. I've helped rice farmers become more profitable by working to solve the issue of rice shattering as it's being harvested. And I've helped build our family's crown project, the Beck PRIDE Center, for wounded veterans. That's just a taste of what it's like, working under my grandfather's leadership. His guiding principal is always to lean in hard, and use that money to give back. Always.
My Grandfather drives a cowboy pickup truck and has worn the same house slippers for probably a decade. Papa was never interested in "flashy." Looking back, there's a powerful lesson to be learned there, too. A life lesson more associated with reality and humanity. What do we really need to feel worthy as a human? His answer, always, is a happy family. And he'd jokingly add, playing 18 holes without giving up a stroke.
On the phone last week, in between revealing sobs, I told my friend Leigh (who taught Topless' first yoga event in San Francisco) that I could not be more grateful to know her love and support. I never had to lean in to Leigh to get her to help me. I didn't have to lure her in or call her before a meeting we set to catch her off-guard. Leigh was empowered to act by my honesty. My bravery. My transparency.
She tirelessly works to help Topless succeed. Leigh hasn't asked me for a penny or a shout-out on my platform. She candidly told me that she gets so much out of the event that she wants to bring it to the world--so that everyone else can experience it. That's what brought me to tears.
A devout volunteer.
Someone so selflessly involved with life. Leigh--and you-- showed me that there's an empowering way to lead a business. I know my grandfather's reading this saying, "Hallelujah, I wanted her to discover that truth in her own time." That there's a sense of kindness in leadership and authenticity in vulnerably connecting with community.
I'm sure Papa looks at his animal-rescuing granddaughter and says, "Lord, please be patient with me. I am going to teach Emily something that will serve her for a lifetime, because she already knows abundant kindness. I can only live with so many rescued cats."
I never fully understood, "You have to want success more than you want to breathe," mostly, because my first experience of success was a kind of brash (for a young woman) and sure-fire old-school way of succeeding. A winning game plan that my grandfather devised over decades -- and still works infallibly to support our family. That's all I knew. I'm an ace at predicting where someone else's queen is going to land on the board.
But I smell something new and exciting in the air. I feel it--I'm experiencing it.
That there's other ways to define success. Empowered ways, that allow you to make your own "rules", and watch other people start to adopt them--because it feels like the right kind of leadership. Honestly, it's lies somewhere between my Grandfather's recipe and my own, that's what I'm learning. The home run is being a kind, vulnerable leader, but also being smart and assertive when life, or business, needs to be handled.
Success is like building the most beautiful sandcastle you can imagine. When it stands tall and gives life and joy to so many passersby, on their own accord, they'll bend over and start to help you build a moat around it, just to see the castle that you've built continue to shine. They will build the biggest and best moat to keep the unpredictable tide from wiping away all of your hard, selfless work.
That's what I'm experiencing now in my career. Moat builders. Selfless passersby that feel called to act.
When I look back at the time my mother told me that, "You have to want success more than you want to breathe," I get it. I see that ego is not attached to success. It's just me, working hard and honestly. Working passionately to change the relationship that people have with their bodies in the most practical and fun way possible. Building that castle and witnessing you build the moat. That's incredible.
Here's to finding success (you can hang this above your desk):
Build something that brings you to tears. Something that makes you drop to your knees and pray. Build something that humbles you. Something that salutes your work, not your ego. Build something that proves to you that humanity is real, and palpable. That's success on my own terms.
On our own terms.
Photo by Michael Weschler. Hair and makeup by Candice Crawford.