After a months-long hiatus -- and a season of "Bachelor Pad" which we should all choose to forget -- the world's favorite "I'm on a journey to find love and be vulnerably open" television series has returned. That's right, "The Bachelor" is back, and host Chris Harrison tells us that it's going to be an "exciting" season. Let the white wine tears begin.
Shirtless Sean Looks For Love
Sean, also known as Emily Maynard's second to last reject on "The Bachelorette," is this season's main man. Sean is a 29-year-old "family man" from Dallas and he feels oh-so-humbled to be on reality television again. To kick things off, we're treated to several unnecessary shots of Sean shirtless (from a variety of angles, of course) while he talks about how "intimidated" he is by the task ahead and waxes poetic about his failed love with Emily. After the requisite flashback of said failed love, we see footage of Sean back in Texas with his fam, "healing" in plaid.
He tells us he's realized that "God still has another plan for me" ... and that plan is to go back on national television searching for faux (spray-tanned) love! Then he stands pensively behind a rock while a happily newly-married couple frolics in the ocean nearby. Oh "Bachelor," you never fail with the subtle symbolism.
Strawberries Make The Best (Friend) Foreplay
Now in L.A., Sean maintains his pensive face while he cuts strawberries and waits for a special friend ... who's none other than Arie, Emily Maynard's LAST reject. The dudes have a super awkward conversation about both getting dumped by Em and then practice saying "will you accept this rose." (You can almost hear the producers whispering in the background, "Look guys, Sean CAN be funny!")
The two attractive men are surprisingly charming together, and when the conversation turns from how to dump a woman to kissing advice -- Arie was a notoriously hot kisser last season -- everyone watching can't help but wonder, "Are these two gonna make out?" Unfortunately not, but it does provide some pretty entertaining banter about "sloppy wet kisses." (Arie advises against them. I concur.)
It's Time To Meet (A Few) Ladies
Sean puts on a suit, waxes poetic about finding "the one" yet again, Chris Harrison wishes viewers a happy new year, and I wonder aloud how this show could possibly be two hours each week. Then we get a taste of the women who will be drinking/crying/digging their verbal talons into each other in order to become "Mrs. Sean Lowe." (Hint: They've pretty much all blurred into a mass of Leslies/Ashleys/Lindsays, so no worries if you can't remember who's who. Bonus: They're not all white!)
Desiree, 26: A bridal stylist -- which is basically the "Bachelor" equivalent of being a kid in a candy shop.
Tierra, 24: She wants a family and a BFF ... and literally screams (multiple times and to her dog) when she finds out that Sean is the bachelor.
Robyn, 24: She's "quirky" and she does gymnastics. It's unclear whether she thinks gymnastics make one quirky.
Diana, 31: Owns a hair salon. She's also a single mom with two kids.
Sarah, 26: An ad executive who is "crazy" about her job and proves as much by making the most fake "work call" ever to air on TV. She also has one arm and believes that this show "brings people together who are compatible." Not sure she's ever watched before...
Ashley, 28: "I have no idea why I'm still single!" she declares as she snuggles up in bed with "50 Shades" and talks about Christian Grey as though he is real.
Lesley, 25: She's from DC and apparently consistently hangs out in front of the monuments ... as no one from DC ever does.
Kristy, 25: The token model.
AshLee, 32: Besides being the name equivalent of last season's Jef with one F, we learn that she's a personal organizer. She also cries in her video intro. Glad we got the first tears out of the way.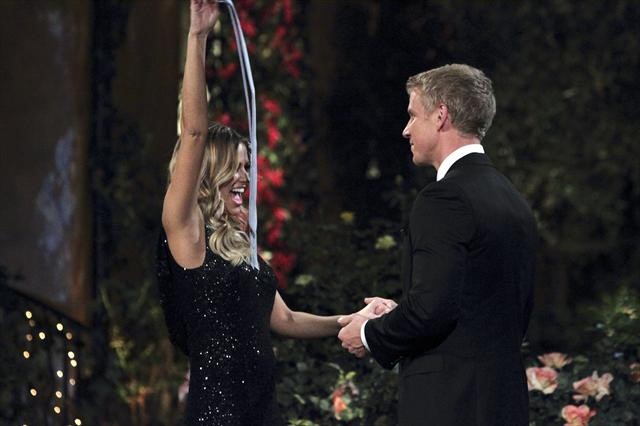 (Photo Credit: ABC)
50 Shades Of Awkward Come-Ons
When the limos finally arrive, it feels like this episode has already gone on for 100 years. (Note to self: Need more wine next week.) He says a silent prayer, and then the 26 ladies start rolling in, decked out in sparkly junior prom dresses from 2002. Here are a few highlights:
--Jackie, a cosmetics consultant, shows that she can put on lipstick without a mirror and plants a kiss on Sean's cheek. Selma, who arrives right after, just happens to have a tissue strategically placed in her cleavage to wipe the kiss off.
--Kelly is a cruise ship entertainer. Enough said.
--Ashley proves once and for all that she's 50 shades of crazy when she pulls out a tie and tells Sean she wants him to use it on her later. Sean hides his horror well.
--Taryn is a totally normal, 30-year-old health club manager. She won't last long.
--Robyn attempts to do some "quirky" gymnastics and falls spectacularly. Ouch.
--Paige is the nondescript girl who operates a jumbotron and got eliminated the first episode of "Bachelor Pad."
--Tierra smiles at Sean and arches her super-arched eyebrows and utters one sentence. Sean decides she's "sweet" (by sweet he means hot) and gives her a rose.
--Lesley brings a football and strategically gets Sean to lean over with his bum toward the camera so that she (and all of America) can admire it.
--Ashley H. (not to be confused with Ashley or AshLee) is a fashion model ... because one model was not enough.
--Lauren says she's a journalist. I'm watching "The Bachelor" with a room full of journalists, and we all wonder if she is using the term loosely.
--Lindsay is a substitute teacher who apparently thinks it's a great idea to show up to meet your potential future husband completely wasted in a wedding dress.
Just when you think all the women have made their sparkly way out of the limos, Chris Harrison informs Sean -- in a totally surprising twist that everyone saw in the promos! -- that there is one more mystery woman who requested to compete for Mr. All-America's heart. That lady is none other than fan favorite Kacie B., from Ben Flajnik's season of "The Bachelor." Naturally, the other women are irrationally outraged.
Sean Loves Giving Out Roses
After telling the women to be themselves -- because nothing is more natural or comfortable than putting yourself on national television, drinking a ton in a sparkly dress and vying for three minutes alone with a blonde hunk -- Sean gets down to one-on-one time business.
First he has an awkward conversation with Kacie B.: "It wasn't that long ago that we hung out," Sean says, leading everyone watching to assume that the two totally did it before the show started filming. Then he gets trigger-happy and starts handing out roses left and right. Desiree gets one for mentioning her brother and her football skills, and then about 10 other girls "connect" with Sean and leave with roses.
As half of the women flip out about their rose-less status, wedding dress-clad Lindsay simply worries about her blood alcohol content. "Honestly, I wish I was more sober now," she says to the camera. Well, live and learn. Meanwhile, "50 Shades" enthusiast Ashley decides to drink more and freak dance with her Christian Grey tie. (Girl certainly knows how to entertain.) "50 Shades of Grey may have become 50 Shades of Drunk tonight," says Sean. Truth.
Before the solo time with Sean ends, Sarah decides to open up to him about her arm, worried that it intimidates guys. Her honesty is rewarded with a rose. (Any true fan knows that you should always be "vulnerable" and "open" and "connect" on "The Bachelor.")
And The Final Rose Goes To...
The rose ceremony is super drawn out because there are -- as Chris Harrison helpfully informs us -- only seven left to give out. (AshLee, Robyn, Sarah, Jackie, Katie, Leslie, Brooke, Catherine, Desiree, Diana, Selma and Tierra already have roses.)
SAFE: Amanda, Lesley M., Kacie, Kristy, Taryn, Daniella ... and drunk hot mess in a wedding dress, Lindsay.
ELIMINATED: Two Ashleys, Kelly, Keriann, Lacey, Lauren and Paige. (Poor Paige can never catch a break ... or a rose)
What To Look Forward To...
Beach! Bikinis! Concerts! Ice Castle! Sean shirtless! Sean makes out on a dragon boat! Sean laughs! Beautiful vistas! Drama! Evil looks! Secrets! Someone is not there for the right reasons! Someone's ex shows up! Tierra is the new Courtney! Ambulance! Tears! More tears! Sean's tears! A rose drops! Making out behind a monkey! Sean stares at a ring!
Sean Shirtless Count: 7
LOOK: The Best Tweets About Season 17, Episode 1 Of "The Bachelor"
PHOTO GALLERY
Best Tweets About 'The Bachelor' Season 17, Episode 1