Friends, our journey to get through two (or four) hours of "The Bachelor" each week is almost over. It's (no-sex) fantasy suite time, and Sean was all about the pensive boat-staring in Thailand -- yet another "most beautiful place in the world." ("Bachelor" pro tip: Sad-face staring = hard decision.)
Sean waxes poetic about all three of his "unique" remaining ladies as he stands on the bow of a boat, relaxes in a hammock and stares off into the distance by a fountain. Catherine lets him be "weird and nerdy and goofy," and Sean needs "more silly" in his life. AshLee has "amazing qualities that any man would want in a wife," and Sean can totally see them living in a white picket fence house with 2.5 kids. Lindsay is more than a drunk girl in a wedding dress -- she's Sean's "emotional and spiritual match." Sadly for #ShirtlessSean, one of them has to go this week.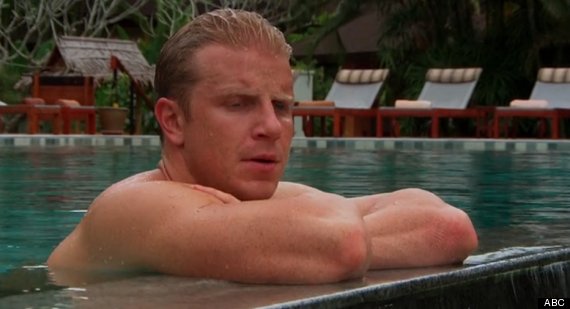 Lindsay, I Don't Think We're In Missouri Anymore
Sean "likes to try new things," so he grabs his supposedly adventurous first date, Lindsay and they're off to a Thai market in a tiny sidecar. Lindz knows that Thailand is pretty pretty, but it's hard for her to focus when she's with Sean, who's even prettier. "This is nothing like ... Missouri!" says Lindsay, making the night's first astute observation. After they go shopping and pet live, painted baby chicks, as normal couples do, Sean challenges Lindz to eat bugs -- the one thing she said she wouldn't eat -- because this is "The Bachelor: Fear Factor" season. Lindsay looks totally horrified the whole time, but she eats those bugs like the trooper she is. Good move on her part, because her "adventurous" nature means that Seany-boy is completely smitten!
After the bug eating, they sit a on a beach and have a serious talk. Lindz assures Sean that as a 24-year-old woman, she is completely ready to settle down. "You're the best friend I've been looking for," says Sean. Cue the return of #ShirtlessSean as they feed little monkeys on the sand and kiss in front of a stunning sunset. "That is Instagram-tastic," says my friend Vicki. Sean may be conflicted about his feelings for the three women he's dating, but he never hedges on his affection for the monkeys:
Sean and Lindsay finally tear themselves away from the cute monkeys and head to dinner, or as I like to call it, a Thai light-up float acid trip. Tacky installations covered in brightly-colored lights is apparently the most beautiful thing Lindz has ever seen, and she feels like she's "in heaven" with "this man." (All three finalists seem to have decided to overuse the phrase "this man.") The substitute also informs Sean that she'd be "willing to move whenever" for him, because that's probably what one should do after dating a man on reality TV for nine weeks. She says she takes things with Sean "really serious" and I try not to yell "SERIOUSLY, LINDSAY, IT'S SERIOUSLY" at the TV while Thai dancers come out to perform, because, culture. "I feel like I'm in a movie," says Lindsay ... as opposed to on national television? After no cajoling at all, Lindz says yes to Sean's fantasy suite invite and finally tells him that she loves him.
AshLee Sees The Light At The End Of The Tunnel
Ash is really excited to see the "love of [her] life" and her "true love" as she and Sean relax on another Thai boat. As she talks about how she's a "vulerable" "schoolgirl in love," I start to think that our fair personal organizer might be the one to get the boot tonight. Sean likes to challenge his lady-friends, and wants AshLee to depend on him for support, so he makes her swim through a deep dark cave to a private beach of love. "I don't do caves," says AshLee, deadpan. (Reminder: Ash has abandonment issues so this is TOUGH.) After they make 15 terrible metaphors about caves and being deep and lights at the end of tunnels, the pair reaches a private beach! With more monkeys! "I love this man," says Ash, for the 47th time.
At night, they walk to a pagoda for some dinner which they'll never eat. Sean can totally picture himself spending his life with AshLee, but first, they both have to share why they're still single! Fun times! Sean says he spent his early 20s "chasing other things" like this career -- at which point I realize I'm still unsure what exactly he does for a living -- and Ash makes the solid point that settling just to be married isn't a good idea. Ash, the girl who got married at 17, and Sean, the guy finding love on reality TV, agree that they don't take getting engaged lightly. They also have an awkward conversation in which they conclude that they'd "just talk" and wouldn't have sex in the fantasy suite without ever saying the word sex. She ends up saying yes to the extra time with Sean because "every minute counts." Once in the fantasy suite, Ash decides that it's the right time to disclose her ring size and ideal diamond, because that's not jumping the gun at all! She had a "broken spirit" before "this man" and "this man" healed her. Apparently that's true love, y'all.
Catherine Kisses Her "Hunky" Man In The Lightening
Catherine has perfected the run-and-jump-into-Sean's-arms move, and the couple kisses a lot before getting onto -- what else? -- a boat to "cruise around." Sean says he missed Cath a lot, but he still has some questions after last weeks' hometown date. After playing Jack and Rose on the bow of the boat, they sit down for some white wine and opening up. Sean tells Catherine that he "loves her weirdness" and says that she could be his BFF (wait, wasn't Lindz just his BFF?). But their lives are oh-so-different right now. He's a Texas family man and she's a Seattle vegan. Catherine assures Sean that Seattle is so five minutes ago and that she'd be happy to move to Dallas and settle down despite her free spirit tendencies. She also makes a weird comment about how she can talk to her best friend about anything because her bestie is married. (Um, since when can single women not be trusted to talk about relationships? You're my fave Catherine, but that's just absurd.)
Sean's mind is put at ease, so now he can focus on kissing Catherine and snorkeling. Catherine knows that at some point during this date she'll have to tell "this man" that she's falling in love with him. They do backflips off of the boat, look at pretty underwater things and make out in the rain/lightning, clearly unaware that lightning and water aren't a great combo.
During dinner, Sean and Catherine are all moony-eyed, and Sean thinks that Cath "gets him." He asks where Cath sees them in five years. She gives a classic non-answer: married, kids, happy, See, she's "traditional" even though she's "the weirdest." (I've seen weirder.) She brings up the fantasy suite and tells Sean that she wants to be seen as a "lady" and "somebody that wasn't like that." (I assume "that" is code for sexy slut? Who knew that wanting to have a little fun after being trapped in hotel rooms for two months was such a horrible thing?) Sean is pleased and assures her that his fantasy-suite intentions are innocent. Catherine accepts his invite and they retreat to the suite. Catherine tells Sean that he's a "hunky," "beefy" guy -- but so much more than that. Apparently our sweet graphic designer was made fun of for eating too much and being chubby. "You are smokin' hot," Sean assures her. "I'm the lucky one." Catherine wants "everything" with Sean. Also, she knows the word "visceral." Vocab win, Cath! The couple makes out in a pool under the stars, and Catherine is sure she's in love.
**Pause while Chris Harrison is awkwardly forced to shill for "Oz: The Great and Powerful" and the movie's major stars are forced to associate with "The Bachelor."**
#ShirtlessSean Has A Chris Harrison Pow-Wow
We see #ShirtlessSean get dressed and sit down for a serious talk with our oracle, Chris Harrison, while photos of the women peek through in the background. Sean thinks he knows who he's sending home, and it'll be harder than dumping Des. "It almost breaks my heart," he says. (But not quite.) Sean tells Chris that he thinks he'll be getting down on one knee in a week, and Chris says "wow." He also informs Sean that the three final women have left him heartfelt video messages. While Sean watches the videos and looks distraught, Chris leads Lindsay, Catherine and AshLee into the rose ceremony.
The Very Last Rose Ceremony
Sean reminds the women that this is the very week he got sent home by Emily on "The Bachelorette," so, painful memories. He also informs them that he'll probably be blindsiding one of them the way he was blindsided, and he's sorry for breakin' hearts. "F**k," whispers Lindsay.
SAFE:Lindsay ... extremely long pause in which Ash & Catherine both have panic attacks ... Catherine.
ELIMINATED: AshLee, who gives Sean the best stone-face I've ever seen and walks out to the SUV waiting to take her to the airport without a word. Sean looks truly upset and tries to explain that he "thinks the world" of her and "did not want to hurt" her. "All right," says Ash, and heads out like a boss. Way to hold it together, girl! "This wasn't a game to me," she says in the car, and manages to hold back her tears until the end of the video interview. Meanwhile, Catherine and Lindsay watch from a distance as Sean hangs his head in sorrow.
Next Week: The Women Tell All
Reunion! Women tell all! Shocked face! Mr. Perfect! Jealousy! Girls are crazy! Crying! Sarah might be heartbroken! Desiree might still think Sean made a mistake! AshLee said nothing! She'll say something next week! America loves to hate Tierra! Tierra's not perfect! Tears!
Next Next Week: Sean Concludes His Journey For Love
Emotional finale! You won't believe it! Elephants! Making out! Falling in love! Ladies meet Sean's family! Sean's dad loves Catherine! Sean sees both women as his wife! Sean wants clarity from his family! Dilemma! Sean's mom! He doesn't need to propose! Mom tears! Huge decision! Two women! In love! Time running out! Letter! Concerned face!
Sean Shirtless Count: 4
LOOK: The Best Tweets About This Week's 'Bachelor'
PHOTO GALLERY
Tweets About 'The Bachelor' Season 17, Episode 10: Fantasy Suites