#ShirtlessSean Mondays
This week's leg of the journey toward reality TV love begins with a whole lot of six pack. Sean's abs lift weights. Sean's abs continue to lift weights. Sean's abs wash off in the shower. (I'm starting to sense a pattern here, "Bachelor" producers. I know what you're doing ... and I can't look away.)
Over at the mansion, Chris Harrison pops by to deliver his daily dose of sunshine and a date card to the women. Sarah (in case you've forgotten, she's the girl with one arm) gets the first one-on-one date and naturally everyone else is "happy for her, but in a bittersweet way," as AshLee puts it. They get even MORE jealous when Sean arrives to pick his first lady up in a helicopter. "Wassup Ladies?" says Sean, doing his best impersonation of a V-necked, mid-'90s pop star. He's very excited for some one-on-one time with Sarah, because "Last night I was with 26 women. And that's hard!" (Cue 27 "that's what she said" jokes on Twitter.)
Jumping Off A Building Means True Love
Sarah and Sean's romantic helicopter ride drops them off on top of a very, very tall building. Sean informs his date that he's taking her for a champagne toast ... at the bottom of the very, very tall building. So they just have to free-fall 300 feet protected only by harnesses to get the romantic booze. NBD, right? Sarah's (understandably) terrified, but instead of doing what any normal person would do and adamantly refusing to jump off a building into L.A. traffic with a stranger, Sarah is comforted by the fact that "Sean knows [she] can do it." So they "take this plunge together," bringing us the first awful terrifying-challenge-is-a-metaphor-for-trust line of the season.
After surviving the 300-foot fall, they change into fancy clothing, sip red wine and "open up." Sarah tells Sean that she was once barred from zip-lining as a kid because she had a disability, and how traumatizing it was to be told she couldn't do something that she knew she could do. The story is touching ... up until the point where her she says her dad told her that "this is why you need to find a guy that's gonna be strong." So... we guess Sean and his six-pack fit the bill? All of this opening up means a make-out session is on the way. And sure enough, Sarah gets a rose, Sean gets a kiss and after one date Sarah declares that she's "falling in love." Because that's super normal.
Career Goal: Be A Romance Novel Cover Model
While Sean is free-falling 40 feet per second with one woman, the other 18 are going stir-crazy at the mansion. Luckily a group date card arrives and Kristy, Amanda, Brooke, Lesley M., Danielle, Robyn, Catherine, Katie, Selma, Diana, Taryn, Kacie and Tierra (I still can't differentiate half of these ladies from each other) are invited to "capture the romance." And btw, Tierra is totally NOT there to make friends.
The women pile into a limo, say "Woo!" a lot and drink mimosas. When they show up at another crazy mansion, they're told that they'll be participating in a photo shoot ... for Harlequin romance novel covers. In case you didn't know, Harlequin's PR department informs us via Sean that they're "the most trusted name in romance." Then the girls get split into groups with corresponding costumes/hair/makeup: cowgirls, vampires, historical and "sexy" glamor. The photo shoot provides plenty of opportunities for the the women to rip off Sean's shirt, pet his abs, peck him on the lips and glare at each other.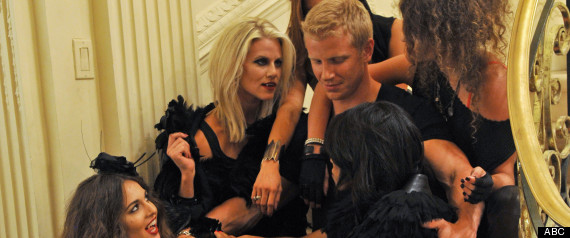 (Photo Credit: ABC)
Lesley M. wears a crop top and snags the first kiss, Tierra arches her eyebrows and informs the camera that she's "not here to get hurt," and Kristy gets excited because she's a professional model. Unsurprisingly, Kristy wins the challenge with her "Seduced" cover shot. However, if this is how she conducts herself professionally, we're a little bit concerned for her life after "The Bachelor."
Afterward, they have a pool party because ... abs! Some highlights:
--Lesley M. and Sean make a "connection" -- 80 percent due to the fact that she was wearing a sexy cowgirl crop top a few hours prior. Despite the fact that they're "feelin' each other" neither one can get it together to start a make-out session.
--After bemoaning the fact that she's a "traditional Southern girl," Lesley throws her roots aside and goes back for the kiss.
--Kacie B. tries desperately to get out of the friend-zone and it (sort of) works.
--Catherine says she's "vegan but I love the beef." Huh?
--Daniella can't remember if Tierra's name is Tierra or Tiara.
--Sean tries to comfort Tierra and make her "feel special" because she's moping.
--Katie feels awkward and after pow-wowing with Kacie B. she decides to take her super-intense hair and leave "Bachelor"-ville. Girl is just too normal for reality television.
--Kacie B. gets the rose for being "brave." Tierra wants to punch her.
"The Bachelor" Meets MTV's "Punk'd"
Desiree gets the very last date card of the week and is ecstatic because it's her birthday! Meanwhile, Sean meets with Chris Harrison and we learn that instead of a metaphor-laden, extravagant helicopter ride, Desiree's getting a prank played on her... because Sean needs a lady with a sense of humor who's his BFF. (Bad luck, Desiree.)
Sean takes her to a fake gallery where a fake exhibit is being shown by a fake artist. The faux gallery owner tells Sean and Des that the exhibit is all about Chernobyl. (No idea whether either of them know what Chernobyl is.) After being left alone while Sean "steps out" for an "interview," the most expensive piece comes crashing to the ground and the creepy fake artist arrives pissed off at Des. After she's been thoroughly shaken up, Sean exposes the whole thing and proposes they go back to his place for some dinner. "You owe me," she says. I totally agree.
Let's Just Be Besties
Back at Sean's L.A. digs, he and Des bond over steak, red wine and their parents. Desiree's parents are apparently still really in love and so are Sean's! OMG! And both of their dads always support their moms! Double OMG! They're both "feelin" it (which is soon to be a Sean Lowe catchphrase), so they strip down and get into the hot tub with some champagne. They discuss the meaning of love and marriage and Sean gives Des the rose. There's some more "feelin" of each other and Desiree says Sean already feels like her boyfriend. She seems to have conveniently forgotten his 17 other remaining lady friends, but besides that glaring delusion she's definitely an early frontrunner.
Sean Is Oh-So-Confused ... But Not About Race
Finally, it's cocktail party time! Let the champagne flow even more freely than in the hot tub and let the "drama" really ramp up. We get our first real time on-screen time with Lindsay, last week's hot-mess-in-a-wedding-dress girl. She's surprisingly sober and surprisingly charms Sean. We learn that she's an army brat and ALSO wants to marry her BFF. What a match made in one-week-of-reality-TV heaven! Now Sean is confused because he like likes everyone. While he's scratching his head trying to decide who to send home, the girls have stopped glaring at Tierra and started glaring at Amanda, who they call a "dark cloud in the room." Amanda stares at everyone and refuses to speak while sipping tea out of a mug. (Her choice of beverage alone makes her a "Bachelor" pariah -- no white wine?)
Clearly everyone watching last week noticed that the "Bachelor" cast wasn't quite as white-washed as it usually is. Robyn, one of the African-American contestants, decides to ask Sean about this increase in racial diversity. To his credit, he's totally open to talking about race on-camera (which it's seriously hard to imagine past Bachelors doing), and he tells Robyn that "this is the best question I've gotten all night!" He says that he doesn't really have a physical type and that he's dated women of all colors. "People look at me ... and assume, 'he probably goes for white girls who are blonde,'" but "it's the mind and the woman behind the physical appearance," he says. (Everyone swoon now.)
The producers are on a "cultural" kick, so they decide to have Selma get super pumped about teaching Sean some Arabic. "He's learning about me and my culture!" she declares. Sorry Selma, but it might take more than five minutes. Afterwards, we go back to the important things ... like how crazy Amanda has become. But of course she turns on her happy face for Sean, just in time for the rose ceremony.
Chris Harrison Still Knows When There's One Rose Left
For some unknown reason Sean is still super "optimistic" about this "emotional rollercoaster."
SAFE: (Kacie, Desiree and Sarah already have roses.) AshLee, Lindsay, Robyn, Jackie (wait... who?), Lesley M., Selma, Catherine, Kristy, Leslie H., Tierra, Taryn, Daniella and ::Insert pause for Chris Harrison to inform us that this is the final rose:: Amanda.
ELIMINATED: Brooke the community organizer and Diana the single mom. So long, ladies whose names I didn't remember.
Next Week...
More free-falling! Make-outs! Shirtless Sean! Concert! Longest kiss ever! More making out! Hands on thighs! Tierra's rude! Girls are ruthless! Ambulance! Tierra's in a neck brace! Pray that she's OK!
Sean Shirtless Count: 7
LOOK: The Best Tweets About This Week's "Bachelor"
PHOTO GALLERY
Best Tweets About "The Bachelor" Season 17, Episode 2