On the third edition of "Shirtless Sean Works Out," we confirm that Sean Lowe is unable to run on a treadmill with his abs covered up. That six-pack simply cannot be contained. (In fact, they even have their own Twitter account.) After we check in with Sean's abs, Chris arrives at the "Bachelor" mansion and delivers the first date card. Lesley M. gets the first one-on-one and is oh-so-excited about taking her relationship with Sean to the "next level."
Guinness World Records Are So Romantic
"She's fun to interact with," says Sean of Lesley M. (Is that meant to be a ringing endorsement?) To further their "connection" he takes her to the Guinness World Record Museum because that's what "normal tourists" do! We also learn that Sean's dad holds the world record for driving the 48 contiguous states in the shortest amount of time -- and that such a record exists. Lesley is, of course, thoroughly impressed.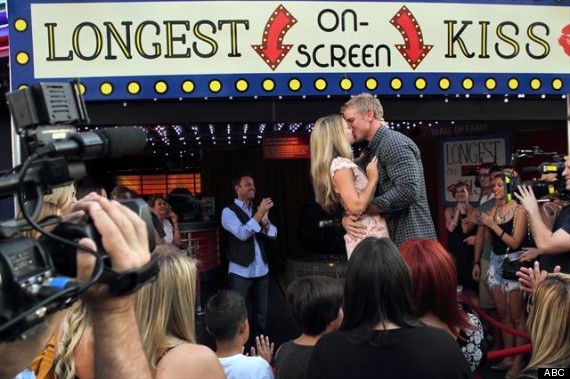 Then Chris Harrison shows up like a magical explain-the-date fairy and informs Lesley that she and Sean will be setting the world record for longest on-screen kiss -- because nothing is more romantic than pressing your lips against someone else's for over 3:16 seconds without separating for air! The pair makes out and tries not to laugh, and after a few minutes of voiceovers about how Lesley "never wants to stop kissing Sean," the record is broken. Lesley announces that this has been the best day of her life and everyone watching seriously questions what she's been doing for the past 25 years.
After changing into fancy clothes and heading to a hotel rooftop for champagne, Lesley "opens up" about her childhood. She tells Sean that she "loved every minute" of junior high and high school. She quickly stops being one of my favorites because let's be real -- no good person loved middle school. And -- shocker! -- Lesley, like every other woman on this show, wants to marry her BFF and emulate her parents' marriage because they still cuddle and hold hands. After they artfully make out with champagne glasses in hand while confetti bursts into the sky, Sean gives Lesley the rose.
The Most Important Volleyball Game Of Their Lives
Kacie, Kristy, Taryn, Amanda, Lindsay, Daniella, Jackie, Tierra, Catherine, Robyn, Desiree and Leslie H. get chosen for this week's group date. The girls arrive at the beach clad in matching bikinis and play around in the sand while Sean gets shirtless (duh) and does pushups. Then Chris Harrison shows up (side note: we've seen so much more Chris this episode than usual!) and explains that the ladies will be playing beach volleyball -- and the losing team has to go home after the game. Sh*t just got real on "The Bachelor."
Taryn tells the camera that this is "the most important game of [her] life." (How is everything these women do on reality TV the most important/best thing they've ever done?) After an intense volleyball match, Desiree's mean serving skills help the Blue Team win! Kristy cries and Sean is super bummed that half the girls have to go home -- he can only make out with six ladies now instead of 12! Kristy and her teammates (Taryn, Leslie, Daniella, Tierra and Catherine) all pile into a sad white van and head back to the mansion while the winners head to Sean's pad.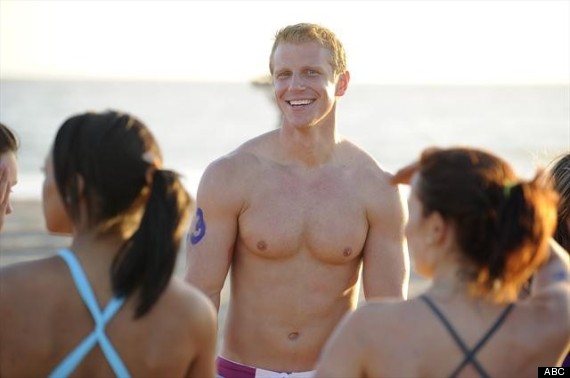 Des shows off her catty side and expresses how happy she is that the other girls lost and are probably crying in their beds. At Sean's house...
--Lindsay gets some one-on-one time with the Bachelor. They bond over looking for their marital BFFs and then Lindsay uses words like "amazing," "connection" and "meaningful." I think this will buy her another week.
--Sean likes Desiree's confidence. She assures him that she's totally "deep" and "emotional" and "spiritual." Of course you are, Des.
--Amanda perfects her angry staring-at-the-other-girls face and tells Sean she'll "bring a light, airy, fun atmosphere" if they get married. Afterward, she gets in a small fight with Des.
Kacie seals her friend-zone/early exit fate when she tries to report on drama between the other girls to Sean. (Kacie, didn't you watch your own season enough to know that you NEVER talk about the other girls to the Bachelor???) Sean simply tells Kacie she's being a "crazy person." (Ouch!) And he gives Lindsay -- who we've almost forgotten was the hot-mess-wedding-dress girl from episode 1 -- the rose.
Big Hearts And Bruised Necks
AshLee gets the last one-on-one date, but before she can start making connections and opening up, Tierra falls down the stairs. Sean comes in and along with the paramedics urge Tierra to go to a hospital. Instead of keeping the neck brace on and heading to the doctor, Tierra cries about how she's embarrassed and runs away with Sean in tow. "This kind of worked out in my favor," she laughs to Sean. The other girls are less than pleased.
When their date finally begins, AshLee says she's ready to move past Tierra's injury/potential manipulations, and I finally fully notice Sean's bright pink, deep v-neck tee. It's pretty excellent. Since Sean is a "big kid at heart" and loves charity work, they go to Six Flags! And hang out with chronically ill kids! At the amusement park they meet up with teens Emily and Brianna, besties who met online through the Starlight Children's Foundation, the sponsor of this date, but have never met in real life. They all go on rides, play carnival games and dance to some obscure band. I can't even be snarky because the whole thing is fairly adorable.
"I definitely want to have as many children as my husband and I decide," AshLee tells Sean after the girls leave, in one of the most Captain Obvious lines "The Bachelor" has ever produced. Then she shares with Sean that she was adopted when she was six years old and was abused by her first foster family, and talks about her first meeting her adoptive father. Everyone with a heart gets a little teary-eyed at her story ... including Sean. "So far in this journey I've already opened up to Sean even more than to anyone in my life," says AshLee. (Did she forget that she's on national TV and therefore just opened up to all of America?)
"Girls [Are] Stealing Me Left And Right"
Back at casa de Bachelor, the girls are chugging white wine and getting ready to fight for three minutes of Sean Time. Jackie gets her first line of the episode, Kristy is sporting a sock bun, Sean reunites Sarah with her puppy and Tierra wants to punch walls. All the girls get pissed and keep trying to steal Sean away. Kacie attempts to do some last-ditch damage control, but it doesn't seem to do much good.
At this week's rose ceremony, Sean assures the ladies that he's STILL super confident that he'll find his wife on reality TV! Before he can hand out the first rose, Sean pulls Kacie aside and dumps her in private. He just wants to be friends. Oy. Sorry, Kacie. Maybe you'll be the next Bachelorette?
SAFE: (AshLee, Lesley and Lindsay already have roses.) Tierra, Leslie H., Catherine, Daniella, Robyn, Selma, Sarah, Jackie (really?! have they ever talked?!), Amanda ::Chris tells us it's the final rose tonight:: and Desiree
ELIMINATED: Taryn, Kristy (and Kacie)
Shirtless Sean Count: 5 (You were slacking this week, "Bachelor" producers!)
On Next Week's Adventures Of #ShirtlessSean...
Fast car! Fairy tales! Airplane! Gowns! Pointing at tall rocks! Roller derby! Girls falling! Tierra glares! Tierra says "I'm smart"! Tierra's sneaky! Tierra can't be tortured!
LOOK: The Best Tweets About This Week's "Bachelor"
PHOTO GALLERY
Best Tweets About "The Bachelor" Season 17, Episode 3