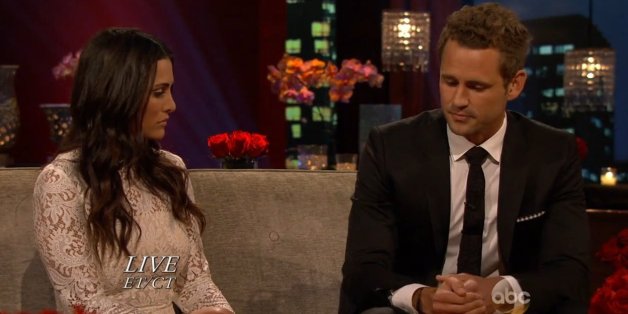 "Let's talk about sex, baby." --contestants on "The Bachelorette," last night.
During the season 10 finale of "The Bachelorette," Andi Dorfman's heartbroken runner-up, Nick Viall, made a so-called "shocking" statement. On the July 28 live "After the Final Rose" special, he called out Dorfman for sleeping with him in the fantasy suite and then sending him home.
"Knowing how in love with you I was, if you weren't in love with me, I'm just not sure why you made love with me?" he asked.
"That's kind of below the belt, and I think that's something that should be kept private," Dorfman replied, proceeding to calmly explain that her respect for him and their relationship is what prompted her to end things before he even picked out a Neil Lane diamond.
Predictable headlines ensued: "Andi's shocking sex secret revealed," Fox News declared. But what is actually so surprising about the fact that a single woman slept with a man she was dating, and then decided it woudn't work out? Absolutely nothing.
Here are a few nuggets of truth:
1. Sex happens -- even on "The Bachelor" and "The Bachelorette." And yes, relationships where sex occurred can end a few weeks later.
2. There's nothing surprising or upsetting (and there shouldn't be) about consenting adults having sex when they're given a private hotel suite after dating for nearly two months.
3. A man is allowed to feel emotionally distraught over a sexual encounter that does not develop into the relationship he wanted.
4. Andi -- or any woman, reality star or not -- has no obligation to marry every man she has sex with. And not wanting to commit her entire life to someone just because she slept with him does not make her a "cavalier" person.
This isn't the first time "Bachelor" and "Bachelorette" contestants have alluded to sex on the show, or admitted that it happened after the fact. It's simply the first time it's been spoken about directly -- a testament to the fact that the franchise has a whole bunch of "weird sex issues," as Slate's Willa Paskin termed them back in February.
"'The Bachelor' plays the prude, only ever speaking of sex in the most coded, vague terms, like a pimp who blushes at the word 'vagina' and claims his clientele are just playing cards," Paskin wrote.
For shows that never ever explicitly talk about sex, "The Bachelor" and "The Bachelorette" are obsessed with dancing around the subject.
Season 16 "Bachelor" winner, Courtney Robertson, went sexy skinny dipping with Ben Flajnik, and recently confessed that, "Yes. Ben and I did have sex in the ocean. On-camera," in her book I Didn't Come Here to Make Friends: Confessions of a Reality Show Villain. (She also alleged that the producers didn't provide condoms to contestants in the Fantasy Suites, which opens a whole other can of highly problematic, sex-negative worms.)
Clare Crawley had a similarly steamy ocean encounter with Juan Pablo on season 18, after which she was essentially slut-shamed, despite never actually admitting that sex occurred.
And Sean Lowe and Catherine Giudici's sexless premarital relationship got so much attention that there was literally a camera focused on their presumably soon-to-be-utilized honeymoon suite during the entirety of their 2+ hour TV wedding.
There are certainly far better venues than national television, (like, probably anywhere else), to hash out one's heartbreak over a sexual encounter. But given that "The Bachelorette" is a show that at least purports to be about love -- true, long-lasting love, of which sex is nearly always an integral part -- the fact that it came up during a closure conversation shouldn't be "shocking."
For Andi and Nick, last night's sexy "bombshell" was an embarassing public moment that would have seemed quite mundane in private -- an incident bound to create overblown headlines and aghast looks from live audience members, possibly (probably) manipulated by the producers. But for those watching, it was revealing.
Dating and romance and love and lust and heartbreak... and sex... are often a package deal. It's about time we -- and our TV franchises -- got on board, no shame involved.
Leigh Blickley contributed reporting to this piece.
And The Final, Final Rose Goes To...
Josh "Former Baseball Bro" Murray. May they live happily ever after in perhaps-one-day-wedded, Atlanta-based bliss. Here's hoping those crazy kids make it work now that the cameras have stopped rolling.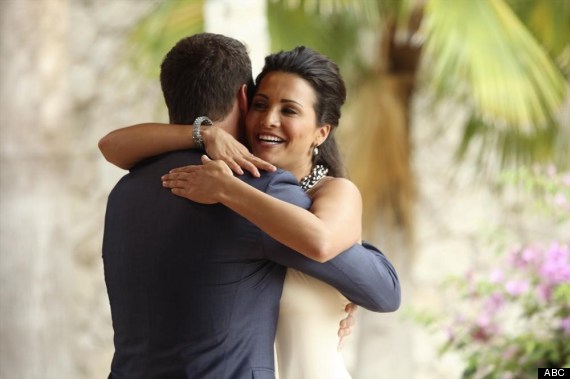 The Best Tweets About This Week's "Bachelorette"
I don't know if I'm more excited for the final rose or just to see @HyDorfman back on TV #TheBachelorette

— Robyn Ross (@RobynRossTVG) July 28, 2014
I imagine a hug from Hy feels even like socks still warm from the dryer, only better. #TheBachelorette

— Andrea Lavinthal (@andilavs) July 29, 2014
Hy asks if it's a camp romance. Hy needs his own show where he scares the crap out of 20something guys each week. #thebachelorette

— Jennifer Weiner (@jenniferweiner) July 29, 2014
"he bats his eyebrows because they are so perfect...he definitely waxes his unibrow" - my 12 year old neighbor #TheBachelorette

— JJ O'Brien (@mrjjobrien) July 29, 2014
The expression "make her my wife" always makes me feel like it's going to be a chloroform thing. #TheBachelorette

— Linda Holmes (@nprmonkeysee) July 29, 2014
"I want to spend the rest of my life with my best friend." Me, too! But I also like men, so there you go. #thebachelorette

— Jennifer Weiner (@jenniferweiner) July 29, 2014
Are Josh's skinny pants cutting off his circulation? His face is as red as his slim fit pants. #TheBachelorette

— Dana Weiss (@Possessionista) July 29, 2014
Mr Hall: Could all conversations please come to a halt?And could suicide attempts be postponed til after the rose ceremony? #TheBachelorette

— Present Day Clueless (@ModernClueless) July 29, 2014
My biggest Bach pet peeve might be when #TheBachelorette takes credit for all the dates "they" planned. Bc a PA def didn't book that yacht.

— Laura Stampler (@laurastampler) July 29, 2014
Ok which intern @BacheloretteABC wrote that letter for Josh? #TheBachelorette

— Kathleen Schmidt (@Bookgirl96) July 29, 2014
Josh on #TheBachelorette gave Andi a baseball card - all I saw was the unnecessary apostrophe. That entire scenario is my worst nightmare.

— Emily Wood (@ewood02) July 29, 2014
I'm so busy social media-ing about #TheBachelorette that I am missing a lot of #TheBachelorette

— Katelyn Quigley (@katesyxoxo) July 29, 2014
Whenever I read "Software Sales Executive" I just imagine Nick selling people copies of "Oregon Trail." #TheBachelorette

— Amy Kaufman (@AmyKinLA) July 29, 2014
This one time, I saw Andi Dorfman wear a side-braid, so now I wear my hair in a side-braid #meangirlsreference #TheBachelorette

— Olivia Mornae (@OliviaMornae) July 29, 2014
Nick actually seems open to putting Andi's career and location choice first, which means he clearly isn't a Real Man. #TheBachelorette

— Claire Fallon (@ClaireEFallon) July 29, 2014
Final gifts are a baseball card and sand art. Somewhere along the way Nick and Josh were replaced with 8 year olds. #TheBachelorette

— Amy McLeod (@admcleod) July 29, 2014
Can Nick throw out the first pitch at Andi and Joshs wedding? #Bachelorette

— William Holman (@WilliamFHolman) July 29, 2014
Thank you Nick, for teaching me that I can be attracted to a capri wearin, scarf sportin male. #TheBachelorette

— Jaclyn Swartz (@JaclynSwartz) July 29, 2014
When watching #TheBachelorette live, the only appropriate commercial break activity is Tinder. #SwipeRight

— James Viall (@jviall) July 29, 2014
We cut the part where Josh asked Neil Lane if he had a baseball diamond. #TheBachelorette

— Robert Mills (@Millsy11374) July 29, 2014
Engagements are so much less fun when you know you have to stay with the dude for 2 years to keep the ring #TheBachelorette

— Jaclyn Swartz (@JaclynSwartz) July 29, 2014
If Farmer Chris is the next Bachelor, it'll be a Taylor Swift nightmare. Every single girl in sundresses and cowboy boots. #TheBachelorette

— Bachelor Burn Book (@bachelorburnbk) July 29, 2014
Holy crap watching this show is like watching vivisection #Bachelorette

— dodai (@jezebeldodai) July 29, 2014
Andi is breaking up with Nick on national TV. This is the stuff of which lifetime movies are made. #Bachelorette

— Sandra Di (@Sandra_Di_) July 29, 2014
Shouldn't SHE propose? It's 2014. It's like A League of Their Own never happened. #TheBachelorette

— Andrew Rannells (@AndrewRannells) July 29, 2014
Andi says "I came here to... Find love!" like each time she thinks that will surprise us. #TheBachelorette

— Claire Fallon (@ClaireEFallon) July 29, 2014
Let's just review that Andi could have met Josh in the bathroom line at a local Atlanta bar. #Bachelorette

— Sandra Di (@Sandra_Di_) July 29, 2014
Something tells me Josh is about to hit a home run. #Bachelorette

— Jill Biden - SL0TUS (@JillBidenVeep) July 29, 2014
Josh is currently quoting every single rom com ever made. #Bachelorette

— Alyssa Hertzig (@alyssahertzig) July 29, 2014
Why do I feel like Josh is going to dump Gatorade on And's head after the proposal? #athlete

— Sean Lowe (@SeanLowe09) July 29, 2014
From here on out it shall be called the Chris-hanger rather than the cliffhanger. #Bachelorette

— Marissa May (@MarissajustMay) July 29, 2014
#TheBachelorette should be set up like #HungerGames. Sponsors send favorite men things like toothpaste or a shave & gifts to give the girl.

— Traffic Jam Jen (@trafficjamjen) July 29, 2014
Nick is going to be in a remake of "That Thing You Do," apparently. #Bachelorette

— Jennifer Mendelsohn (@CleverTitleTK) July 29, 2014
I wonder if Nick has sent @AndiDorfman an invitation to play Candy Crush yet? #Struggleville #TheBachelorette

— Lesley Murphy (@LesleyMurph) July 29, 2014
Why hasn't anyone told Nick that getting dumped on #TheBachelorette is the best pickup line in Wrigleyville?

— Dana Weiss (@Possessionista) July 29, 2014
For the record (MOM), I consider "fiance-kind of things" to be "she roasted him a chicken." #thebachelorette

— Jennifer Weiner (@jenniferweiner) July 29, 2014
I'm glad we FINALLY have a platform to send women the message that if you sleep with someone you don't want to marry, you're a lying whore.

— Jessica Blankenship (@blanketboat) July 29, 2014
That moment when two guys talk about F'ing you (probably during the same week) on national TV. #TheBachelorette

— Ashley Hesseltine (@AshHess) July 29, 2014
If #TheBachelorette were a romcom, Josh = Patrick Dempsey and Nick = Josh Lucas. YOU'RE SUPPOSED TO PICK THE PASSIONATE REDNECK, ANDI!!

— Rati Gupta (@theRati) July 29, 2014
Jesus Christ. Grumpy Cat. #TheBachelorette

— Sally Holmes (@sarahsallyH) July 29, 2014
Grumpy Cat just met Andi Dorfman #bachelorettefinale pic.twitter.com/opM6Dlx7Vs

— HuffPost TV (@HuffPostTV) July 29, 2014