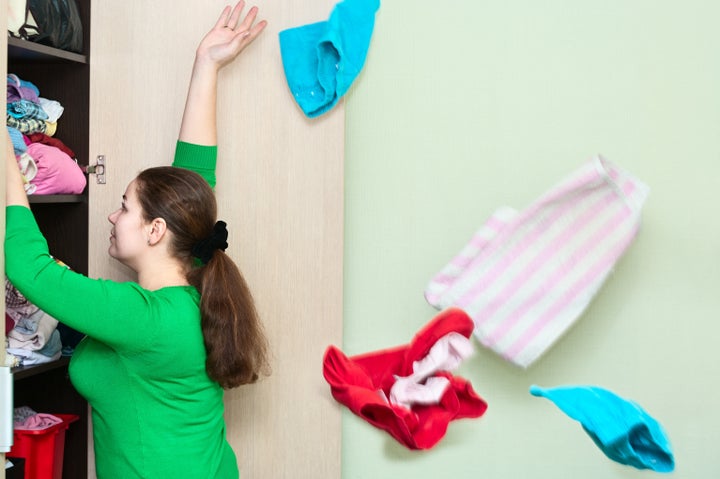 I'm no feng shui expert, but I'm pretty sure that holding onto a wedding gown from a failed marriage may keep me from meeting the man of my dreams. Just an educated guess.
Over the past couple of months, I've cleaned out every closet, drawer and cupboard in my house. A local handyman built out shelves into two of my closets, and I've hauled four carfulls of stuff to a local charity.
My ex-husband had a shopping problem and a spending problem and a hoarding problem and a messy-as-fuck problem. Some of those problems were painfully familiar to me from my childhood. The amount of money being made had little to do with the amount of money being spent. The net result was that I felt out of control of our finances, and by proxy, my life. Equally frustrating: my quality of life overall suffered through my constant battle against a steady inflow of stuff that cluttered our home.
Now the apartment is all mine. My income -- all mine (save for the 90 percent that is spent on my kids). My bills are mine and they all get paid on time! And after this cleansing, I have more space than I know what to do with. I also have a grip on how much I have, how much I need to buy, a sense of what I want to buy -- and how much of that I can afford.
I'm a spiritual person. I don't answer a religion per se (I like to say that I have no problem with any religion -- just the ones that suck), but I spend a lot of time thinking about a higher being. I also believe that things have power. Whether photographs and travel trinkets physically contain energy, I don't know. But there is power attached to the ideas that things represent. And when things represent bad times or people who make you unhappy, it is time to get them out of your house. Open up space for good things.
Cases in point: In recent months I purged my wedding gown (beautiful, but I just can't see myself wearing it on a date anytime soon, and I wouldn't encourage a loved one to re-wear a frock that represents a failed relationship); a folder stuffed full of handwritten lists and clippings from Martha Stewart Weddings that I'd saved from my nuptial planning seven years ago; and a beloved quilted silk coverlet for my bed -- again used for various activities of interest to married people (like fighting before going to sleep).
To be clear, I have many, many great memories from my marriage, and I have zero regrets about marrying the man I did. But I'm not married to him anymore. It's time to move on.
The cleaning extended to personal items, work-related clutter and sorting the pantry. One huge upside of all this organizing and tossing is that you find out what is lurking in the dark reaches of your home. For example, I found I have six tubes of toothpaste and 23 florescent lightbulbs -- gadgets designed to last half my lifetime. I have a half-dozen lamps in my house.
So what good came of all this work? In general, I feel a sense of lightness and control as I look at my kitchen cupboards and know just what selection of grains and spices are at my disposal for dinner. When I needed a certain drill bit the other day, I knew exactly where to find it. In the past I would have clenched up at the thought of slogging through a giant drawer of hardware and left the window blinds uninstalled. There is a serenity that comes with knowing that I have more than enough, and yet am closer to the leaner, more purposeful life that I crave.
But there have been other, less tangible changes that I believe are rooted in this house cleanse. On the work front, I launched a blog, which I've been talking about for months and months (thanks to my many friends and family members for putting up with me). And on the personal side, I've been able to step away from a relationship that wasn't right for me. Perhaps I closed some doors to my marriage that I didn't realize needed addressing. And I've found enthusiasm for dating again.
You could argue that I was simply ready to make these life changes, and the cleaning just stemmed from those motives -- that could be entirely true. But let me tell you -- there is something truly cathartic about handing over a sangria-soiled silk wedding gown to the less fortunate knowing that you never have to inadvertently catch a glimpse of it -- and all that it represents -- when digging through the linen closet for -- please, please God be there! -- Pedialyte.
Now, if anyone in the greater New York City metro area needs a florescent lightbulb, give me a shout. Pick-ups only, please.
A version of this post first appeared here.