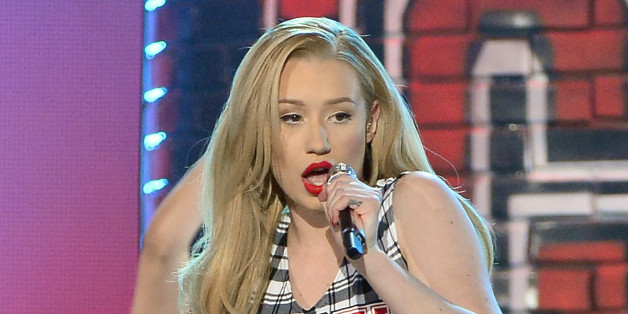 Iggy Azalea is the new Miley Cyrus. In the same way that Miley served as a point of entry to many conversations about whiteness and cultural appropriation last year, Iggy is the latest example of how white artists snatch up elements of black culture, whitewash them, and then sell them to the mainstream as their own. Certainly, Iggy's Billboard chart dominance, which apparently rivals that of The Beatles, demonstrates that white women can appropriate elements of hip hop, a black cultural form, to great commercial success. But it is a mistake to condemn this phenomenon as cultural appropriation, roll our eyes, and throw up our hands. We must acknowledge that white women who engage with hip hop enter into a complex web of identity and genre. They can't quite dominate hip hop, but they instead occupy a liminal space between hip hop and pop, allowing them to incorporate elements of hip hop culture while maintaining the commercial appeal of pop -- a privilege unique to white women artists.
Genre is not a discrete reflection of the aesthetic, but a complex construct the music industry uses to organize and classify artists. An artist's race and gender play a significant role in determining how their music is classified. White women who rap possess neither the blackness nor the maleness that traditionally characterizes the hip hop genre. As a result, the industry often places these women under a "pop" umbrella, giving them access to pop's seasoned big shots who usher them into the mainstream market. Iggy Azalea's two current chart-toppers are collaborations with other women pop stars. Brooke Candy, bizarre white woman rapper from LA, first made the scene in electro-pop artist Grimes's music video. Candy just released her EP with the help of Sia, and her latest video was styled by Nicola Formicetti and directed by Steven Klein, of Lady Gaga's "Alejandro" fame. Miley will be called a pop star no matter how many times she twerks. Even Kreayshawn, who collaborates frequently with black male rappers, is reluctant to call herself a rapper. While some critics have asserted that Iggy belongs to hip hop, in fact it is the ambiguity of her genre that affords her such success.
The MTV Video Music Awards, which are happening in just a few days, call particular attention to the identity politics of genre within the industry. Despite those who want to pit Iggy and Eminem against each other as white rappers who were nominated for VMAs this year, Iggy isn't in the running for any hip hop awards at all. Instead, she can be found in genre-neutral categories (Best Video, etc.) and, more interestingly, she is in the running for a few pop awards. The Best Hip-Hop Video nominees are all black men, with the exception of Eminem. Last year, Macklemore found himself in the hip hop nominations, and in 2011 and 2012, Nicki Minaj was up for awards in this category as well. Macklemore and Eminem are never classified as pop, because their maleness affords them a great deal of "authenticity" within the hip hop genre. Nicki Minaj does, in fact, associate with pop artists, but she receives a great deal of criticism for it. As a woman of color, Minaj has less access to "pop" and is therefore classified most often as a rapper. Artists are constantly accused of selling out by singing pop music, and the genre's feminization undoubtedly plays into its trivialization, coloring white women's inarguable race privilege with pop culture's intrinsic sexism. The automatic classification of white women as "pop" illustrates the intersection of whiteness and womanness as a space of race privilege and gender discrimination that, despite its complexity, leads to a greater opportunity for economic success.
To assert that a white woman is taking over hip hop, as some critics have done, is to profoundly underestimate hip hop's strength within the industry and to play into a discrete definition of genre that does not reflect the nuanced role of an artist's identity in their categorization. Women, namely women of color, have historically struggled to find their places in the mainstream hip hop industry. White women possess the race privilege that they lack, leaving them without a right to hip hop but with the power to appropriate elements of the culture within their "own" genre -- pop. Iggy, Brooke, Miley and Kreay have the privilege of claiming cool black masculinity while maintaining mainstream pop recognition. Angel Haze, whose skill is unrivaled by most rappers -- male or female -- in the industry right now, is up for Best Video with a Social Message at this year's VMAs for her collaboration with Sia. Maybe Haze hasn't achieved Iggy Azalea's level of mainstream success because she isn't willing to compromise her aesthetics (as Iggy openly is) but there's more to it: her blackness does not afford her as much access to pop and her womanness prevents her from making it in the hip hop world. Iggy, too, comes up against hip hop's brand of sexism, but her race privilege allows her some access to hip hop and full access to pop, leaving her with a distinct commercial advantage over Angel Haze and others. Genre is not just about aesthetics. It's about identity and privilege, and Iggy's commercial success is underpinned by her uniquely privileged position as a white woman in the music industry.