I love Easter! Spring has finally sprung, with sweet smells in the air, and sweet treats for us to savor. Here are my latest favorite things --
1. Faberge Faberge Everywhere!
Feast your eyes on the exquisite Faberge Eggs at Harrods in London this Easter. It is landmark exhibition, with the legendary Apple Blossom Faberge Easter Egg on display, rumored to be worth £30M/$50M!
We can but dream that the Easter Bunny makes a detour to deliver us one of these on the 20th.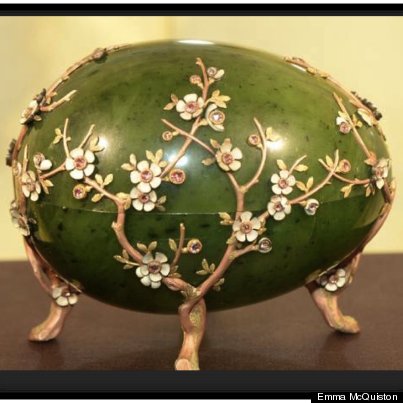 2. Meanwhile, in Manhattan, you may spy a few artistic Easter Eggs --

Join the GREAT Faberge Egg Hunt, which raises money for Elephant Family founded by Mark Shand, and Agnes Gund's Studio in a School.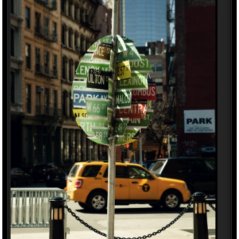 Benjamin Shine's Egg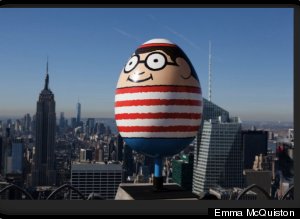 Where's Waldo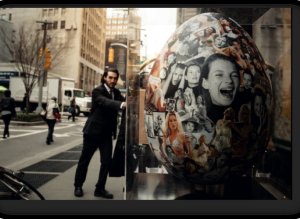 Bruce Weber's Egg
3. For all the fashionEasters out there -- If you like your eggs a little more portable, how about this Christian Louboutin clutch bag -- covered in colorful spikes. This will be a fun addition to your Spring Summer wardrobe. (Net a Porter, £2000).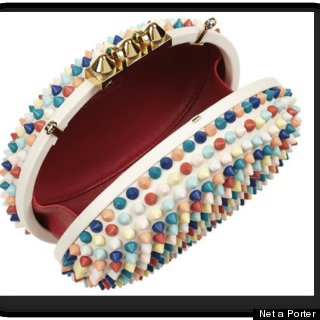 4. I am always on the hunt for the home hair tool that gives me a salon finish, and I may have found it! My BFF gave me the Remington Keratin Therapy Volumising Brush fir my birthday, and I love it!
It is easy to use and gives me a smooth finish, with nicely flicked ends. It is a bargain at £25/$41! Give it a go.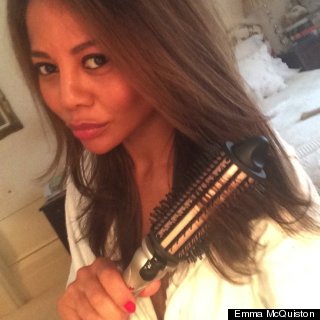 5. Holiday Recipe: On Easter Sunday, treat your family and friends to these delightful little French delicacies --
Rose scented macaroons filled with fresh raspberries and a white chocolate crème: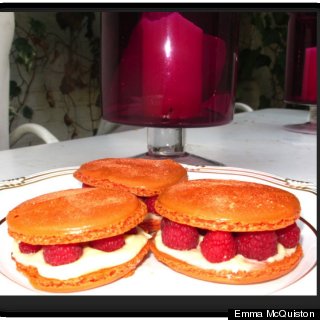 Ingredients:
-116g icing sugar
-85g ground almonds
-2 large free-range eggs
-A pinch of salt
-50g caster sugar
-1 tsp. rose water
-Red or pink food coloring
For the Filling:
-80g white chocolate
-1/2 vanilla pod, seeds scraped out
-80g cream cheese
-50g crème fraiche
-150g fresh raspberries
Method:
1. Preheat the oven to 160•C/fan 140•C/gas3
2. In a food processor, whizz the icing sugar and ground almonds into a fine mixture, then sift into a bowl.
3. In a separate bowl, whisk the egg whites with a pinch of salt into soft peaks and then gradually whisk in the caster sugar until thick and glossy.
4. Carefully stir through the rose water and enough food coloring to give a lovely bright red/pink color.
5. Fold half the almond and icing sugar mixture into the meringue.
6. Add the rest of the icing sugar, making sure you use a metal spoon to cut and fold the mixture until it is shiny and has a ribbon like consistency as it falls off the spoon. Pour the mixture into a piping bag fitted with a plain 1cm nozzle.
7.Line 2 baking sheets with baking paper. Pipe small rounds of the macaroon mixture, about 3cm across onto the baking sheets. Of course you can make them any size you want, from mini petit fours to giant sized macaroons. I decided to make large rose macaroons, so instead of a 3cm diameter; I piped a 5cm diameter onto the baking tray. Give the baking sheets a sharp tap on the work surface to ensure a good "foot," or base to the macaroons. Leave them to stand at room temperature for about an hour to form a slight skin. You should be able to touch them lightly without any mixture sticking to your fingers.
8. Bake the macaroons for 15-20 minutes, until crisp and not too colored. Slip the baking paper with the macaroons onto a slightly damp work surface. After a few minutes, peel the macaroons carefully away from the baking paper and allow to cool on a rack and dry out a little before filling.
9. To make the filling, melt the chocolate with the vanilla seeds, and in a separate bowl, mix the crème fraiche and the cream cheese together. Once the chocolate has melted, add the it to the cream cheese/crème fraiche mixture and beat together. Leave to set for ten minutes before transferring to a piping bag.
10. When the macaroons and filling have cooled, pipe a small amount of the filling onto half of the macaroons, then top each one with another half macaroon. Gently press together and chill for 30 minutes before serving.