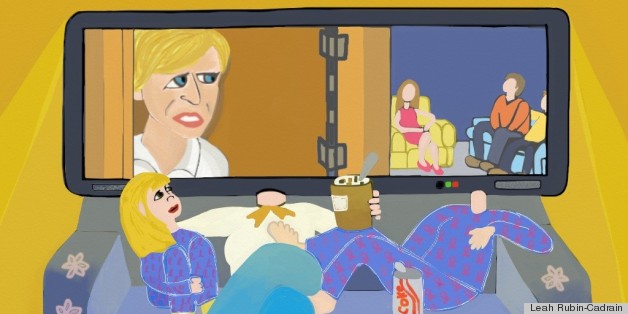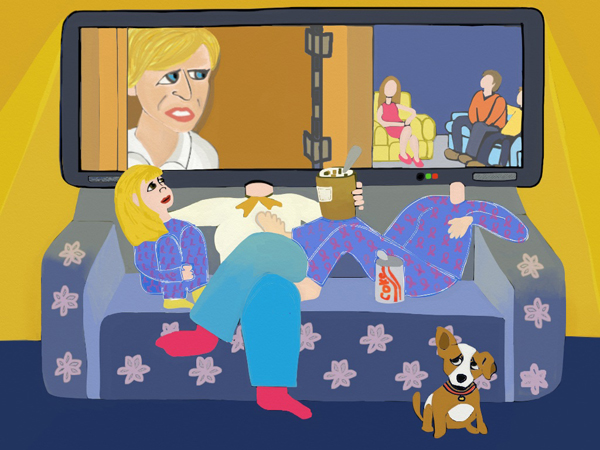 Illustration by Leah Rubin-Cadrain (@leahaviva)
It was a big night in my house the night Ellen DeGeneres came out on her '90s sitcom, Ellen. The show stood out from our cherished lineup of Monday-night comedy: first Murphy Brown, then Cybill, then Northern Exposure, which would air as I nodded off to sleep. Candice Bergen and Cybill Shepherd were so funny. Plus, they were tall and blonde and had nice boobies. (I inferred as much from my mother R's stray comments over rocky-road frozen yogurt and Diet Coke, both part of her nightly TV ritual.)
But Ellen was different, because she was gay like my moms. She was funny just like our other favorite show-runners, but her gayness lit up my living room like a long-lost UFO friend: alien and strange but welcome and missed all those many years of TV watching.
The night we sat down to watch Ellen come out, everything felt different. Instead of the usual TV-time vibe of post-dinner sleepiness, the living room was a giddy place. It was our first time watching a very funny mainstream show with a lesbian protagonist.
My mother R was very up on who was a lesbian and who, sadly, was not. I didn't understand why it was so important to her. I didn't understand why she loved Provincetown so much when other, non-gay vacation spots seemed just as fun to me. (Well, almost as fun.) I also didn't get why she was so into all her dumb detective novels about gay ladies solving crimes. I didn't see what the difference was.
And yet as the episode began, a cozy feeling came over me. It felt like being on the right side of an inside joke.
After our move to West Hartford, my parents took greater pains than ever to be out. For their benefit, and especially for mine, it was important to them that we not live dishonestly, even though we were majorly in the minority as an out gay family. To see Ellen go through such a similar transition so honestly, so comically and so publicly was a breath of fresh air for my parents.
For years straight people had been coming into our home every week to make us laugh. My heroes were blonde comedians with men orbiting around their storylines.
But the night Ellen came out, I felt like my family got an invitation to the party. It hadn't occurred to me that we'd been excluded thus far, but now I saw it. The price of inclusion was noticing that all along we hadn't been included.
In the first scene of the episode, Ellen's friends tease her as she gets dressed behind a closed door for a date with a man named Richard. "Ellen, will you come out already?!" they demand.
As a 12-year-old, I was tickled by the metaphor. Ellen was literally behind a closed door, and her friends beckoned her to "come out already." Get it? I did.
I was nervous. What if the episode failed to deliver that special something that R was seeking? What if the episode sidestepped Ellen's gayness and she only sort of came out in a coy way? What if all the hype went awry? While Ellen wasn't talking about gay families with kids, she might as well have been, extending her story so intimately into our home. We were not the only ones who felt reached in this way. ABC actually placed parental advisories on later episodes, which understandably infuriated Ellen and many gay activists, because there was no sexy stuff going on except people being openly gay and living their lives.
After the big coming-out episode, on a shopping trip at Nordstrom, my mother R and I spotted some light-blue pajamas covered in stars and moons, with dancing breast-cancer ribbons throughout the pattern. I was very taken with the ribbons, the stars and the cozy blue flannel backdrop. But more than that, the pajamas in the Nordstrom sleepwear section caught our eyes because Laurie, Ellen's new girlfriend on the show, had worn those very pajamas in a recent episode. R and I were so excited. We picked two sets off the rack: one in small for me, and one in medium to surprise my other mother, M. They didn't carry R's size, but if they had, my entire family would have owned matching pajamas. R paid for the mall spoils, and we triumphantly brought a piece of Ellen home with us.
When Ellen was eventually canceled, we just kept wearing the pajamas and watching our old shows. I wore those blue pajamas for 15 years, always remembering Ellen and her first TV girlfriend when I put them on, and my mom's excitement that they were selling a tangentially gay thing at Nordstrom's in West Hartford, Conn., in 1997.
Read more about growing up and being a grownup with two moms at two-and-a-half-women.tumblr.com.