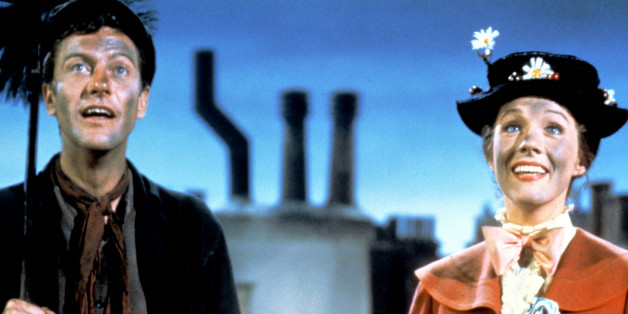 Last week, my mother and I celebrated the release of our 28th children's book, The Very Fairy Princess: Graduation Girl. Throughout the few days of promotion that we engaged in, from interviews to school visits, I was asked what I am frequently -- no, always -- asked: "What was it like growing up with Julie Andrews as your mom?"
I am often stymied by this question (which I am generally expected to answer in five seconds or less). Sometimes I try to be witty: "Well, I didn't understand why she couldn't just snap her fingers to help me clean my room!" Sometimes I repeat the lackluster truism, "She was just Mom to me." But on the eve of Mother's Day, I'd like to acknowledge the un-surprising and un-sensational fact that my Mom is an even better egg than the world imagines her to be.
Our Very Fairy Princess picture book series was originally inspired by my daughter, Hope. As Hope did for many years, our indomitable heroine, Gerry, passionately believes herself to be a fairy princess, despite all evidence to the contrary -- a conviction that helps her navigate an unending stream of challenges. It's not about the tiara and wings (though they help, of course); it's about a frame of mind. "You can be whatever you want to be," Gerry says to her naysayers. "You just have to let your sparkle out!"
Hope has a similar strength of spirit, which has certainly seen her through her own challenges, but in many ways Gerry is more a reflection of my Mom, whose inner sparkle belies its hidden source and value.
"Are we lucky, or what?" Mom will say, usually in the most unlikely of situations -- savoring a cup of tea while recovering from ankle replacement surgery, for instance. In fact, she repeats this maxim so often (and the family jokes about it so much) that one of my sisters put it on a plaque that now hangs in Mom's kitchen.
This may come as no surprise -- after all, what would you expect from Mary Poppins? And it's easy enough to make jokes or even be snarky about positivism. In fact, according to UrbanDictionary.com, Mary Poppins is now a verb, meaning "to do something flawlessly," conveying as much implicit cynicism as the adjective "Pollyannaish."
But the truth is, her professional persona notwithstanding, Mom's outlook has been the key to coping with a fair share of trials throughout her lifetime. As anyone who has read her memoir knows, she was a latchkey kid, raised during the Blitz. Her parents were divorced, her mother and stepfather both alcoholic, and her stepfather was abusive. By her early teens, she had dropped out of school to support the family and care for her younger siblings. Like our Gerry, courage, determination, and a glass-half-full perspective saw her through.
In recent years, that same resilience has helped her handle other slings and arrows, from the loss of her singing voice as the result of botched throat surgery to the passing of her husband after over 40 years of marriage. But her sparkle remains undimmed.
What was she like as a mom? She was up at 6 a.m. each school day, cooking us a "good protein breakfast" no matter how late she'd worked the night before. When my appendix ruptured, she slept on a reclining chair next to my hospital bed for days. When my own daughter was in the neonatal intensive care unit after having been born 10 weeks early, Mom put her life on hold to drive me to the hospital every day for a month.
She's not "practically perfect" -- she's apt to swear a blue streak, for instance, even in front of the grandchildren -- but she does carry a seemingly magic purse, from which she always manages to produce the precise thing you need at the exact moment you need it, which is why almost everyone she works with soon refers to her as Mom as much as I do. Whether it's a Band-Aid, a button-hook or a hug, she gives freely and generously of everything she has and is.
So, Mom, if anyone is "lucky," it is I -- for being born your daughter, for the love and support you give in endless abundance, for the joyful, creative partnership we now share, and for the lessons in grace and perspective I learned at your knee. And if I sound Pollyannaish, well... tough. What do you expect from Mary Poppins' daughter?
Like Us On Facebook |

Follow Us On Twitter |

Contact HuffPost Parents