A New York Times foreign correspondent tweets, "2 brave Muslim women ... dissect IS videos 2show just how grounded they r in Islamic scripture."
"Courageous push for [women's] rights in Muslim world," reads a Des Moines Register headline to describe a campaign challenging Iran's religious dress code.
The Boston Globe spotlights, "Four Courageous Women Who Are Making a Difference," in Kenya, Pakistan and Syria.
Muslim women are often celebrated as courageous when pushing back against legal, social and cultural norms within their faith communities. But, Rose Hamid's recent silent protest at (and ejection from) a Trump rally while sporting a hijab and T-shirt that read, "Salam, I come in peace" begs the question: aren't Muslim women pushing back against Islamophobia "courageous," too?
We haven't always viewed them that way. But, perhaps we should.
Consider these examples.
Muslim Women Create Their Own Fashion Norms (By Embracing Modesty)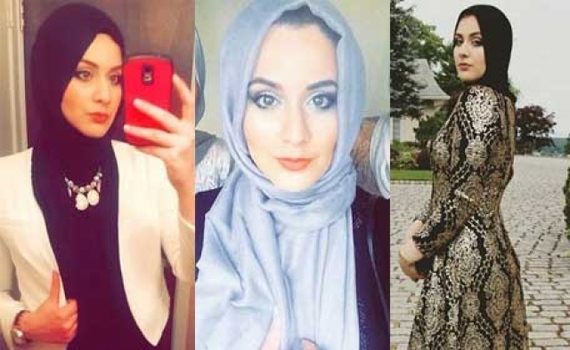 Abrar Shain, a Palestinian-American voted best dressed by NJ high school seniors last year. (Credit: Emirates 247)
From Dina Tokio to Haute Hijab, from Dolce & Gabbana to DKNY, from models to fashion bloggers, Muslim women have changed fashion norms while remaining true to their faith beliefs. In a world where following the latest trend is everything, these Muslim women have made their mark by ignoring it, with a modest sense of style. Brave.
Courageous Muslim Women Fight to Attend School (in Belgium and France)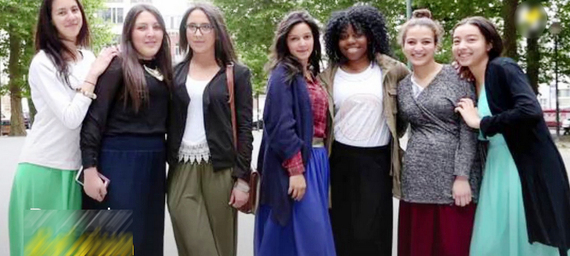 Muslim schoolgirls sent home from school in Belgium for wearing long skirts. (Credit: Channel 24)
Last year, European Muslim women were denied the right to an education - a human right that everyone should enjoy - for wearing a long skirt to class.
In France, where the hijab and other religious "symbols" have been banned since 2004, more than 130 Muslim schoolgirls (who had already abandoned their headscarf) were sent home because officials disapproved of their modest skirts (e.g. too provocative, conspicuously religious, etc.). Muslim students in Belgium had a similar experience.
These developments triggered a Twitter campaign, #JePorteMaJupeCommeJeVeux which translates into 'I'll wear my skirt how I like.' As a result of the public pressure, Belgian school officials eventually permitted the brave Muslim schoolgirls to pursue their studies.

Brave Muslim Women Go Online, Take to the Streets to Challenge Status Quo
(Islamophobia)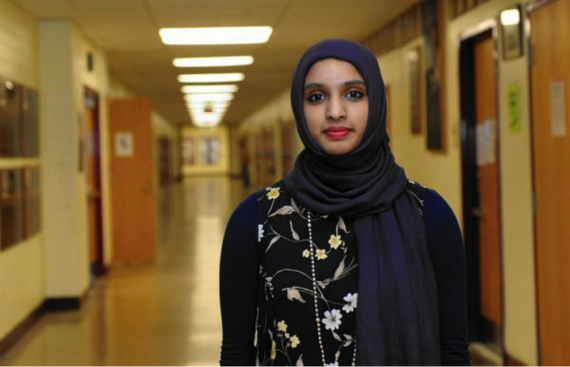 Amara Majeed. (Credit: Baltimore Sun.)
American Muslim women are creating online initiatives, networking sites and blogs to counter negative messaging and views about their faith and religious community.
For example, Amara Majeed is a 17-year-old high school student who created "The Hijab Project" to challenge hostility towards Muslim religious attire. Her desire to remedy misconceptions about Muslims motivates her to also write for CNN and The Huffington Post. Majeed's courage has even inspired her mother, who grew up in Sri Lanka, to reclaim the hijab she had abandoned out of fear post 9/11.
Like Majeed, Rana Abdelhamid also created a social media campaign - "Hijabis of New York" -- to raise awareness about the experience, perspectives and identities of American Muslim women. A graduate student at the Harvard Kennedy School of Government, Abdelhamid's project represents her courageous, peaceful response to a prevailing climate of Islamophobia.
Others, like Mona Haydar, have taken to the street to challenge stereotypes. Last year, together with her husband, Haydar set up a "Ask a Muslim," stand outside a public library in Cambridge, Mass. The allure of free coffee and doughnuts drew folks into conversation.
Haydar later shared her reflections -- hopeful, inspiring and optimistic -- on Facebook.
Brave Muslim Women Succeed in their Careers
(Despite Alarmingly High Rates of Religious Discrimination in Employment)
Research evidence tells us that Muslim women face formidable challenges overcoming employment discrimination because of their faith identities. A recent British study found, for instance, that Muslim women are 70% more likely to be unemployed than their white Christian counterparts with identical credentials and language skills.
And, anecdotal evidence suggests that anti-Muslim animus isn't just directed to those who have embraced the hijab.
Still, some British Muslim women are pushing back against Islamophobia and succeeding anyway. Last year, the UK saw a historic 13 Muslim women become Members of Parliament. The BBC's Mishal Husain, a Muslim of Pakistani heritage, was also named Broadcaster of the Year. And, Nadiya Hussain - of Great British Bake Off fame - won her nation's heart.
Each of these Muslim women were courageous enough to believe in themselves, and in the possibility of change.

Muslim Women Speak Out Against Community Violence
(Bias Attacks)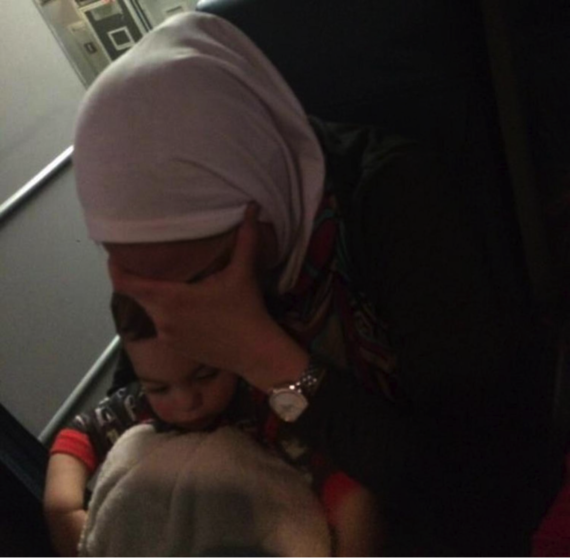 Darlene Hider/CREDIT: Aljazeera.
As a guest on a European radio station observed last year, "It takes courage to wear a scarf." In the past decade or so, Muslim women here and in Western European have been increasingly targeted by anti-Muslim hate violence. More than 80% of hate crimes in France are experienced by Muslim women; similar rates prevail in the U.K. as well. American Muslim women are also vulnerable.
But, they are speaking up and fighting back. Literally, at times. After she was physically assaulted in an anti-Muslim hate crime, Rana Abdelhamid - the Harvard grad student referenced above - developed self- defense classes to protect other women. She's not alone.
After Australian Muslim Nasrin Amin experienced two separate hate attacks in Melbourne, she organized a community wide forum to raise awareness about Islamophobia, and Muslim women's experiences. Interestingly, her message is one of friendship. "There's nothing to be scared of," she shared at the forum, "we can be friends."
While some have overcome violent hate crimes, other Muslim women's experiences haven't involved physical injuries but are perhaps just as traumatic.
Representative is Darlene Hider's encounter with Islamophobia during her Delta Air Lines flight last year. While traveling with her family, Hider was moved to the back of the plan after another passenger began complaining about her kids. She apparently told Hider, who wears the hijab, "This is America!"
Still, Hider's message was one of forgiveness. "This made me stronger," Hider told HuffPost. "Our faith teaches us to forgive, and I do."
And, that too takes courage.
Engy Abdelkader serves as Assistant Director and Adjunct Professor at The Bridge Initiative, a research project at Georgetown University.