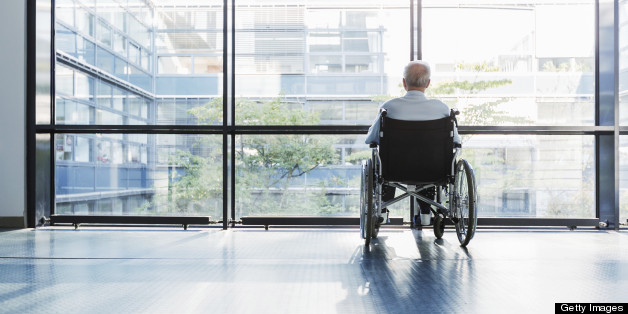 All one has to do lately is read a few newspaper columns and you'd think that this is the season of loneliness. Perhaps it is. I mean, it is the season of graduations and all that the tradition brings. Oh sure, the graduate gets to turn the tassel to the other side of the cap and the smiling friends and family get to tell the graduate how proud they are of him or her. The one thing that nobody talks about that day, however, is the "loneliness factor." The parents become empty nesters and the graduate is suddenly transformed into someone who has to fend for him or herself in the next chapter of life. And with that next chapter may come a feeling of loneliness. They suddenly are pushed out into the world to examine a future that no one knows the ending to, even as the excitement and anticipation of embarking on a new adventure are palpable. Still, there is the loneliness factor. The big, cold world is waiting and they are left to fend it all by themselves.
This annual graduation phenomenon got me to thinking not just about the loneliness of younger people venturing into the world solo for the first time, but also the loneliness of older individuals who have lived in that world for decades but now find themselves in a new, and often solitary, place.
In the May 14 issue of the New York Times, Jane Brody wrote a very compelling piece entitled "Shaking off Loneliness." She refers to work done by Dr. John Cacioppo, an award-winning psychologist at the University of Chicago. He refers to something I was unaware of but that I found absolutely fascinating, namely the UCLA Loneliness Scale. Who knew a scale to gauge loneliness even existed? The article references some remarkable studies about the effect of loneliness on physical and mental health. These seem to indicate that loneliness impairs health by raising stress hormones and increasing inflammation. And such inflammation has been linked to heart disease, arthritis, Type 2 diabetes and even suicide. And speaking of suicide, in the May 19 issue of the same New York Times, Ross Douthat devoted an entire column to the affects of loneliness on suicide rates. He quotes Judith Shulevitz's essay in The New Republic about the consequences of loneliness, noting that she reports "one in three Americans over 45 identifies as chronically lonely, up from just one in five a decade ago." By any measure, that is disturbing. The article goes on, "With baby boomers reaching retirement age at a rate of 10,000 a day the number of lonely Americans will surely spike." University of Virginia sociologist Brad Wilcox has also pointed out that there is "a strong link between suicide and weakened social ties: people -- and especially men -- become more likely to kill themselves when they get disconnected from society's core institutions (e.g., marriage, religion)." Connect the dots and it is easy to see just where our society could be heading, unless we take steps to intervene.
So, again I ask, what do we have here? It is clear that we've got a population that is aging and getting lonelier and lonelier. And that has huge social implications, both personal and national, that need to be addressed. Ms. Brody reminds us that
"People are fundamentally social beings who require meaningful connections with others to maximize health and well-being." In other words, we need each other. We do better when we are with others. We feel better. We perform better. We are healthier. We even eat better. Who among us prefers to eat alone all the time?
As an advocate devoted to trying to eradicate senior hunger, why am I writing about the loneliness phenomenon? Because I have been doing a great deal of thinking lately about how to best ensure that seniors in need of food receive it. And I have been doing a lot of thinking about how to connect the dots. Understanding that there are indeed seniors who are going hungry in our country is one thing (and we must constantly remind ourselves that this is a huge problem for us). At the same time, examining fully how not only to provide the necessary life-sustaining sustenance, but determining how best to deliver that critical service is another.
For years it seems to me, based on my own experience in this arena, we have been far too content to "deliver food" to our elderly neighbors, with the hope that they will eat that food, without giving sufficient consideration to the question of whether or not such a system is the best one to support their total well-being. Programs deliver without asking, honestly, if they are addressing holistic needs of seniors -- without daring pose the harder question of whether or not they are alleviating their loneliness or inadvertently contributing to it. With that issue in mind I asked myself, "What if we instead encouraged those who are physically able to go to a senior center, a church dining hall, a community kitchen or some other congregate center where they can eat communally?" After all, we are social beings. We are comforted and can give comfort to others in social situations. Why not think about the senior as more than just in need of food, but as a human being in need of human interaction? Why not encourage him or her to go to a communal dining center and break bread with others.
Eating alone can be lonely. Loneliness can be unhealthy. Shouldn't we be encouraging a new paradigm for those older adults who have the ability to leave their homes? What paradigm? One that involves communal dining -- an intergenerational communal dining experience, in fact. Why not encourage the community kitchens that serve community tables where the old and the young share not just a meal but also each other's company?
We need to break the molds and break old habits and think about developing ways to enable the generations to come together over a meal. We need to experience a rebirth of the family table where nobody is alone and all are welcome.