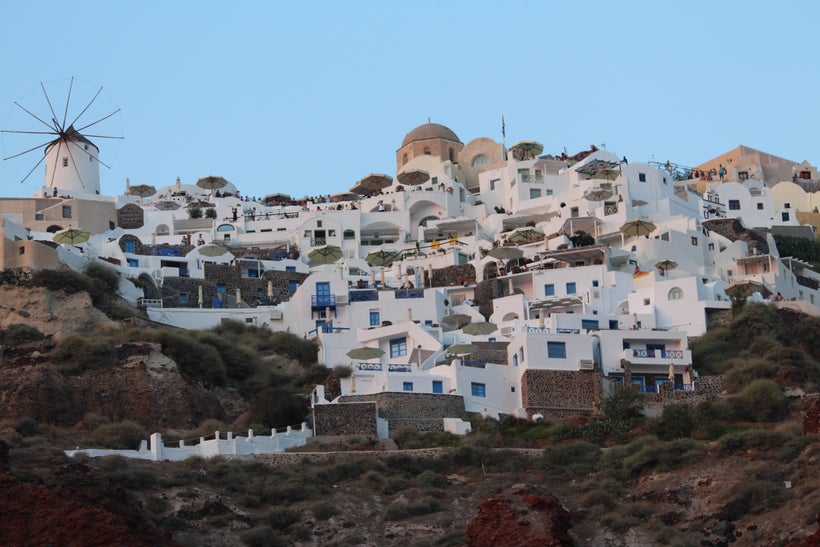 Many people think of Santorini as a honeymoon destination filled with starry-eyed newlyweds and wedding proposals around every corner. However, Santorini is actually an amazing destination for a family vacation and is filled with fun activities to do with your kids. There is no need for electronics to keep your kids entertained and never once did my kids say they were bored. Being in Santorini is like walking into a postcard and this concept is not lost on kids. Here are my top 10 things to do in Santorini:
10. AKROTIRI ARCHAEOLOGICAL SITE: In the late 17th century B.C, this city was buried in volcanic ash. This preserved city is a marvel to explore because it shows what life was like during that period. This beautifully preserved site is housed inside a building so the sun is not beating down on you like most archaeological sites. Kids and adults can get a great view from above while walking on the elevated path around the site.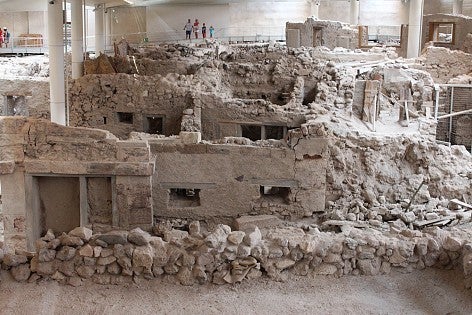 9. KAMARI BEACH: The towering cliffs that line this beach are an ashen shade of yellow and have a porous appearance, unlike any I'd ever seen. The facilities at this beach make it very family friendly. There are restrooms in the restaurant as well as wonderful outdoor seating areas to escape the sun. If you don't feel like straying far from the water, the beach is lined with chaise chairs that have umbrellas and you can order food and drinks to enjoy at your seat.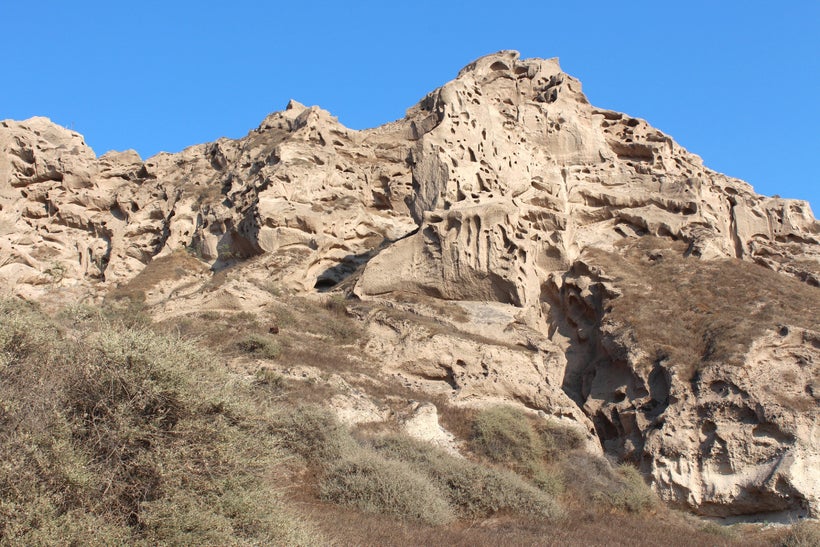 8. SWIM IN THE HOT SPRINGS: How often can you say you went swimming inside of a volcano? Swimming in the hot springs of the caldera is a popular excursion for tourists. An interesting part of this experience is the water is hot at the surface, but if you hang your legs straight down the water is cool so you are feeling two different temperatures at once. The water has a copper color to it and can discolor your bathing suit so you may want to wear an old one for this activity.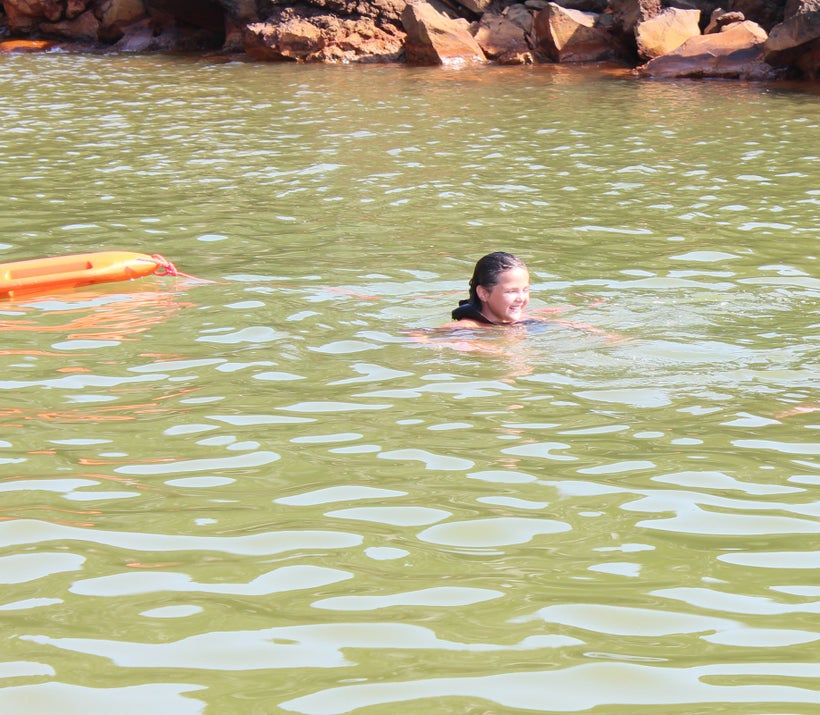 7. SNORKEL AT WHITE BEACH: The sand and towering cliffs of white beach were a stunning grey color and the water was crystal clear. You can see many colorful fish but the best part is you can see the actual drop-off of the volcano. It made my stomach drop the first time I saw it. You swim along enjoying the interesting patterns of sand beneath you and suddenly, the sandy floor disappears and is replaced with blackness.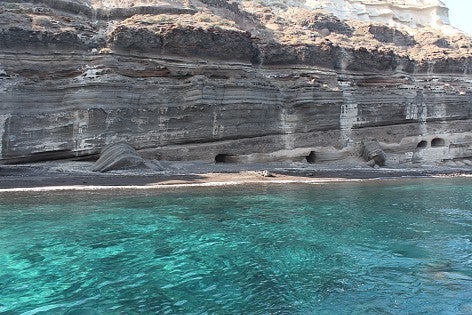 6. AMOUDI BAY: This gorgeous bay sits under Oia and has a completely different ambiance than the town. You can either drive down to the bay or walk the 200 steps down from town. People gather to sun themselves on the rocks, swim in the water, and cliff dive from a small island. There are no facilities at the swimming area so be sure to bring water, towels, and a change of clothes if you plan on eating down there. This tiny seaside spot contains small fish taverns with seats that are right at the water's edge. It's fun to watch people's reaction to the octopus that are hung up to dry in the sun. In the evening, you get a great view of the people watching the sunset and can be thankful you are not stuck in the loud crowds above you.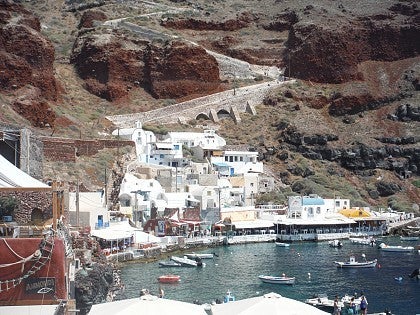 5. RED ROCK BEACH: This breathtaking beach is unlike any we've ever been to. The towering dark red cliffs serve as a backdrop to a clear water with red sand. Even if you don't want to go down to the beach, you can stand at the top of the cliffs to get a look at how beautiful it is. The beach can get very crowded so you may want to go early in the day and the dark sand gets extremely hot so you will want to wear something on your feet.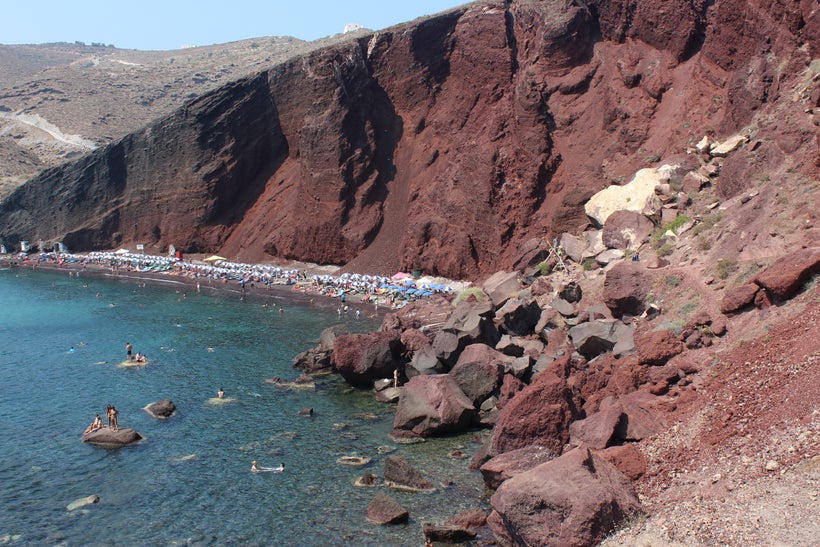 4. BYZANTINE CASTLE RUINS: My most memorable morning was spent at the castle ruins, where I was alone with my thoughts and surrounded by the beauty of Oia. The actual building is more of a shell but the views around it are breathtaking. 360 degrees of blue water, white buildings, and stunning cliffs welcome you from the top of the ruins. It is the perfect spot to capture how unforgettable Santorini is.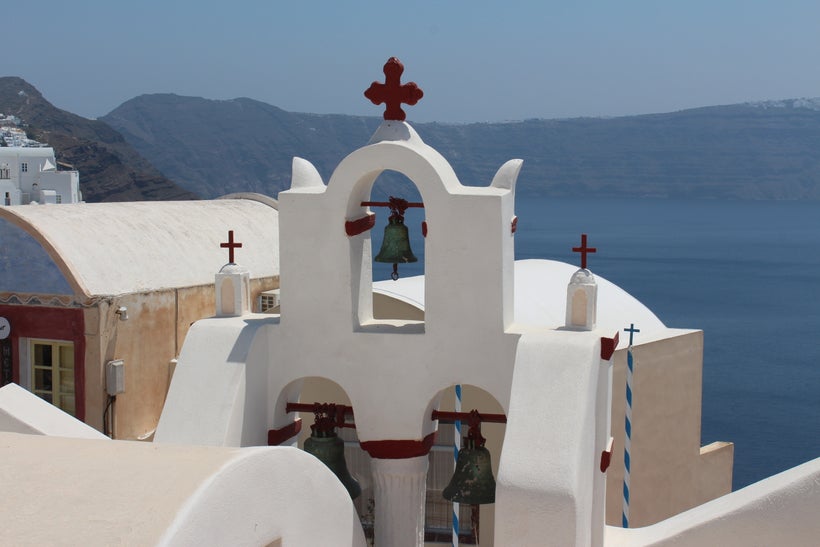 3. GET OUT ON THE WATER: There is no other place on Earth like Santorini and its beauty is even more amazing when you are looking up at the small villages with their white buildings dotting the hilltops. A chartered private boat is the best way to see the island so you can set your own agenda, but there are many tourist boats that do excursions each day.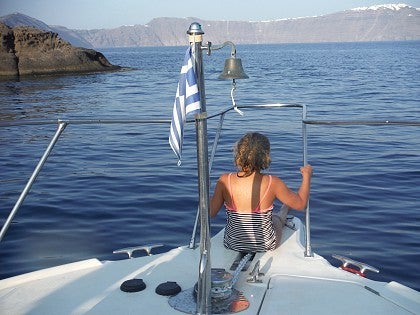 2. SANTORINI SUNSET: Isn't a sunset just a sunset? Not in Santorini. Here, a sunset is an experience. However, be prepared to share this experience with hundreds of other people all trying to get a good spot. The key is to find somewhere you can sit way before sunset so you do not have to fight the crowds. There are many restaurants with prime seating for the sunset and perhaps an early dinner would be worth it to save your spot. Personally, I think the best place to watch the sunset is from the water. The orange glow of the setting sun reflects off the stunning pearl colored town of Oia.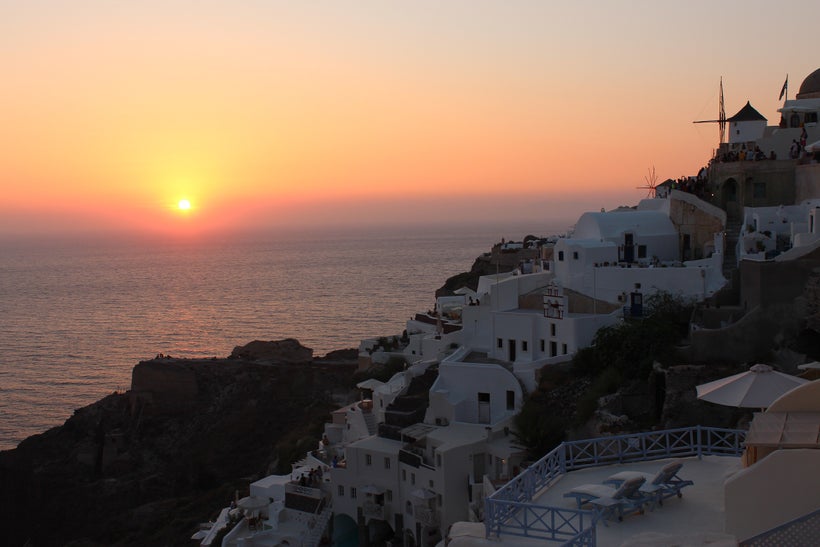 1. EXPLORE OIA: Everywhere you look in Oia is breathtaking and just when you think you've seen the best view, you turn the corner and it's like you've stepped into a postcard. The best way to spend the day is walking around town getting lost in its maze of streets, poking into small shops, stopping for a drink in a tavern, and letting yourself get swept up in the beauty of the town. There are hundreds of steps in the town so be prepared to get a good workout. The town is at its best early in the morning and in the evening, after the cruise ships leave. It is then that you can sit back and consider yourself honored to be temporarily part of this community.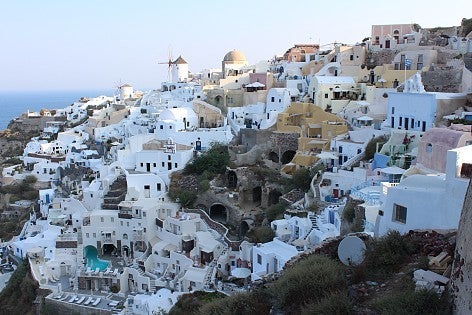 This post was published on the now-closed HuffPost Contributor platform. Contributors control their own work and posted freely to our site. If you need to flag this entry as abusive,
send us an email
.