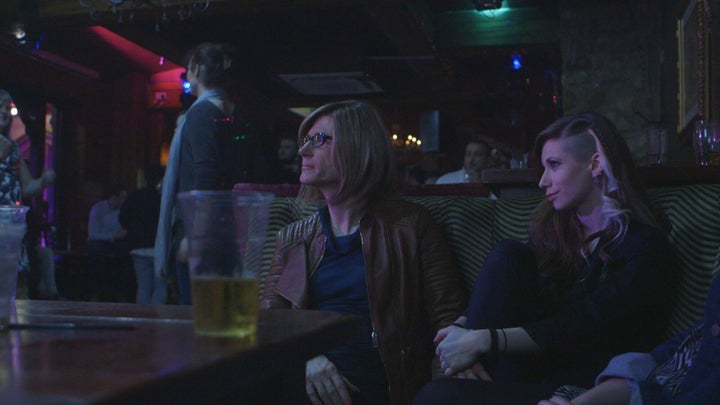 In June 2016, Scottish artist filmmaker Lucie Rachel released Where We Are Now, an insightful personal documentary about the relationship between a young bisexual woman and her transgender parent, who recently made the decision to transition. The moving 9-minute film presents viewers with a rare, intimate look at a non-heteronormative family. The film pairs clips of Rachel and her parent going about their daily lives with candid voiceover reflections on the transition process. Where We Are Now shines as a testament to the simple truth that we are all more similar than we are different.
"Having trans people play trans people allows for more informed, subtle, authentic performance. It makes for BETTER ART, which is the point."
Rachel cites this persistent lack of transgender narratives in mainstream media as one of her primary motivators for creating Where We Are Now:
"At the time I was graduating from art school, I'd just completed my first film and accompanying photo book, both titled Mother Father, about my parents' relationship and coming out for my degree show. Shortly after completing this work, my parent told me she planned to transition, which was - despite all signs pointing here - somewhat unexpected news for my sister and I. From then, I felt compelled to continue the story and to document the changes in our relationship in the early days of the transition process. I wanted to focus on the emotional side of things and avoid the clinical content that is so often present in the media surrounding transgender stories, and I also wanted my parent to be able to use the platform to tell her own story."
In this trying time for transgender people, Where We Are Now amplifies a transgender voice. In the film, Rachel's parent considers the impact of her transition:
"I've not changed. I can see to the outside world it would seem like a big change. All that's really happened is that I've been able to show the world who I really am. And just be able to get on with my life."
Rachel's film expands that world. By screening her parent's story to global audiences, Rachel helps to affirm the trans experience and the non-heteronormative family.
While Rachel describes her Forbes Under 30 win as "totally unexpected and awesome," she remains most proud of her parent's positive reaction to the film:
"To be honest though, the best moment was sitting next to my parent in the premiere as she watched it for the first time, and hearing that she liked it."
Through earning its impressive spread of accolades, Where We Are Now has both shed light on a talented young LGBTQ filmmaker in Rachel and provided a platform for a transgender woman to share her story with global audiences.
Luckily, this pioneering film shows little signs of slowing down.
Most recently, Where We Are Now was selected by the British Council and the British Film Institute for FiveFilms4Freedom 2017, the largest global online LGBT film festival. This selection will allow the film to continue to reach people who typically lack access to queer cinema. From March 16th-26th, 2017, FiveFilms4Freedom will make the five selected short films available online and free of charge for audiences in 180 different countries.
On March 21st, 2017, viewers worldwide are encouraged to watch and share the five films using the hashtag #FiveFilms4Freedom to recognize that love is a human right.
Arguably one of the best things about Where We Are Now is the universality of its message. Rachel balances the particularity of her narrative voiceover with elegant shots of workaday chores, exercise, and social gathering. Rachel's family may be unique, but her daily life is familiar. In her own words:
"I guess the universal (and somewhat cliche) message of the film is that loving, supporting and accepting yourself is an essential part of the same process of loving and supporting and accepting others. Change isn't a straight forward process, it takes time and it's okay to find it difficult, but it's inevitable and we should endeavour to embrace it."
Support the short documentary advancing transgender visibility worldwide:
Share the film on social media with the hashtag #FiveFilms4Freedom to raise awareness of the campaign and support the #LoveIsAHumanRight movement.
Learn more about Lucie Rachel, director of Where We Are Now, by visiting her personal website and following her on Twitter.
Visit COLAGE! if you are a person with non-heteronormative family.