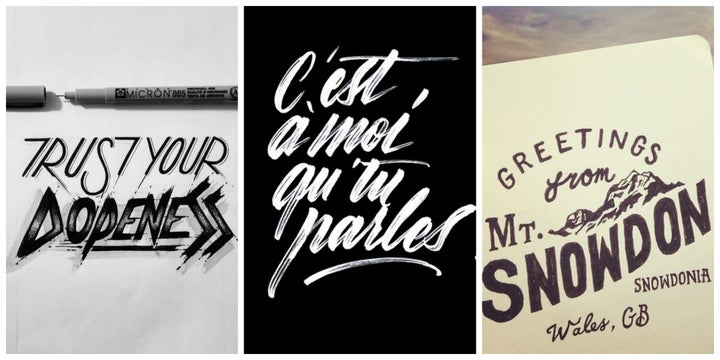 Doodlebugs of the world: gather 'round! Though you may feel alone while scribbling in notebook margins during lectures, there are, in fact, others like you. Others who covet the perfect pen like it's the perfect romance. Others who can't hold a writing utensil without compulsively scribbling. 
As with so many other hobbies made inclusive and participatory by social media platforms, writing words out by hand is a craft that's found its home on Instagram, where graffiti gurus and modern calligraphy artists post their work.
So if you've got a Moleskine with a firm spine -- or, if you just want a break from reading and skimming blocks of typewritten text, dull and without variation -- look below. We've wrangled up our favorite accounts devoted to handwriting. Many put their skills to use by designing wedding invitations and company logos, but many others simply take pleasure in the hobby.
1. Jessie.
A soft, thick calligraphy that rolls like waves. Bonus: account-holder Jessie photographs her sketches in the spots that inspired them.
2. Paula Lee
Though she's skilled at classic calligraphy, Paula Lee's signature scribblings have more of a raw, offhand look to them.
3. Chronicle Books
Okay, okay, Chronicle isn't solely a lettering-based account (the publisher features its children's books and art books as well), but it offers up an array of journals and inspiration for how to fill them.
4. Alexis Deaton
Alexis Deaton, like many lettering accounts, chronicles her wedding invitation design forays, but she also uses her modern calligraphy to write out quotes she enjoys.
5. Love + Thank + You
Another contemporary take on classic script -- dressed up by sprigs and flora.
6. Chalkboy
A divergence from more traditionally beautiful scrawl, this account showcases precious sans serif lettering, featured on storefronts and logos.
7. The Stamp Foundry
The Stamp Foundry designs -- you guessed it -- stamps. But they first sketch out their custom images, some rustic, some clean and contemporary.
8. Pez & Pencil
This account harkens back to the Old West, with thick, slabby letters.
9. Jeremy Tow
Jeremy Tow's graffiti-inspired lettering is a refreshing addition to delicate, straightforwardly pretty script.
10. Action Jaccson
A versatile account that mimics the fonts of popular logos, and invents worthy new designs, too.
11. Christina Chahyadi
If you love girly curls, the ornate doodles of Christina Chahyadi will wow you.
12. Victoria Rothwell
Victoria Rothwell does wedding invitations, but she's also a great one to follow if you enjoy refreshing watercolors or all things metallic.
With thick scrawl that winds like wrought iron, Chris Wright's gorgeous handwriting is both bold and playful.
14. Melane
Another modern calligraphy account that'll attract anyone who relishes a daily dose of inspiration (Taylor Swift-inspired or not).
15. Anna Rowe
Anna Rowe's handwriting is chunky, childlike and sometimes a little silly -- perfect for brightening grey days.
16. Fitz
This isn't necessarily a handwriting-centric account, but the artist's fun, cartoonish doodles often feature bubbly letters and offhand remarks -- a good one to follow if inspirational quotes make you cringe a little.
17. ivylao
Like regular calligraphy, only tinier!
18. Zak Southgate
 Delicate, funny, and often intricate.
19. Old English Company
Old English Company prints cutesy, hand-written mantras on notepads, coasters -- and just about everything else.
20. Janne
An offhand scrawl that's a cool blend of calligraphy and graffiti.
PHOTO GALLERY
12 Illustrators You Should Know Right Now