 As the 2012 elections loom, both parties are starting to pour resources into congressional and gubernatorial races across the country. While Republicans work to regain control of the Senate, Democrats are vying to pick up seats in the GOP-controlled House. Below, a rundown of election news happening beyond the presidential field.
GOP Poll Shows Rehberg With Small Lead
A Republican poll by McLaughlin & Associates shows Rep. Denny Rehberg (R) leading Sen. Jon Tester (D) 46 percent to 40 percent in the Montana Senate contest. The two candidates were tied in "likability." The high-stakes race is expected to be one of the closest in 2012 (Politico rated it the #1 most competitive race today) and could determine which party gains control of the chamber.
Will Ben Nelson Go To K Street?
Shortly after announcing he wouldn't be seeking reelection, Sen. Ben Nelson (D-Neb.) made a point to clarify that that doesn't mean he's retiring. "I have no plans to retire. No plans to retire. Zero," he said in an interview. So what's next for the Cornhusker senator? The Hill reports could fetch more than $1 million per year if he takes a job on K Street. So far Nelson has given no indication of whether he will become a lobbyist. He said his reason for not seeking another term was to spend more time with his family.
Kucinich To Run Against Fellow Democrat, And Maybe Joe The Plumber
Dennis Kucinich (D-Ohio) announced yesterday he'll run in Ohio's 9th District against fellow Democrat Marcy Kaptur -- the longest-serving female member of the House. State redistricting pitted the two incumbents against each other in the very Democratic district. Kucinich briefly considered moving to Washington state to avoid what's bound to be a challenging race, but scrapped the idea. Meanwhile, Joe the Plumber (real name Samuel Joseph Wurzelbacher) is vying for the GOP nomination in the district.
Kaine And Allen Still In Dead Heat
The latest poll shows Tim Kaine (D) and George Allen (R) still tied in Virginia's heated Senate race. The two former governors have been consistently neck-and-neck in the polls, within just a few percentage points of each other.
The Takeaway From Washington's New Map
Washington state's new congressional election maps were finalized yesterday and the state gained one additional seat. The new 10th District was drawn by an independent commission to be very competitive, but has a slight Democratic tilt.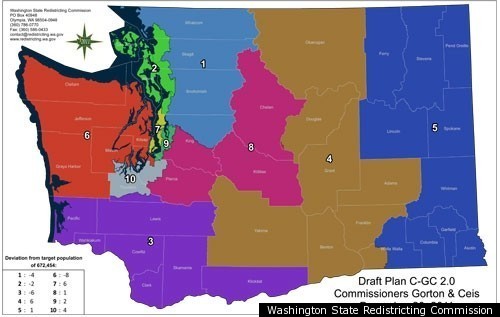 BEFORE YOU GO