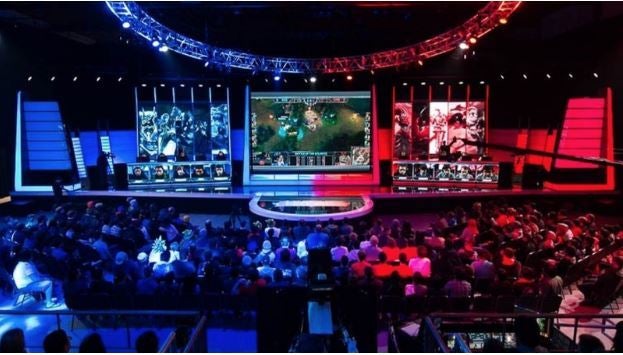 When you think of the word fantasy what comes to mind? And yes, while something related to sex is probably the first answer - think for a moment about the evolution of the word on the internet. Sure, it may have started with the typical definition. But the Internet has changed everything.
Our idea of fantasy has evolved (for some) from sex, to storytelling, to now, game play and beyond. With this evolution, "fantasy" has now become synonymous with groups of players or teams battling to the top of digital leaderboards, and virtual leagues structured around competitions that don't even play out in the "real world".
Fantasy has taken on a whole new meaning.
Now we have as many different kinds of fantasy as our imaginations can handle. Fantasy sports alone has become a $7 billion industry. According to the Fantasy Sports Trade Association, there are 59.3 million people who take part in these online competitions between the United States and Canada alone - a 3.3% increase year-over-year, and the highest number of participants recorded in the last 14 years.
And this doesn't include fantasy gaming or any other type of fantasy game play.
Clearly, fantasy competitions are big business. And if the numbers are anything to go by, their economic impact and drawing power is only going to increase in coming years. Here's a look at some of the top fantasy platforms that are set to make an impact on their industries in the near future.
Fantasy football is by far the most popular fantasy sport. Sleeperbot has managed to make a name for itself in the saturated space by focusing on the social aspects of these leagues. It started off as a chat app for sports fans, and added season-long fantasy sports capabilities at the start of the NFL season this year.
Sleeperbot's fantasy leagues are structured based on the understanding that most people play these competitions with friends and family. In most cases players have to make trades on one platform and interact with each other using a different messaging app. Sleeperbot makes things a lot simpler with a chat interface embedded right into the app. Players can offer trades, pin important instructions and conduct polls all within the league chat. It has never been easier to tell a friend to suck it over a poor fantasy trade.
Trading is tough. Even after you get past the complicated terminology and reading all of Warren Buffet's pithy advice, you barely stand a chance of turning a profit. Cue ZeroSum, a fantasy trading platform that allows noobs and pros alike to test trading strategies online before taking them to markets in the real world.
Players start by simply entering competitions of their choice. From here they make fictional trades and predictions based on live data from the markets. For each competition a leaderboard is created based on the amount of fictional profits players are able to generate through their predictions. Although the profits made aren't real, players don't walk away empty-handed. The winners of each competition on the platform are rewarded with ZFX, a token based on the Ethereum blockchain - that can then be converted to Bitcoin, Ethereum or cash. What better way to make sense of how the big bad world of retail trading works while making some cash.
Fantasy esports has been on a roll for a while now. The industry grew at a whopping 40% rate until 2016 and is projected to be worth $1.5 billion by 2020. Skrilla is poised to become an important player in the lucrative industry with an esports platform built on the blockchain.
Skrilla allows its users to make bets on esports competitions. Players use their knowledge of different esports to create rosters consisting of pro players. They can then watch the competitions unfold live and track the performance of their roster. Winners are rewarded with Skrilla, am Ethereum blockchain token. Making use of the blockchain allows Skrilla to eliminate fees generally paid to intermediaries. It also simplifies running the competitions across countries since there isn't a dependency on regional currency. The creators plan on introducing a betting exchange and other head-to-head skill-based contests in the future.
And there you have it. Fantasy has taken on a whole new meaning, and these three platforms are poised to rock your world. No, not in that way. Get your mind out of the gutter and go have some fun.
This post was published on the now-closed HuffPost Contributor platform. Contributors control their own work and posted freely to our site. If you need to flag this entry as abusive,
send us an email
.