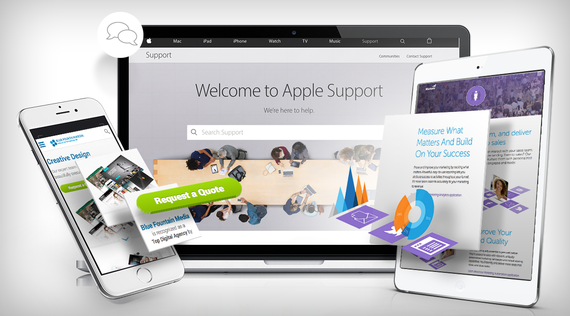 Landing pages are just as important as the homepage of your website. These onsite pages are critical to engaging potential customers, moving them further down the funnel (by providing more information about your products and services), and eventually converting them.
First off, regardless of your industry, when you're implementing digital marketing tactics, you should always use designated landing pages that are relevant to the specific product or service that you're promoting. Whether it's a PPC advertisement that's highlighting a women's running sneaker, or a Facebook ad that is discussing a new credit card offering, sending users to a general homepage once they click through would be a mistake. When you send users to your homepage after capturing their interest for a very specific item, you're failing to cater to the needs of your customers. Making the visitor search for a particular good, or dig through pages in order to find what they're looking for can be incredibly frustrating and often result in the user leaving the page altogether.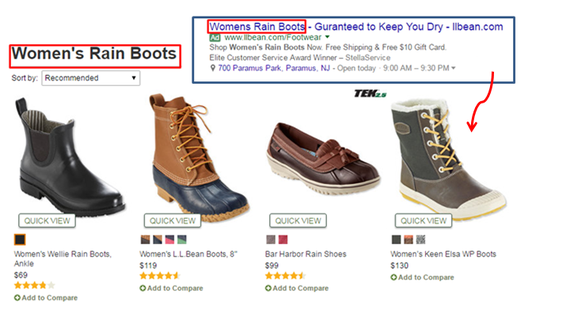 As seen in the above example, keep it as simple as possible for the user. If they are searching "women's rain boots," send them to your product page designated for "women's rain boots." So, that being said, if you're not already sending users to designated landing pages from your marketing channels, then you absolutely should. However, once users arrive on those pages, what can you do to help ensure that they're provided with a pleasant user-experience and that they move further down the conversion funnel?
1. Concise Messaging
Onsite messaging should always be concise and to the point. Overwhelming the user with core messages that are lengthy and take a lot of time to absorb can be discouraging for the user to continue reading. If you have a lot of content that you want to include on your site, format your landing pages so that core messages are simple at the top, and if the user wants to read more, they can scroll down for further information.
Copy on these pages should be for particular products or services, so using general wording that provides no real value or clear direction to the user is not going to be very effective. Instead, focus on tailoring your copy for the specific need that the landing page aims to fulfil.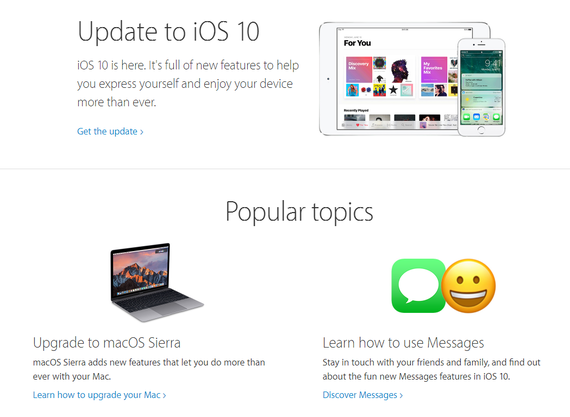 One of Apple's landing pages, their support page, is a solid example of this key element. Messaging is concise and to the point, while still giving the user a general indication of what to expect should they click on the item to learn more.
The more focused your landing page messaging is, the better. The more niche your landing page messaging is, the better.
2. Engaging CTAs
Whether the goal of your page is to encourage a user to request a quote, or to purchase a product, these "buttons" are your calls-to-action (CTAs). On every page of your website, landing pages of course included, there should be a specific step that you want the user to take.
A compelling and strong CTA is essential for driving conversions and engaging the user on your website. Without an enticing CTA, the user won't be very likely to click on the item, and move further down the conversion funnel.
In the example below, on the Blue Fountain Media website, we entice users to request-a-quote by providing them with a concise list of exactly what they can anticipate if they choose to click on our CTA.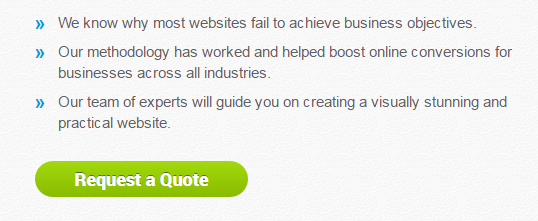 3. Dynamic Imagery
Too much onsite text can be boring for users to read, and often result in visitors leaving the page because they don't want to sift through that much copy. Engaging users on landing pages is essential to driving conversions. So, if you're not capturing the interest of potential customers on these important pages, you're going to find it difficult to improve your conversion rates.
To craft an enjoyable reading experience, and ensure that website visitors are fully grasping the value your company offers in terms of your products or services, break up text by using dynamic imagery. Images shouldn't simply be used as filler space, but instead should hold a real value, without being overly flashy or dynamic.

The service provider, Marketo, is a good example of using images that really pop out to help reinforce what their messaging is saying. Instead of using flat imagery that holds no real value, the brand uses iconography, including graphs and charts, which stands out, fits with their overall theme, and represents exactly what the service they're promoting is all about. Partnered with concise messaging and a strong call-to-action, Marketo exemplifies 3 of the essentials needed for an effective landing page design.
Optimizing Landing Pages To Drive Conversions
The layout of a homepage, including everything from navigation to the content on it, is typically a major point of focus for brands online. Companies want to make sure that they're optimizing their homepage for the best possible user-experience and for the most sales. However, to be successful online, this same mentality should be used when it comes to landing pages as well.
By taking these 3 simple steps to ensure that your brand is offering the best experience possible to your users online, you'll find it far easier to facilitate engagement and drive conversions with your users online.
To learn more about website design and how to optimize your landing pages for the best results, visit Blue Fountain Media online.