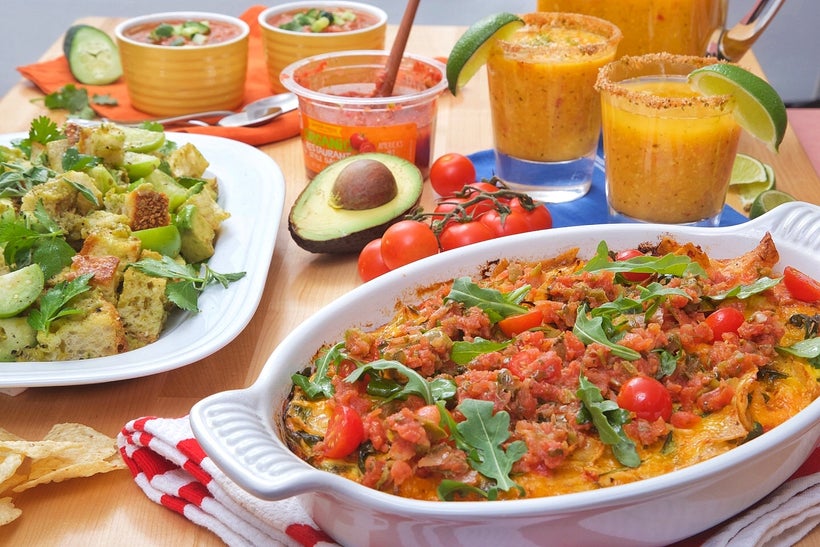 When it comes to entertaining, salsa bought in the deli section of the grocery store has been my secret weapon for years. Like champagne, I always have at least two options in the refrigerator at my fingertips. The 16-ounce pint containers are the perfect size for most recipes, and the fresh ingredient varieties save at least 5-10 minutes of washing or chopping. So convenient!
My usual salsa "go-to" recipe, especially this time of year, is my Grilled Avocados. People flip out when they learn even the hardest avocados bought at the grocery store can be grilled in 7-10 minutes and transformed into delicious persona-sized "guac and chips" with salsa spooned over top. It's a party hit every time.
Since May is National Salsa Month, I decided to push myself past the grilled avocados recipe and give myself a "Chopped" salsa challenge. I wanted to see what cool, clever ways I could take salsa and turn it into new family favorites and dinner party crowd pleasers.
I had a lot of fun with this salsa challenge and learned quite a bit in the process. Mainly, I discovered that there are way more varieties of fresh salsas at the grocery store than I thought. More than the traditional restaurant style salsas we tend to reach for, there are many roasted tomato, garlic and pepper versions, several made with fruit, such as peaches, strawberries or even mangoes, like my new favorite Garden Fresh Gourmet Mango Salsa (yum!), and an abundance of creative varieties using artichoke, black beans and tomatillos. With these options to play with, my creativity in the kitchen was pushed beyond what I expected. And that's a good thing!
Here are four new clever ways to use salsa to wow your guests:
For gazpacho, fresh is the most important flavor. During the summertime, I especially crave the gazpacho I first tasted in Spain – made with juicy ripe tomatoes, sharp onions and sweet peppers along with chunks of freshly baked bread, roasted bits of almond and smoky paprika. To re-create this delicious Spanish-style version, I use restaurant style salsa for the base and then "whoozge it up" in the blender along with high quality extra virgin olive oil, roasted almonds, Spanish sherry vinegar and fresh, crusty pieces of baguette from the bakery. It comes together quickly and is finished off with diced, crisp cucumber and drizzles of olive oil.
Salsa and chips are a crowd favorite anytime. So why not turn them into a homey, satisfying breakfast casserole the whole family will devour? For this recipe, I take a cue from Spanish tortas, playfully using tortilla chips instead of thin layers of potatoes, then folding in a generous cup or more of tomato-y salsa. The trick is to let the chips soak up a bit of the egg mixture to ensure the casserole is rich and "egg-y." This is one of those dishes that once you get the hang of it, it can be made freestyle, adding in personal twists according to your tastes and likes.
I never thought to take salsa and turn into a drink, but now I'm scratching my head as to why not? It's a darn great idea! Using salsa as a cocktail base is a clever trick to get drinks ready quickly for brunch or a special family gathering. This recipe takes a fruit-based salsa and turns it into refreshing, modern bloody marys with smoky mezcal and mango juice. It's a fun and welcomed twist from the traditional tomato-based versions. The best thing yet…a pitcher is ready for guests in less than 10 minutes. That's a party!
This rustic salad is easy in preparation, yet big and complex in flavor. The bitey taste of fresh, raw tomatillos is balanced and mellowed by an avocado "verde" salsa, making this non-traditional panzanella salad exciting to eat and pretty to look at on the plate. Champagne vinegar adds brightness to the flavor, too, along with a good handful of fresh parsley leaves. For added depth and a bit of crunch, the bread cubes can be toasted in the oven first before putting the salad together.
This post was published on the now-closed HuffPost Contributor platform. Contributors control their own work and posted freely to our site. If you need to flag this entry as abusive,
send us an email
.