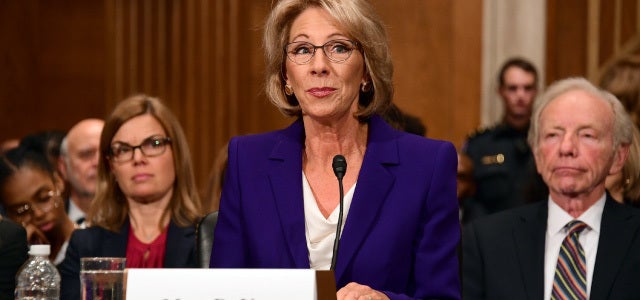 On Tuesday, the United States Senate narrowly confirmed Betsy DeVos as the new Secretary of Education.
Her confirmation comes after a historic, tie-breaking vote made by Vice President Mike Pence, despite Democrats' tireless efforts to thwart her appointment.
Here's a breakdown of what DeVos potentially stands for as America's new education secretary, what happened during her confirmation process, and what this all means going forward.
1. She supports privatizing education in America
A billionaire philanthropist, DeVos's experience is primarily in the private sector. A lifelong Republican, she served as the chairwoman of the Michigan Republican Party and runs a charitable organization with her husband.
One of the focal points of her advocacy efforts has been around school choice and promoting voucher programs for private schools. Her nomination, and now her confirmation, highlights President Donald Trump's focus on the privatization of education.
"We believe that all children have a right to a quality public education, and we fear that Betsy DeVos' relentless advocacy of charter schools and vouchers betrays these principles," said Kary Moss, executive director of the ACLU of Michigan in a statement following DeVos's nomination.
2. She lacks experience with student loans
During the confirmation hearings, critics made it clear they felt DeVos was grossly unprepared to deal with the federal student loan system and the current student loan debt crisis.
Throughout questioning, DeVos avoided providing specifics about her plans for student loans. She did not discuss what to do with Public Service Loan Forgiveness, free college initiatives, or providing assistance for low-income students.
Trump's proposal for student loans is a dramatic departure from the current system. And since both Trump and Pence campaigned heavily for DeVos, it's safe to assume that DeVos supports Trump's plans.
3. She is very polarizing as education secretary
In the weeks since the first confirmation hearing for Devos, Senate Democrats have continuously highlighted her inexperience as grounds for her rejection.
In a final attempt to keep her from securing the confirmation, Democrats held an all-night debate Monday into Tuesday in the Senate. The goal was to sway just one more voter in their favor to vote against DeVos.
Critics site her advocacy for school choice and DeVos' criticisms of the public school system as their chief concerns. They also point out that DeVos has no prior experience with managing a school, teaching, banking, or managing student loans.
4. She needed a historic vote in the Senate for confirmation
All 48 members of the Democratic caucus in the Senate voted against DeVos' appointment.
Two Senate Republicans – Lisa Murkowski of Alaska and Susan Collins of Maine – went against party lines and also voted against DeVos. They cited concerns about her focus on charter schools undermining public education.
The remaining 50 Republicans voted to confirm her, leading to a historic 50-50 tie.
That's when Vice President Mike Pence cast his vote to break the tie, confirming DeVos as Secretary of Education. It is the first time in history the Senate needed a Vice President's vote to break a tie to confirm a Cabinet nominee. And it is the first time that a Vice President cast a tie-breaking vote in nine years.
The Democratic National Committee (DNC) quickly condemned the confirmation.
"President Trump's swamp got a new billionaire," said the DNC in a statement earlier today. "Millions of teachers, parents, and students could not have made their opposition to Betsy DeVos' confirmation any clearer – they do not want someone whose only education experience is dismantling public schools."
What's next for Betsy DeVos?
DeVos' confirmation is a bold move. She is now responsible for overseeing $127 billion in annual federal student loans and the Pell Grant program, despite having no higher education or financial management experience.
Her specific views on the student loan system are still unknown. But based on her advocacy efforts and what we learned during the confirmation hearings, it is likely that she will push for further privatization and school choice.
For more information on Trump and his policies, check out this article on what his proposed overhaul of Dodd-Frank regulations means for your finances.
More from StudentLoanHero.com