Christmas is still over a month away, so before you skip to the twinkly lights and cheery red ribbons, grab the chance to cover your home in acorns, pine cones, and turkeys! The coziest holiday is right around the corner, so before your Thanksgiving guests arrive, make your holiday house 100 time more amazing with these budget and beautiful decor ideas from Hometalk bloggers.
1. Put Together Pumpkin Place Settings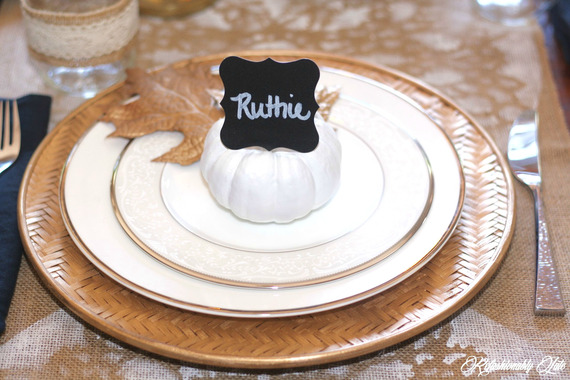 Project via Refashionably Late
Show your guests to their seats with everyone's favorite fall emblem. Bonus: These are so easy to make! See the full post here.
2. Hollow Out a Pumpkin Vase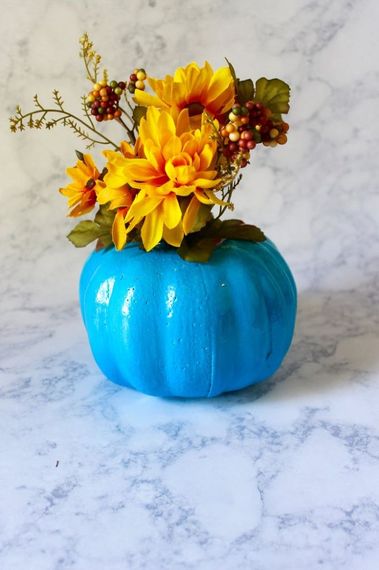 Project via The Dean's List
Create a couple hollowed out vases and planters for faux flowers or real succulents. See the full post here.
3. Craft a Pretty Thankful Sign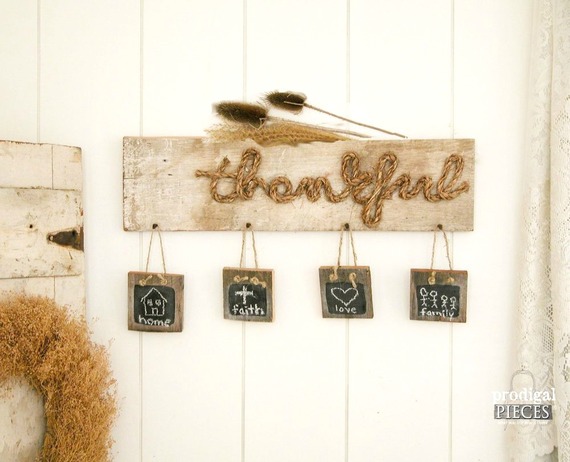 Project via Prodigal Pieces
Make a rustic thank you sign, to show your gratitude for the most important things in life. See the full post here.
4. Use Gold Chargers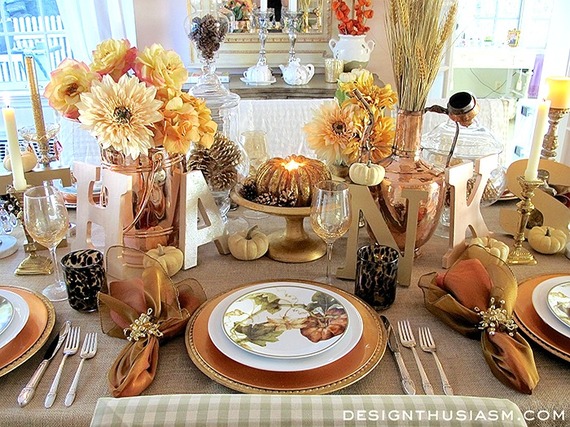 Project via Designthusiasm
A metallic table theme is an easy and inexpensive way to make your dinner table glow, expecially these glorious gold chargers. See the full post here.
5. Make This Give Thanks Pumpkin Art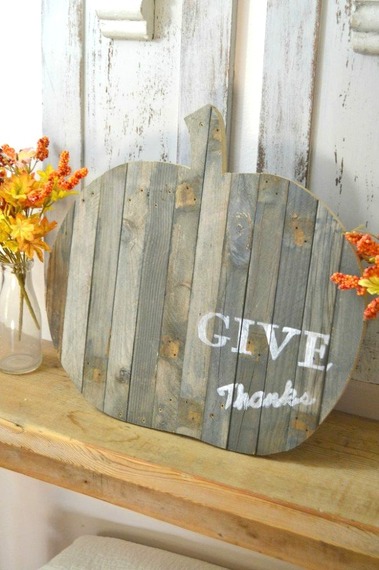 Project via My Creative Days
Repurposed planks can make your Thanksgiving home sparkle with cheer, as little wooden pumpkins. See the full post here.
6. Keep a Blessings Jar on Display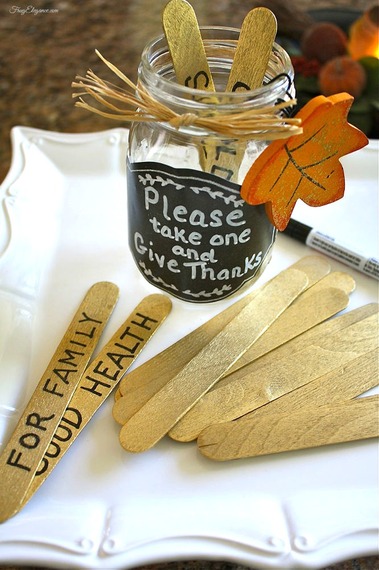 Project via FrugElegance
Give your household and guests encouragement to share their blessings, with a sweet and simple blessings jar. See the full post here.
7. Make Sweet Pumpkin Puzzle Frames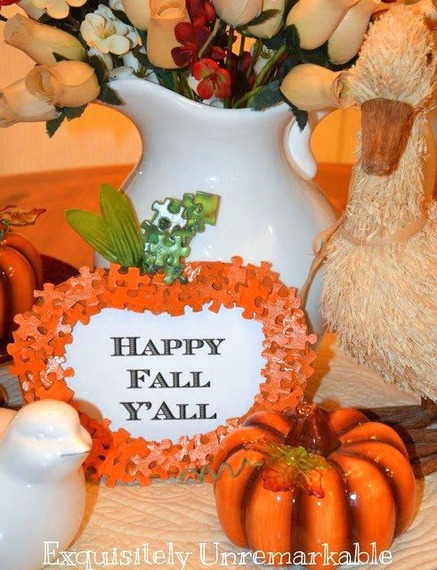 Project via Exquisitely Unremarkable
Make your own fun pumpkin frame using puzzle pieces and paint, perfect for displaying a menu or sign. See the full post here.
8. Put Out Essential Oil Diffusers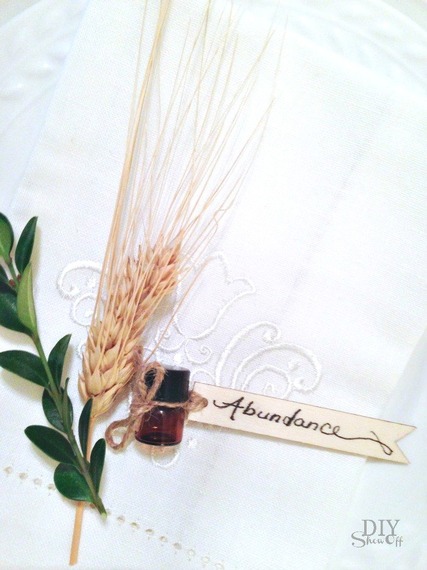 Project via DIY Show Off
Preempt any Thanksgiving dinner stress with some personal oil diffusers for all of your guests. See the full post here.
9. Craft Glittering Feather Place Cards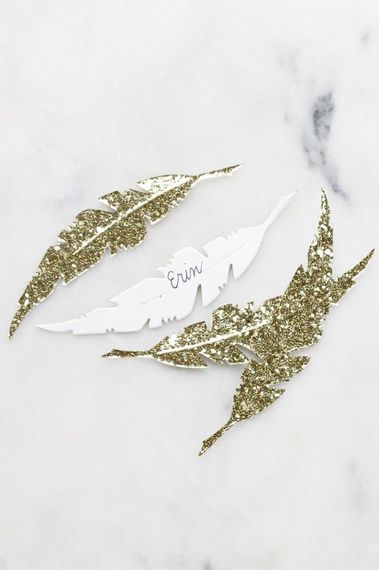 Project via DIY on The Cheap
Go for subtle and sparkling, with these easy and inexpensive golden feather place cards. See the full post here.
10. Set up an Upcycled Porch Display

Project via Organized 31
Turn old shutters (or whatever you've got) into two signs to flank your front door and greet your guests. See the full post here.
11. Make Turkey-Themed Place Mats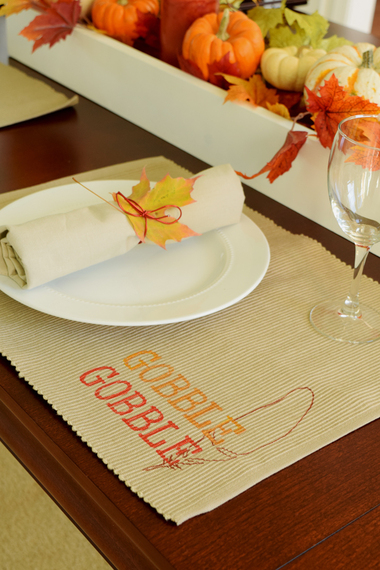 Project via Craving Some Creativity
These not too over the top turkey mats have just the right amount of delicious decoration. See the full post here.
12. Arrange a Natural Centerpiece from the Pantry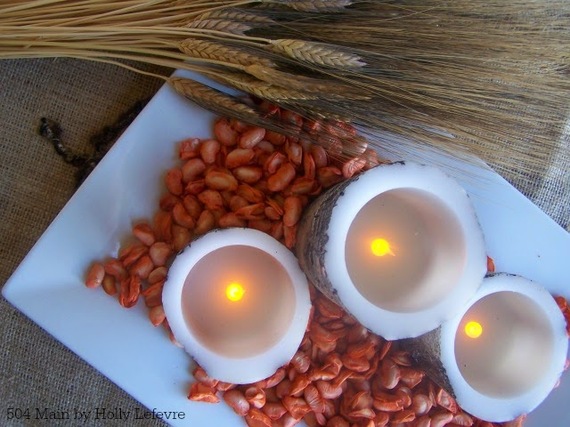 Project via 504 Main
Grab a few ingredients from the pantry, for this simple and budget-friendly centerpiece design. See the full post here.
13. Take 5 Minutes to Make Turkey Napkin Rings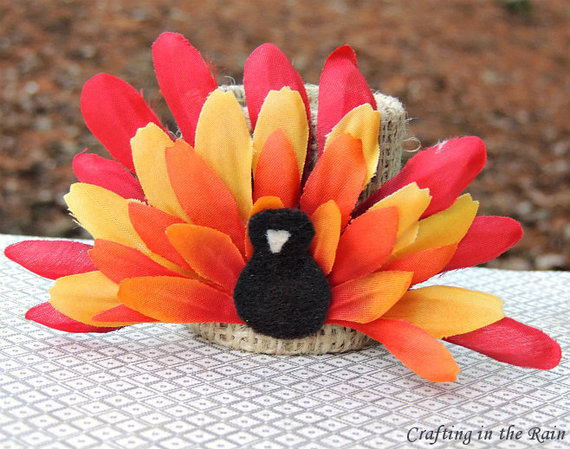 Project via Crafting in the Rain
Faux flowers are just the shortcut you need for instant turkey napkin rings to brighten up your Thanksgiving table decor. See the full post here.
14. Add All Natural Salt & Pepper Dishes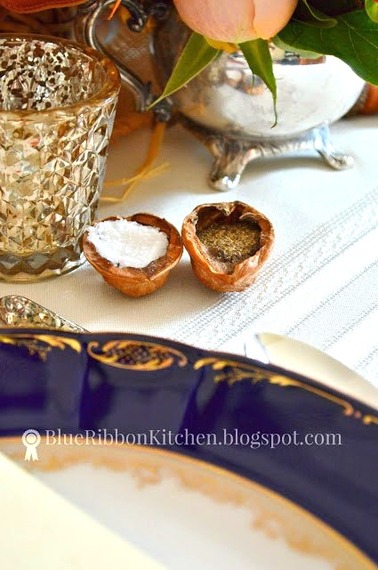 Project via Blue Ribbon Kitchen
Grab a few walnuts for this fun and totally free rustic serving piece your guests will love. See the full post here.
15. Bring out Decorative Porch Pallets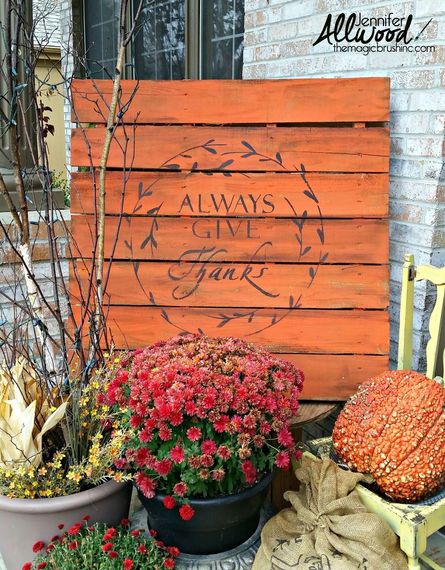 Project via The Magic Brush
Turn a blank pallet into an instant holiday greeting for your porch. The best part? Easily paint this over in red for Christmas! See the full post here.
16. Hang a Metallic Chalkboard Sign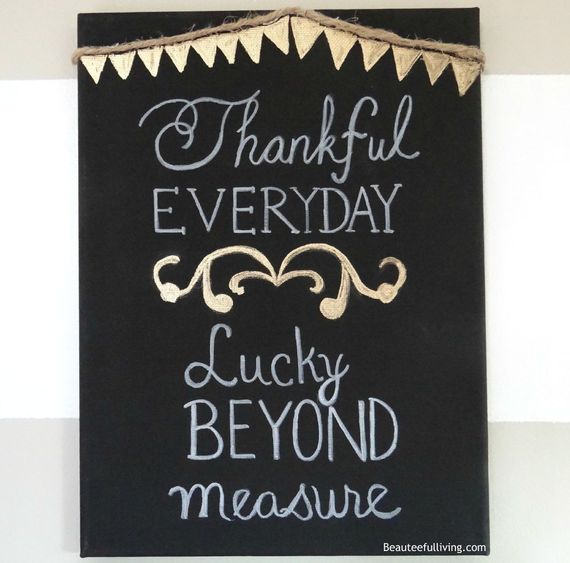 Project via Beauteeful Living
Chalkboards are a favorite wall decoration, but mis in some metallic to add Thanksgiving warmth. See the full post here.
17. Craft a Personal Blessings Turkey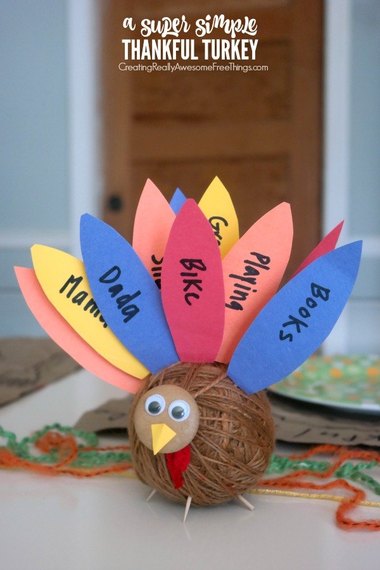 Project via C.R.A.F.T.
Fill the tail of your DIY turkey with thankful feathers to count all of your beloved blessings. See the full post here.
18. Gild Mixed Metallic Pumpkins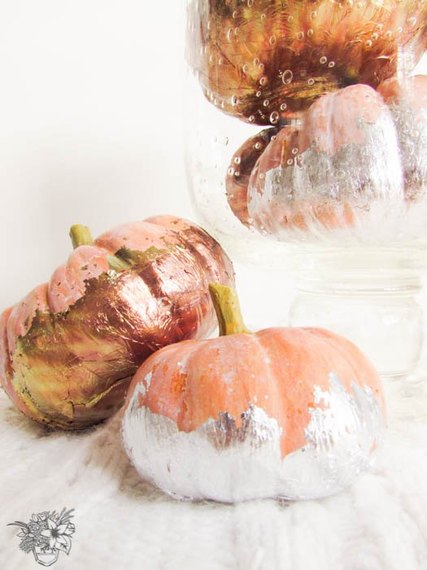 Project via Pocketful of Posies
Gild your leftover pumpkins in a mix of metallic hues, to bring some shimmer to your table, mantel, or porch. See the full post here.
19. Decorate with Raised Wooden Trays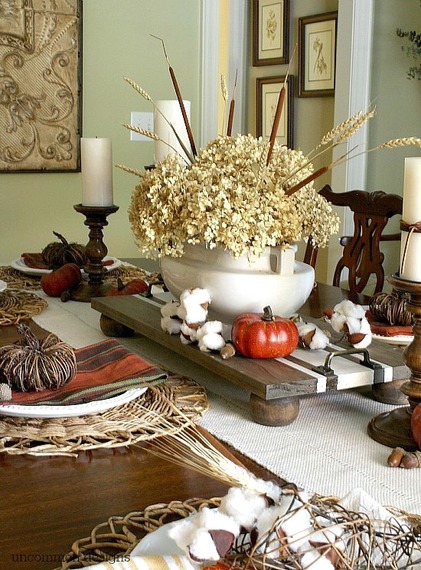 Project via Uncommon Designs
Make your favorite dish or decor stand apart, by raising it slightly on a wooden platform or tray. Even a cutting board would work! See the full post here.
20. Decoupage a Dinner Roll Basket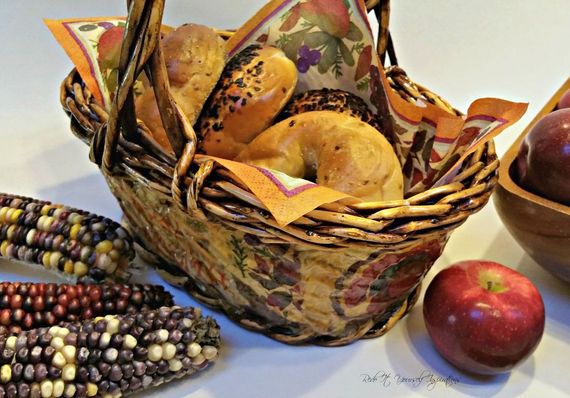 Project via Redo It Yourself Inspirations
Upgrade a plain brown basket for the holidays by decoupaging it in decorative paper or napkins. See the full post here.
21. Make a Felt Pom Pom Centerpiece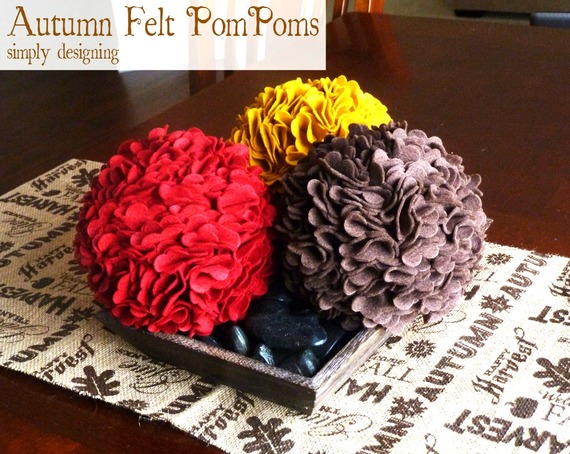 Project via Simply Designing
Create a centerpiece full of volume and color by creating these huge table top pom poms from felt. See the full post here.
22. Create Simple Wheat Decorations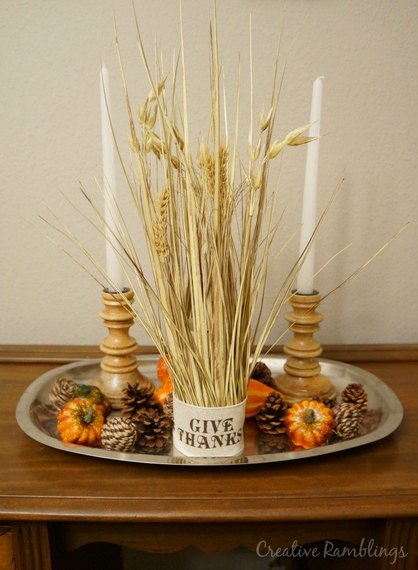 Project via Creative Ramblings
Wrap an extra shaker, jar, or can in wheat and add a decorative ribbon, to create farmhouse-chic decorations. See the full post here.
23. Try out a Jewel Toned Color Scheme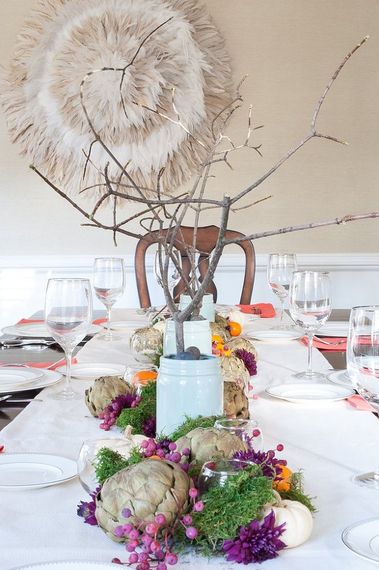 Project via The Chronicles of Home
It's untraditional, but laying down a jewel toned color scheme is a rich way to bring a bright, fresh fall style into your yearly decorations. See the full post here.
24. Arrange Rustic Pine Cone Luminaries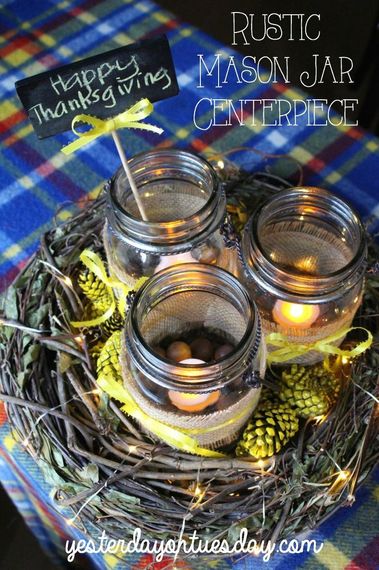 Project via Yesterday on Tuesday
Mix up some bits of nature, for these pretty and rustic table top luminaries. Bonus: you get to use your mason jars! See the full post here.
25. Make Cork Card Holders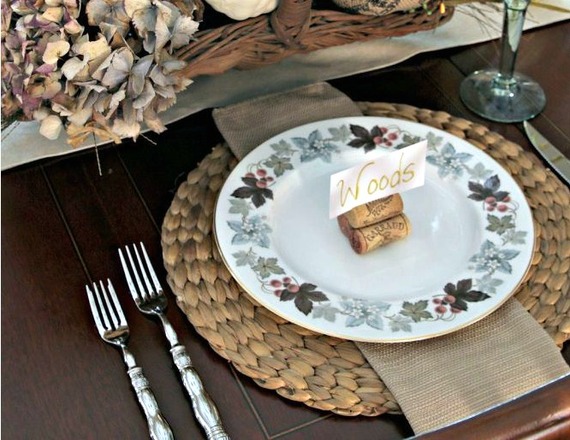 Project via Our Southern Home
Put your cork collection to work, with these easy and elegant cork card holders. See the full post here.
26. Turn a Hula Hoop Into a Blessings Catcher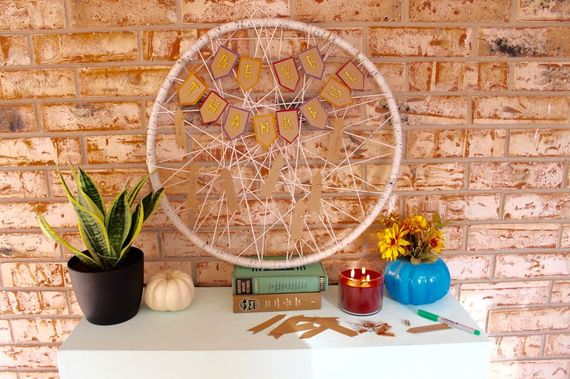 Project via The Deans List
If you're looking for a unique, large scale art piece, string up an old hula hoop and create a fun and flashy blessings catcher. See the full post here.
27. Decorate with Table Top Lanterns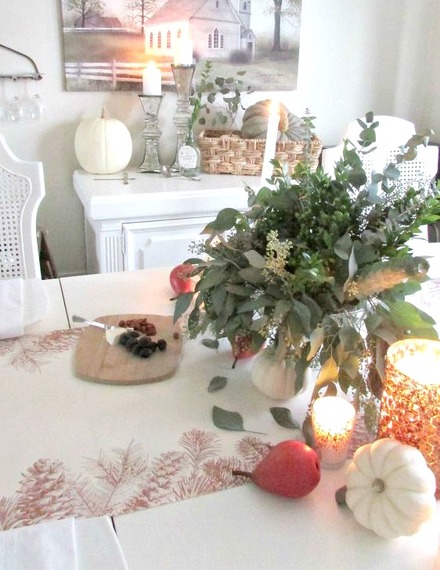 Project via Farmhouse Chic Blog
Fill your holiday spaces with light, by bringing lanterns, candles, and every sort of light to your dinner table and dining room. See the full post here.
28. Use Colorful Sprigs of Berries All Over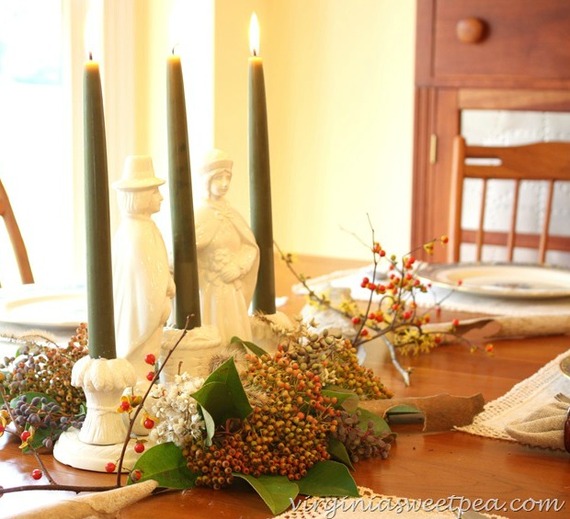 Project via Sweet Pea
Leaves, pine cones, and acorns are great, but that shouldn't exclude other natural embellishments, like colorful berries, from your decor! See the full post here.
29. Layer in Thankfulness Plate Ornaments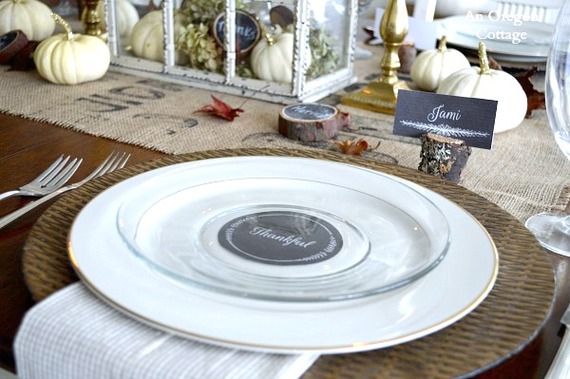 Project via An Oregon Cottage
Print out this sweet and simple graphic and set it under your glass or plastic plates, to add easy decoration to an ordinary table setting. See the full post here.
30. Make a Foliage and Book Page Banner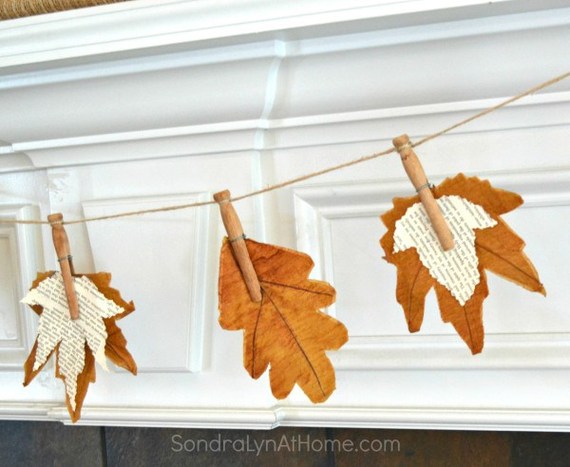 Project via Sondra Lyn at Home
Pair up some fake fall foliage with a few cut out book page leaves (the tree kind), for a warm and wonderful room-wide decoration. See the full post here.
31. Mix Gourd-eous Fall Window Boxes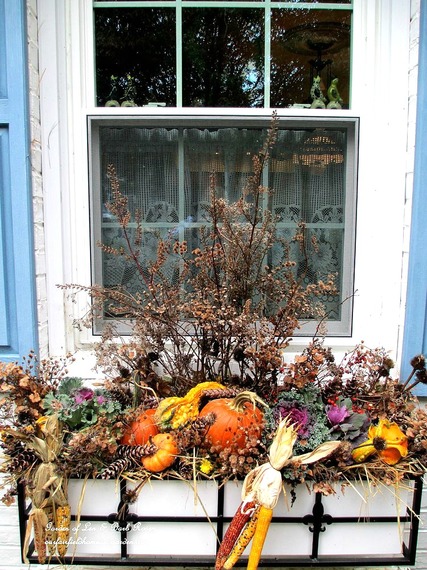 Project via Our Fairfield Home & Garden
Don't leave your window boxes empty as the weather gets cold - instead, fill them with displays of your fall favorites, like gourds and colorful corn. See the full post here.
32. Upcycle a Pumpkin Centerpiece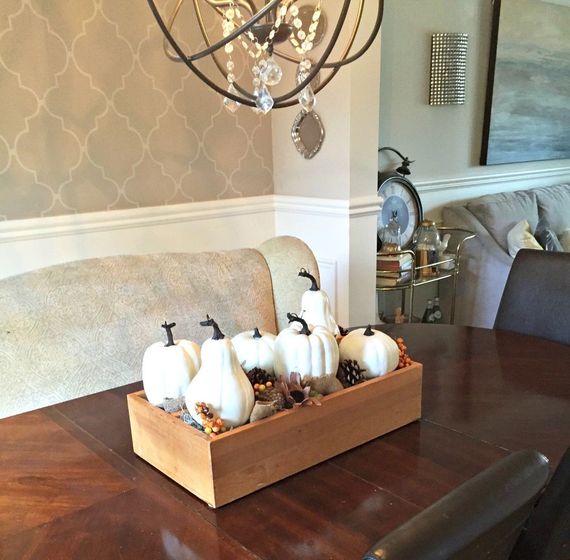 Project via A Purdy Little House
Turn any old wooden box, crate, or shelf you find into pumpkin-filled centerpieces, for a cheap and charming upcycle. See the full post here.
33. Paint Metallic Wine Bottle Vases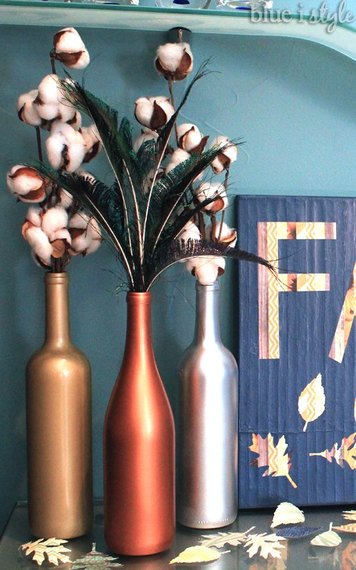 Project via Blue i Style
Use your old spirit bottles as shining vases to hold cotton boll branches, fluorescent feathers, and hardy stalks of wheat. See the full post here.
34. Make Your Own Glowing Branch Centerpiece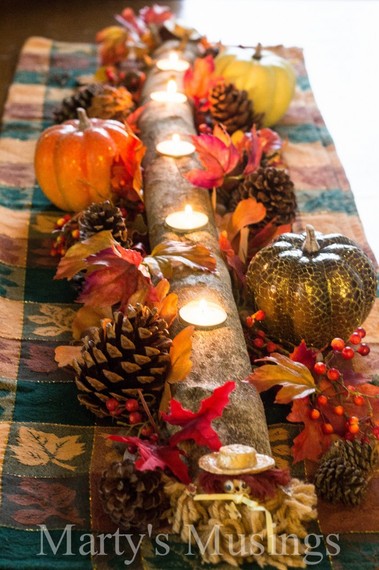 Project via Marty's Musings
The next time you pass a fallen branch, scoop it up and turn it into a glowing tea light centerpiece filled with Thanksgiving delight. See the full post here.
35. Turn Fallen Leaves Into a Pretty Tree

Project via Made in a Day
You don't have to wait for December to decorate your home with trees - these leafy lovely is perfect for fall. See the full post here.
36. Make Pine Cone Place Holders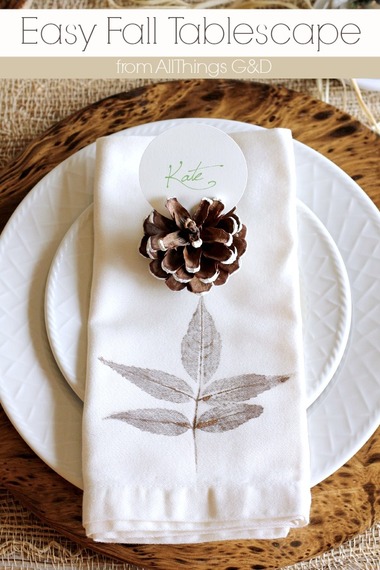 Project via All Things G&D
This stunning idea is just effortless enough to be perfect for the busy Thanksgiving hostess. See the full post here.
37. Spread Faux Fall Foliage Everywhere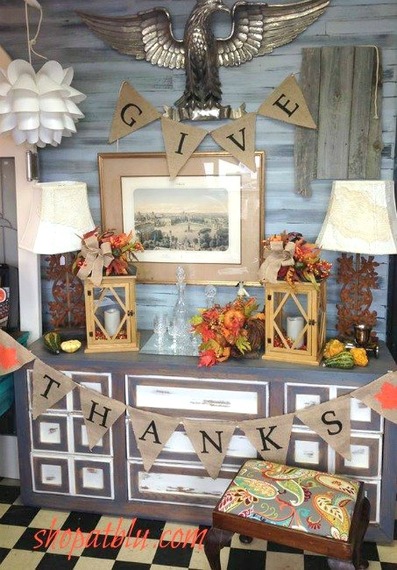 Project via Shop at Blu
Turn your home into a fall frenzy "snow" globe, by adding faux leaves to every corner, nook, and cranny. See the full post here.
38. Start a Thankfulness Tree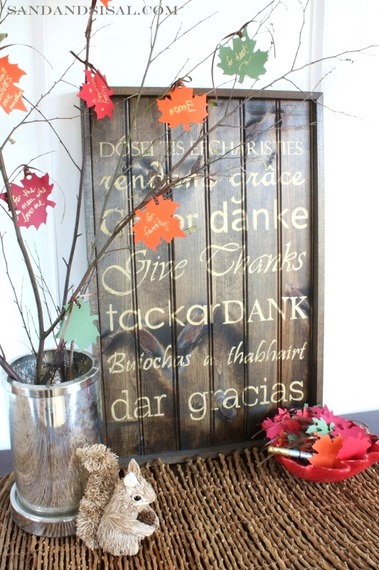 Project via Sand & Sisal
Give everyone a place to hang their happy moments, memories, and blessings, so that they can join in your Thanksgiving decor, too. See the full post here.
39. Carve a Pumpkin Into a Candle Holder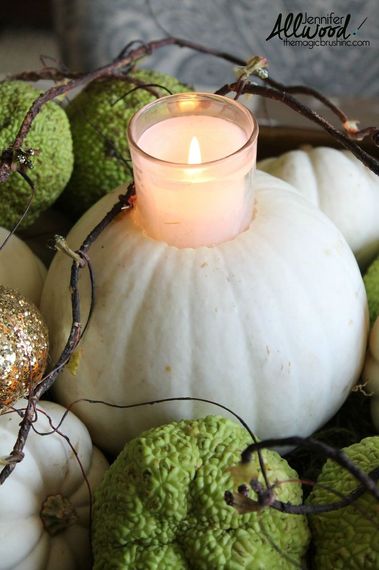 Project via The Magic Brush
Carve a cozy spot for a candle or tea light into your pumpkins, so that they give off a soft glow. See the full post here.
40. Make Your Own Charming Dining Table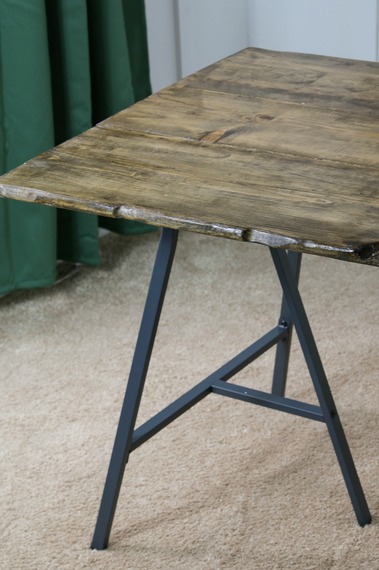 Project via Windgate Lane
Turn store bought wooden boards into a gorgeous live edge-style table to knock your guests off their feet. See the full post here.
41. Add Glittering Apple Place Cards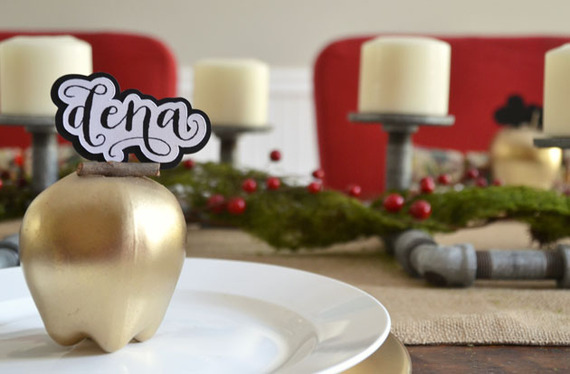 Project via Hearts & Sharts
Top off each plate with a golden apple holding their name card, so everyone feels elegant and, of course, welcome. See the full post here.
For more amazing Thanksgiving ideas, inspirations, and DIY, check out the Thanksgiving page - before it's too late!
Also on HuffPost:
PHOTO GALLERY
De-Stress Your Kitchen Space