When you think of St. Patrick's Day you probably think of Irish people enjoying themselves in the pub with a pint of Guinness in hand and a green leprechaun hat on.
But for pet owners all over Ireland, it's not always possible to take your dog to the pub and join in the festivities. Ireland isn't known for its dog-friendly pubs, cafes or restaurants, so dog owners have to come up with other ways to hang out with their dog on this holiday day.
5 Fun Ways To Spend St Patrick's Day With Your Dog
Probably not the kind of mud bath that you were thinking of at a fancy day spa, but your dog will love you if you take them on a trip to the park and let them jump in the puddles and roll in the mud.
Dogs love nothing more than a run in the park, giving them a chance to take in the fresh air and sniff every blade of grass they see.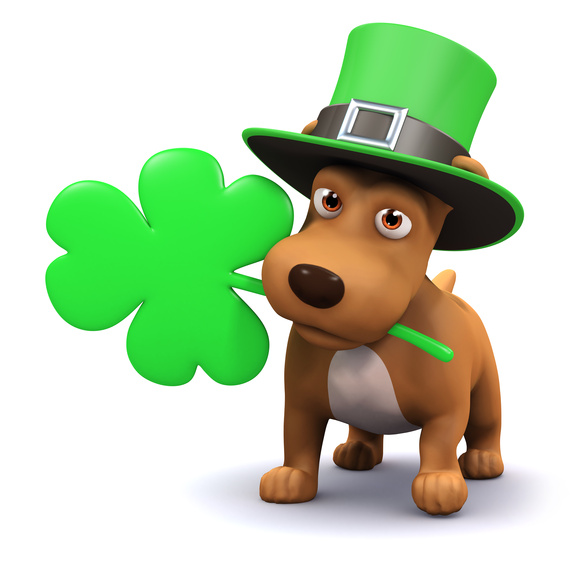 So you can't take your dog to the pub, but you can share a dog beer with them. Dog beer is becoming increasingly popular among pet owners, and something that was once only available in the USA is now available in lots of stores in Ireland.
Why not crack open a beer and pour your dog a bowl of beer of their own. You can even both get dressed up in green, orange and white while you do it.
We love baking for our dogs, so a holiday day is a perfect time to get that apron on and make your dog some treats. To keep it within the theme of the St Patricks Day green, why not make these gorgeous apple dog treats?
Can't bake? No worries your dog won't notice! And if you are really bad then head out to the store and buy them something instead.
Why not treat your dog to something green! A green dog collar, green dog toy or dog lead. Maybe even a cool St. Patrick's Day outfit.
Matching St. Patricks Day outfits for your trip to the park would be the perfect way to celebrate being Irish or just enjoying the Irish celebrations.
How are you planning to spend St. Patrick's Day with your dog?