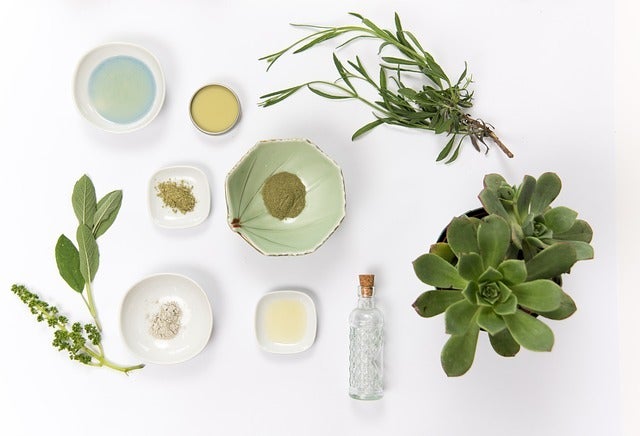 With the summer sun beating down on us, this season can be a popular time to reevaluate your skincare regimen. As a florist, I prefer working with natural ingredients and have been developing beauty recipes with ingredients straight from your kitchen and garden. Instead of buying expensive creams and ointments, consider using these five natural treatments to enhance your complexion and improve your mood.
Lavender: Lavender scents soothe the senses and calm us down, which is why we make and sell lavender lotion bars in small batches and use lavender essential oil (lavandula angustifolia) to scent them. Many places sell lavender essential oils in small bottles that you can dab on your wrists or behind your ears.
Olive oil: Olive oil isn't just for cooking. It works to protect our skin from exposure to harsh outdoor elements: sun, pollution, and wind. Additionally, it keeps skin soft and prevents dryness and itchiness. Simply massage olive oil into skin that needs some attention (rough skin like elbows, knees, or shoulders) and you'll reap the benefits. But be careful to use this remedy indoors or after sunset only-- otherwise, you'll cook!
Cucumber: Cucumbers are a beauty insider's secret weapon. Slice them into thin rounds and place directly on closed eyes to reduce puffiness. Additionally, they are soothing to the skin and the slices can be rubbed directly on the skin to help with hydration. When they are placed directly on the skin, but not rubbed, cucumbers will soothe a sunburn naturally.
Tomatoes: One of my favorite garden finds! Tomatoes are healthy, but did you know they can also help in your beauty routine? Their juice is great at reducing the size of your pores and also assists in cooling a sunburn. Lightly dabbing a slice of tomato directly on the skin gives you a boost of vitamins from the fruit, giving your skin a little glow. Follow by dabbing your face with a cool washcloth to remove any seeds that stick to your cheeks.
Comfrey: This is an herb with small purple flowers. I grow comfrey (symphytum officinale L.) to make bruise balm-- the herb has been used since before the Civil War in battlefields to assist with bruises, pulled muscles and bone healing in certain areas of the body. You can use the leaves fresh in summer or dried for winter use. If used fresh, it will have a stronger effect. Tear the leaves into pieces and steep 5-10 minutes. Apply with a soaked tea towel to the affected area, but be sure to keep away from eyes & open wounds or sores. Comfrey is edible, but this recipe is intended for external use only.
This post was published on the now-closed HuffPost Contributor platform. Contributors control their own work and posted freely to our site. If you need to flag this entry as abusive,
send us an email
.