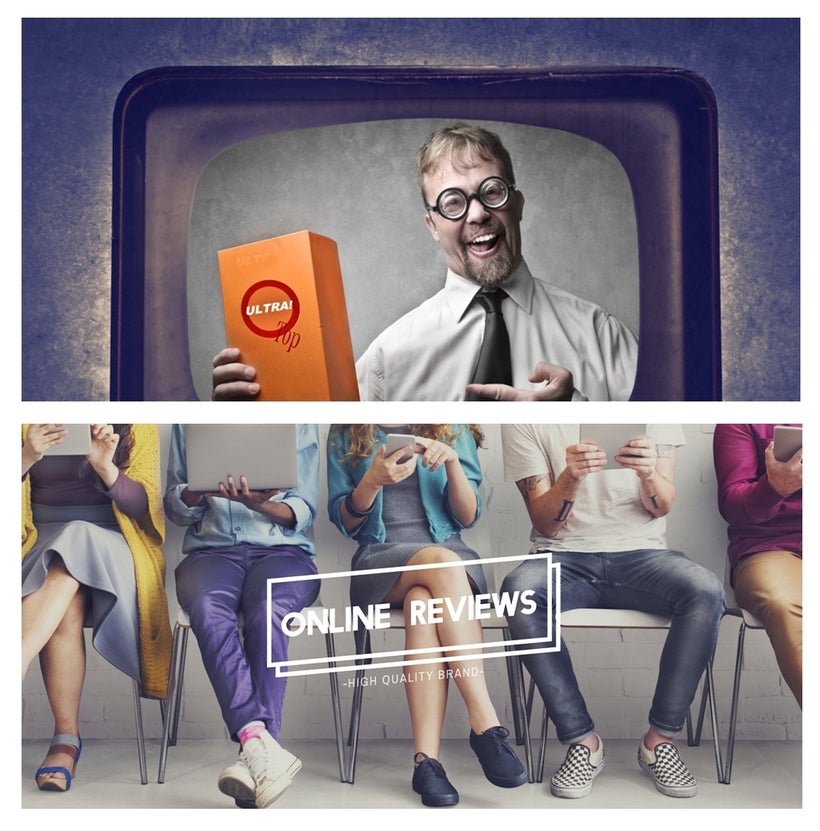 Today it is hard to imagine that for thousands of years people did not advertise or market anything. There was no need. The old Egyptians, Greeks and Romans had slaves, who built their palaces, sewed their garbs, and provided all services. 
First advertisements appeared in the 18th century, then traveling salesmen, and radio ads.
The Sixties marked the beginning of what famed marketing guru Seth Godin calls the TV industrial complex – meaning TV-ads started "disrupting" viewers' recreation time by showing them the same product over and again until, hopefully, customers bought the featured products.
Each new marketing method evolved in a logical progression until the arrival of the Internet changed – EVERYTHING!
Within a relatively short time period, the marketing and sales process changed from "we'll find you and tell you about our products" to customers signaling "I don't want to be disrupted. I'll find what I want to buy and where I want to buy."
Study over study proves that today almost 8 out of 10 people consult online reviews when making the decision to buy.
The customer review was pioneered by Amazon. The genius element of this strategy is that they have "outsourced" the important element – giving unbiased and objective feedback – to others. That freed up their energy to focus solely on the tasks an eCommerce company has to do – shipping goods and providing the best possible service – and to perfect them.
Other Fortune 500 companies that own brick-and-mortar stores followed the trend and came up with their own ideas. For instance, Home Depot offers codes on the beams of their shelves, which potential customers can punch into their smart phones to find other consumers' product reviews on Home Depot's website. If potential customers are happy with what they find, they can grab the item right off the shelf as soon as they have finished reading the reviews.
This new "Next Great Idea to Boost Sales" has 5 distinct elements
The Freedom to Choose
Customers do not have to believe an expert any longer, they now have the freedom to believe people they can identify with. For instance, a mother who is looking for a baby product does not have to adopt famous Dr. Spock's or her mother-in-law's viewpoint; she can embrace the opinion of a mother on the other side of the country or even on the other side of the world, and buy what worked for this mother's child. The same goes for testimonials which may be authentic and heartfelt, or not.
The Ease of Buying
Inevitably, customer reviews featured on a website where the customer can "click to buy" or "add to the shopping cart" yield better sales results than book and product reviews in newspapers or magazines, or TV and radio ads.
The Additional Bonus – Consumer Research
Often costumer reviews also deliver authentic consumer research. While this type of consumer research is somewhat flawed, it can give valuable information, which in the past vendors could not obtain. Only twenty years ago conducting consumer research used to be one of the most expensive elements of product launches.
The Middleman is Gone
Of course, even a few decades ago consumers could call manufacturers and vendors and articulate their opinions via an 1-800 number. Then again, that process did not assure consumers that their ideas were really heard. By posting online reviews consumers know that somebody is listening: the vendor, the manufacturer, fellow shoppers, or even – the manufacturer's competition.
Gifts that Keep on Giving
Online reviews are also gifts that keep on giving. While search engine optimization and other marketing tricks have to be maintained at all times, which can be costly, trying to acquire authentic and honest reviews brings results that will sell products from the day they got posted to the day the product is taken off the market.
Clearly, the "Next Great Idea to Boost Sales" is to encourage customers to leave reviews because reviews sell goods and services.
For the first time in history the "Next Great Idea to Boost Sales" works for the consumers just like it does for the sellers.
This post was published on the now-closed HuffPost Contributor platform. Contributors control their own work and posted freely to our site. If you need to flag this entry as abusive,
send us an email
.