I'd studied all about best practices in business: Collins, Christensen, Toyota, S-curves, 4Ps, sticking-points. I was supposed to put that all into use in my final assignment for my MBA at Oxford's Said Business School when I took on the option of doing a strategic consulting project for an energy start-up in Tanzania. It turns out, my time with Off.Grid:Electric was a final course in user-centered-design, and the lessons I learned can be applied far beyond MBA studies.
It was a perfect time to spend six weeks with the founding Off.Grid:Electric team in Tanzania. They had completely revamped their business plan, were signing up customers, and were wrapping up a round of funding. It was exactly how I'd hoped to spend the summer: working with a brilliant group of people who were trying to solve one of the world's biggest problems -- affordable, renewable energy for all.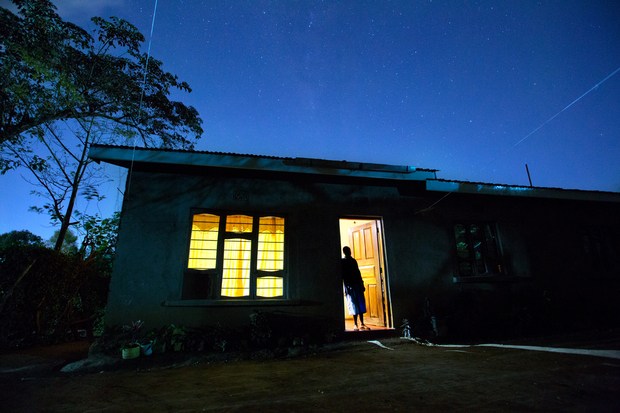 An Off.Grid:Electric member's home. Photo by Esther Havens.
The highlights of what I learned about business development through my time with Off.Grid:Electric can be summed up in five points:
Don't get married to your business model.
The original award-winning business plan, which launched the Off.Grid:Electric founding team into Tanzania, was a model based on putting solar on off-grid cell towers, currently run off of inefficient generators, and selling access power to local communities. If they had stuck to their first business model, they would likely be moderately successful in their efforts to bring energy to off-grid communities in Africa, as the business model certainly has wings (and many others are currently pursing it). The thing is, though their idea was certainly a viable business model in many areas, it wasn't going to solve their main goal: create a scalable business model that could generate a movement to light Africa. Rather than being married to their idea, they were married to their goal, and after sitting in many African homes, trying out dozens of technologies, and iterating on their model, their current offering is far more scalable, affordable, efficient, and practical.
Form a diversified founding team (and foster healthy debate!)
One of the most impressive things about Off.Grid:Electric, and one of the reasons they are able to adapt quickly, is that they have a very dedicated and diverse founding team. CEO Xavier Helgesen is one of the founders of Better World Books, a $60 million online book retailer, who thinks in such large scale, it's sometimes hard to expand your imagination fast enough to keep up with him. COO Erica Mackey has lived in Tanzania for most of the last decade, speaks Swahili fluently, and has already led a nation-wide HIV services and training organization, so she gets how distribution, training, and service offerings need to be designed and executed in the Tanzanian context. To fill in the missing link, Joshua Pierce, CTO, brings more than a decade of experience in renewable energy and electric installation work. Their top manager is Raphael Robert, a Tanzania with the creative problem solving and management skills and experience the team needs to make their operation run. When it comes to a distributed solar company in Tanzania, this is the dream team.
But they are not only diverse in their experience, but also in their ideas. The days were filled with healthy debate, each team member committed to pursing their collective goals, welcoming disagreement, and challenging each other's ideas. If they hadn't been open to considering each other's perspective, they might still be trying to put expensive solar systems on hard-to-protect cell towers.
Create controlled growth
While I was in Tanzania, I watched the Off.Grid:Electric team struggle daily with the balance between an increasing demand and a desire to control their growth rate so as to be able to create a high quality product and service with a sustainable business model. They have more investors interested in this round of investment than they can handle and, based on my six weeks of work conducting and analyzing extensive interviews with 35 of their existing customers, I believe they could easily find tens of thousands of eager and willing customers today.
Many other entrepreneurs I have met or worked with would not be able to be as restrained in their growth plan, in fact, there were more than few times during the course of my time with them that I wanted us to pursue opportunities to quickly scale our offering. But I realized that each day we worked with the current customers we were learning something that would make our offering more efficient, more affordable, or more appealing, and taking this time to iterate on the current offering and grow in stages will mean that Off.Grid:Electric is in an even better position to grow rapidly in the future, as many kinks will have already been worked out of the system.
Live the problems
When the Off.Grid:Electric team won a business plan competition for their original solar tower model, they knew this would mean committing themselves full-time to their new idea, and that if they were going to work to "light Africa," they had better be there. The whole founding team moved their families, kids, and lives to Arusha, Tanzania, and started to ask questions and listen.
From what I have seen, social venture and business founders all too often try to solve problems from afar: a development organization working in Malawi basing their headquarters in San Francisco or, in a case I saw, a man leading up the Cambodia water arm of a global organization basing himself in Bangkok as he said, "I just couldn't bring myself to live in Cambodia." The people who know how to design the best solutions are the ones who intimately understand the problems, and as most of the Off.Grid:Electric founding team hadn't lived without power for long periods of time themselves, they needed to gain access to that experience themselves before they could start to plan for it.
One of my roles while working in Arusha was to create a "listening lab" between Off.Grid:Electric users and the management team, where subscribers to the Off.Grid:Electric service could speak openly about how they used their systems, what their lives were like, and ideas for improvement.
Figure out how to fill a need (as that will lead to how to make money, not visa versa)
When I asked Xavier, "Why solar in Africa?" he gave me this answer:
"I decided that I wanted to identify a problem where, by solving it, I could build a billion-dollar business and the company would be worthy of a Nobel Prize. I figure, if I created a billion-dollar business and didn't solve one of the world's biggest problems, it wouldn't have been worth it, and if I tried to solve a problem without a business solution, I wouldn't be using my biggest skills. I went through tons of needs we could fill, and lighting Africa was one I was passionate about and one which, if we are successful, will certainly be worth the effort."
By committing themselves to filling a need, rather than making money, they should be able to do both.
Do I think they will create a billion-dollar company? Or win a Nobel Prize? We'll have to wait and see. I certainly believe they are committed to and contributing to solving one of the world's biggest questions, "How can we sustainably light Africa?" Either way, we can all certainly learn from their efforts, and I for one am cheering for them.
More about my time with Off.Grid:Electric can be found on my blog, Lesson I Learned.