When Joseph Quan arrived at the Wharton School of Business as an MBA, he knew he was set on starting a company.
Two years later, his HR software startup Twine, which uses a proprietary algorithm to help companies put their employees in best-fit roles, has won well over $50,000 in no-strings-tied grants and received funding from two on-campus venture capital funds in the same year.
Much of Twine's early success has to do with the proactivity with which Joseph and his team sought out resources at his university.
Here are a few things student entrepreneurs need to learn from Twine to gain the extra edge for their startups.
1. Validate Market Ideas with the Student Network
Often times, startups struggle with finding users at scale to test out their minimal viable products. With a diverse demographic, college campuses provide student entrepreneurs with an edge in rapid and scalable testing.
Before Twine became an analytics company with global data company Nielsen as a client, it started off as a personal project.
When he was a first-year MBA at Wharton, Joseph built a tool that made suggestions for who you should meet for his fellow classmates. Over 1,000 people signed up, and from that Joseph got the data and insight needed to grow Twine into a full-fledged startup.
"Fundamentally, this is a company that could only have started at a school," Joseph said.
"We were trying solve a networking problem at school and we had a thousand people willing to test it out a solution with us. It's the perfect incubation area."
2. Look for On Campus Non Dilutive Funding and Resources
Given the rising interest in startups in recent years, universities are making a push towards building entrepreneurial ecosystems to attract applicants and future entrepreneurs.
Because of this, student entrepreneurs can potentially fund their ideas without bootstrapping or diluting their equity ownership early on.
At UPenn, funds like the Weiss Tech House Innovation Fund, the M&T Innovation Fund, and the Penn Wharton Innovation Fund continually offer funding and support to student entrepreneurs.
For instance, Twine won 2017's Penn Wharton Startup Showcase, which granted a $30,000 cash prize as well as free legal support from top law firm Morgan, Lewis & Bockius.
Joseph and his team has also sought free-of-charge legal support from Penn's IP clinic, the nearby Drexel IP clinic, as well as Ballard Spahr's BASE program.
"We also looked into Wharton's Venture Initiation Program, a 4-month program that provides one-on-one advising, mentoring, as well as co-working spaces for founders," stated Joseph.
He added, "What was instrumental was that we got to work with experienced operators and entrepreneurs through these programs."
In addition to non-dilutive grants, universities are also offering venture investments that student entrepreneurs must not overlook.
3. Leverage Your Status as a Student
Being a student at top universities opens more doors than just university-endowed programs and funds.
In fact, your ".edu" email could get you into meetings with investors that are not affiliated with your university as well.
Besides university-endowed venture funds, private funds have also seen the upside of investing early in college entrepreneurs. The student-run Dorm Room Fund, subsidiary of First Round Capital, for instance, has invested in at least 101 student companies so far, while Rough Draft Ventures, another student-run fund, has invested in at least 52.
Both funds invested in Joseph's startup, Twine, through their branches at the University of Pennsylvania.
"While most VCs and accelerator programs don't just focus on college students, many non-university-affiliated resources are still only accessible to students," said Joseph..
Other VC-backed programs include Summer@Highland, organized by Highland Capital Partners (a VC firm with over $3 billion in committed capital).
The program offers university-affiliated or student startups office space, $30,000 in capital, mentorship, and has also accepted Twine.
4. Pay Attention to Faculty Members Specializing in Your Industry
While some believe entrepreneurship cannot be taught in the classroom, Joseph begged to differ.
"To a certain extent, entrepreneurship classes offered at business schools could provide a framework for running your company. In particular, Wharton's Entrepreneurship and Venture Implementation courses were particularly useful."
In addition to the course content, professors were also an invaluable resource to Joseph's company.
Serial entrepreneur Jeff Babin, for instance, happens to be a professor at the University of Pennsylvania and an experienced mentor for Joseph on matters of B2B sales.
"It's hard to find people who can give expert advice on niche topics like B2B sales," said Joseph, "and professors, who build their careers off establishing expert knowledge in specific fields, can be incredible resources."
On top of mentorship, Joseph also suggests seeking professors' help to conduct independent study to validate venture ideas. Looking through the list of professors at Wharton, Joseph soon found out that two thought leaders in the people analytics space, Adam Grand and Cade Massey, teach at the school.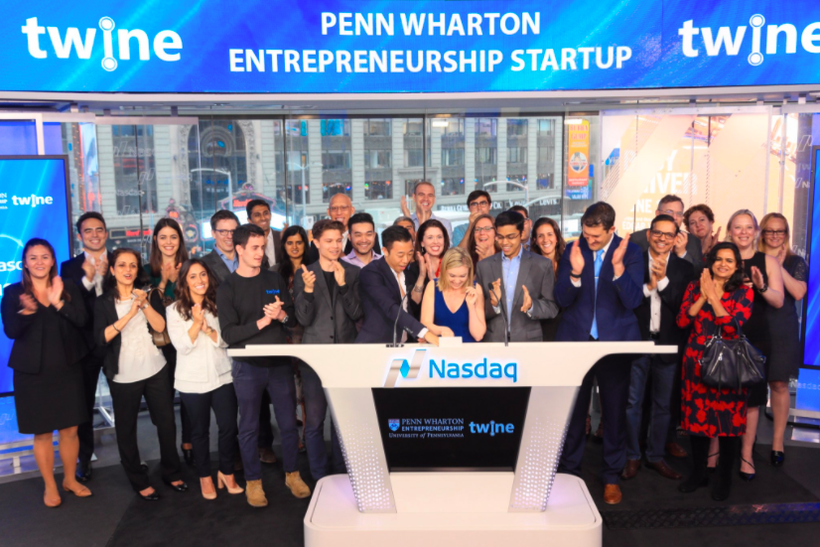 "We reached out to do independent studies with both professors, and some of the data is actually being used by Twine right now." explained Joseph.
"We are also getting advice from Pete Fader, founder of predictive analytics firm Zodiac and a Wharton professor. That's why founders in college or at business schools should never overlook professors as a resource."
5. Don't Expect Resources to Be Handed Out to You
Finally, while many resources exist across colleges in US, Joseph is quick to note that it takes a considerable amount of initiative to find them and put them to good use.
"I did my undergraduate degree at (UC) Berkeley, a very large school," Joseph recalled, "that meant I had to constantly seek opportunities proactively to stand out. A large part for Twine's early success comes down to my co-founder and my approach in actively seeking our resources."
As a last piece of advice, Joseph emphasized that "nobody will hand them to you if you don't seek them out."
For more actionable advice from young entrepreneurs and rising stars in tech, subscribe to our monthly newsletter here.
This post was published on the now-closed HuffPost Contributor platform. Contributors control their own work and posted freely to our site. If you need to flag this entry as abusive,
send us an email
.