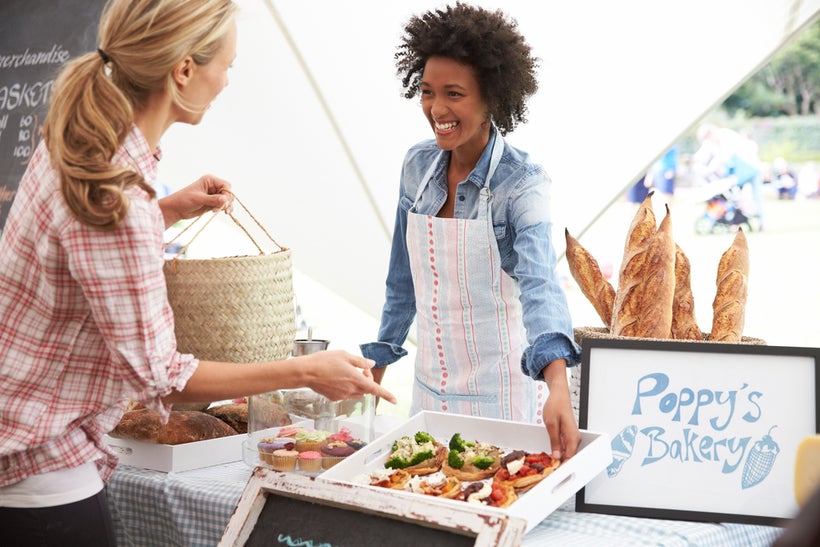 Start-ups and small businesses typically launch with a wave of gusto and support from family and the surrounding community. But not too long into the new venture, something becomes very clear: you have competition. And that competition takes the shape of both big corporations with massive marketing budgets and other small start-ups with similar products or services.
While word-of-mouth and grassroots efforts might give you a nice spike in business from time to time, a lacking online marketing presence could hold you back from maintaining brand loyalty and propelling your business forward with new customers.
Your consumers recognize this recent shift in marketing and now expect to see you everywhere. In fact, 84% of people say the use of online marketing has made the biggest difference in small business over the past 5 years.
So if you still feel like referrals are enough, here are five reasons that may change your mind.
1. Everyone (relevant) is using it. Consumers are sharing, discussing, liking, retweeting, and watching brand content every single day. Are you a central topic of conversation? Is your product or service name in the mix? If you're marketing, the answer could easily be yes. If you're not, the answer is a guaranteed no.
Internet research is a staple prior to purchasing. With 70% of U.S. households shopping online for products and services, it's important to make sure you're easy to find and that your content is great. Do you have product videos demonstrating what you sell on social media, a website that's SEO friendly, and blog content that appeals to your target audience? If you don't show up with rock solid marketing, your competitors will. Let your customers know you want to be found by joining the conversation online, or better yet – starting one.
2. It's affordable. Many small businesses are green with envy when looking at larger corporations and their massive marketing budgets, but it actually requires less capital than one might think to become relevant online.
Go against tradition. Cut the cost of traditional marketing by 62% when you choose content marketing instead. Plus, you can generate three times more leads when you choose a valuable marketing strategy rich in relevant information. Social media is one of the most popular content marketing platforms that 90% of B2C businesses use, while video and eNewsletters are right on its coattails. All three of these marketing options have potential to be very cost-effective. Some of them are even free. There is no excuse for any start-up or small business to avoid free advertising. Social media sites are the building blocks to get you started.
But you do get what you pay for – and while having no budget is unacceptable these days, having a small budget is. Advertising on a tighter budget simply heightens your awareness of every dollar spent. Even if you only have $100 to put towards promoting your brand each month, you have options. With email marketing returning $44.25 for every dollar spent, it's only fair to ask yourself: can you afford not to spend that dollar?
3. It shows you care. Actions speak louder than words, but people still need to be convinced to buy from you. Forty-eight percent of Americans expect you to understand them and to help with their decision process when choosing a product or service. You need to make sure new customers know you are here to assist and advise them when shopping in your industry.
Speak to your consumers on the online platforms they love; be attentive, personable and offer exceptional customer service. Seven out of ten consumers are more likely to use a local brand if they simply have information available on social media. This also gives you a chance to brand yourself as the expert on subjects that matter to your customers.
Content is king and simple things like offering great, relevant information can go a long way with your customer base. Do you have a great writer on staff? Blogging regularly can increase your inbound links by 97% compared to companies that don't. Use in-house talent to market yourself or outsource it to someone who can help express your industry knowledge and experience with engaging (and frequent) content.
4. It helps you compete with the bigger guys. You have what the larger corporations lack: speed, personal touch, and no red tape. With their heftier budgets come stricter policies and slower processes; plus, they don't have a constant pulse on their customers. You operate differently, so advertise differently. Go after a niche market and focus your attention and promotional effort towards them – fast. Make up for what you lack in budget with quick personal responses to marketing manifests. Try launching a new video and engage with reactions relentlessly, and get personal on social channels by responding faster than the bigger guys.
5. It helps build brand loyalty. Even your most loyal customers want to hear from you. For small businesses especially, steady customers should be high on the priority list. Over 61% of small business revenue comes from repeat customers. And people shopping your brand more than once are willing to spend as much as 67% more than a new customer.
If you're assuming that your loyal customers are on autopilot and don't need to experience you on a marketing level, you could be making a costly mistake.
Provide the great experience that keeps them coming back. And then set up your marketing to reassure them why they should choose you again. A thank you email, a shout-out on Facebook, or a video demonstrating how you can help solve one of their problems are all it takes to let your loyal customers know they're number one. Marketing is essential to expand your reach beyond your immediate radius. While one satisfied customer telling a friend about your brand is a great perk and compliment to your relationship-building skills, it should never be your marketing plan. Do what it takes to succeed even without the word-of-mouth bonus. Because customers sharing for you is exactly that – a bonus.
You may have a solid product, service or idea, but if enough people don't know about it, you're limiting yourself. Marketing gives words to your actions. And yes, your consumers do need both to pick you.
This post was published on the now-closed HuffPost Contributor platform. Contributors control their own work and posted freely to our site. If you need to flag this entry as abusive,
send us an email
.