It's only natural that we want to achieve our goals in the fastest amount of time possible. While there's nothing wrong with wanting to move fast, it's important to not move too quickly. You could end up sabotaging the very success you're trying to achieve.
That's why it's better to take small steps instead of giant leaps when starting your own business. Not only does this provide you with more realistic expectations but it can also offer insight into what you truly wish to pursue.
Why you should listen to your inner voice
Back when I was working in the corporate world, I had an enviable career. I was working in a lucrative field and made a healthy income. But something was definitely off. It was when my now-husband proposed to me that I realized I wasn't happy. I had everything I thought I always wanted, but I just didn't feel the joy in my life. My inner voice told me something wasn't right, and I'm so grateful that I listened.
By listening to my inner voice, I realized it was time for me to look for ways to create the life I always wanted. Instead of waiting to see if things got better, I took a set of small steps that brought me to where I am today.
Small Steps vs. Giant Leaps
Once I realized that I needed to make a change, I decided to figure out why I wasn't happy. By taking some time for yourself, you can easily do the same. This is the first step to discovering what you desire for your future and your life overall. I knew I always wanted to help people, and I initially took this time to figure out that the best way to do this was through my second step: starting my blog.
When I started my blog, I realized that it helped me to connect with others. I could use it as a platform to make a difference and share information with my readers. It also helped me to start making progress towards what I truly wanted, which was to help others achieve their deepest dreams in both their personal and professional life.
Too many people want their success so badly that they take a giant leap towards it without thinking. I knew that I really wanted to start my own business, but that was too big of a leap for me. I've seen too many people make this mistake only to get overwhelmed and make decisions that they're really not ready to make.
Asking Questions and Paying Attention to Your Thoughts
The best way to avoid taking giant leaps you're not ready for is to ask yourself thought-provoking questions. These questions should be geared towards helping you uncover what you want and what your deepest desires are. They should be similar to:
• What activities fulfill you the most?
• What are the different ways you can pursue what you know is meant for you?
• What brings you the most happiness?
• How does your future life look and what will you be doing there?
You may not have all of the answers now, but it's when you start asking them that you can seek them out. You may even already know what you want to do but just aren't sure of what you need to do to get there.
It was also through my blog that I realized I could help people on a grander scale. People started coming to me and asking me to help them start their blogs. It was that work that led me to the coaching business that I have today.
None of that would have happened if I hadn't taken that first step in creating my blog. If I had instantly jumped into the coaching business, I doubt I would have had the insight I do now to make it a successful business.
The truth is that if you don't take the time to figure out what you want and where you want to be, nothing will change. By paying attention to your thoughts and taking small steps to delve deep into your needs and desires, you can achieve the life you've always wanted.
Here are 4 Action Steps to Transition from Small Steps Into Giant Leaps:
1. Take time for yourself
Whether it's a month, a week, a day, or an hour, give yourself permission to take uninterrupted time for yourself. You can even use this time to meditate and reflect on what's important to you and the life you want to live.
Once you start to figure out what you want to do, start Googling. Look deeper into specific activities or hobbies and figure out how you can build a business around them. If you already know what type of business you want, research how to start your business and tackle those steps in bite-sized chunks.
3. Follow, learn, and absorb
Take your research to the next level. Once you know what industry or field you want to pursue, look for the leaders that exist there. Follow them on social media, sign up for their newsletter, read their blog so you can learn, absorb and be inspired by them. You can even take this a step further and find someone in the industry located near you to mentor with for a few hours or a day. You can ask questions and learn any pros and cons before you take a big leap into the particular activity or field.
Start working towards your goal for a few hours a week to get familiar with the business itself. Volunteer in a related capacity, find a mentor and work part time with them, or work towards your building your business.
Taking these action steps will help you start your own business successfully. Work through each step and you'll be walking down the right path to achieving your goals. Trust in the process of completing one step at a time and you'll start to see how your real desires will rise to the top. All you need to do is remain consistent, and your efforts will pay off to result in the life you've always dreamed of.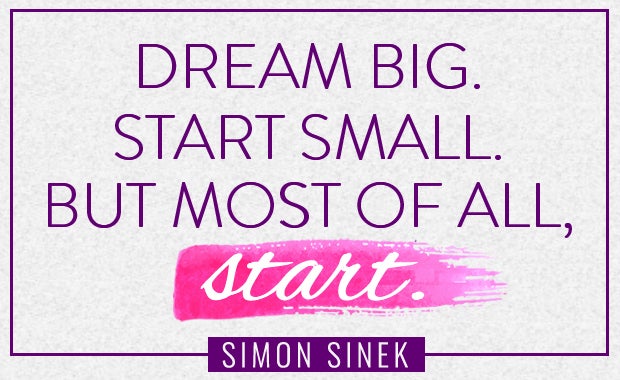 This post was published on the now-closed HuffPost Contributor platform. Contributors control their own work and posted freely to our site. If you need to flag this entry as abusive,
send us an email
.