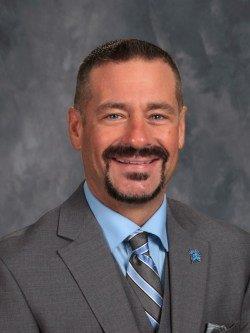 Dr. Andrew Wise is in his fourth year as Superintendent of Olympia Consolidated School District 16 in Stanford, Illinois. As Superintendent, Dr. Wise is responsible for 300 employees and 1,800 students, and approximately 10,000 members of the larger school district community. He manages this huge scope of authority through fourteen direct-reports - ten Administrators and four office staff. He says, "In short, my job is to prepare students for college, career, and life."
Dr. Wise was raised in Illinois where he received his Bachelor's degree, after which he spent four years teaching students in South Florida, as well as obtaining his Masters' Degree in Educational Leadership from Florida Atlantic University. He came back to Illinois as a Principal in Olympia at the age of 27. For seven years, he served as Principal in two different buildings, while studying for his Doctorate in Education. After receiving his Doctorate at the age of 34, he served for six years as Business and Operations Manager, second in command of the school district. By the age of 40, he was Superintendent of the entire district!
For his success, Dr. Wise credits the mentoring he received from past leaders, as well as the ability to work for an outstanding Board of Education, dedicated employees, and fantastic kids. He also credits his success to training received from both the Illinois School of Advanced Leadership (ISAL) and the American Association of School Superintendents (AASA). Wise appreciates being "taught at a young age the power of hard work and to love others unconditionally." Then he cites Francis Chan, "Our greatest fear in life should not be of failure, but at succeeding in the things that really don't matter." Dr. Wise is acutely aware of how much his work really, really matters. He says, "I am entrusted with the future of our communities. Students come to me as early as three years old and it is my job to prepare them for a world, decades down the road. The time I have with them is precious and once spent each day, cannot be re-captured."
Dr. Wise sees education as a profoundly important mission: "As a society, with the rate at which technology and employment markets change, I would argue that it is a struggle to equip students with the technical skills they need for 2017, let alone 2030. This is why I believe we have to teach students adaptive skills, social skills, emotional skills. We need to help them become masters at how to learn, instead of focusing so much on what content to learn. If our students master how to learn, and have an internal repertoire of skills they can utilize in any situation, then they will be equipped for whatever the market needs in 2017 or 2030."
When it comes to talking about his leadership style, Dr. Wise makes reference often to "intuition", which comes from knowing his employees and community. He says he leads with his "head, heart, and hands in all situations." Leading others, he says, requires "adaptive skills, social skills, and emotional skills." He seeks to "empower others, demand achievement, model growth, encourage risk taking, and provide support." From that foundation, Dr. Wise seeks to "draw upon my experiences from a social, emotional, and intellectual framework in an empathetic fashion," which he says allows him to "see many dimensions within situations and the web of connections among multiple situations." This framework, he says, provides him with "insight and enhances my decision making process" and "the vantage point to provide people what they need to be successful."
The Leadership Wisdom of Andrew Wise
We are social creatures, thus, we accomplish more together than we can alone. Interdependency is a product of our nature. Our leaders need to create the learning conditions for interdependency to flourish, and then, spotlight synergy when it emerges. We must stay connected to the work; accomplished through purposeful conversations and measurable outcomes.
It is vision and culture that make or break you as a leader. Developing a shared vision is the hardest and most important action of the leader. It sets the framework for all strategic planning, every conversation, and every action. With a shared vision in place, I spend most of my time nurturing the culture through relationship building, motivating, modeling, inspiring, setting expectations, praising, and holding the culture collectively responsible.
Hire people who share a common vision, but may go about things differently than you. We look for people who share our vision and fit our culture. Help employees understand expectations clearly and help them avoid mistakes, but listen when they strongly disagree. It is always possible that we are the ones with the flawed intuition.
As a leader, keep the thoughts and feelings of others in mind, as well as know how your decision impacts others. Your decision will always impact the thoughts and feelings of others, and at times you will knowingly upset others by making the right decision. The key is to know who and why, so a conversation can occur so the employee still feels valued, even though they may disagree with the decision.
Encourage your team to provide straight talk within a culture of trust. Tell people when they come work for you: "I have extremely high expectations for you but I will support you in reaching those expectations. You will be expected to pull your weight and then some on this team. You will be required to give straight talk to your team and you need to be able to receive straight talk in a non-defensive manner. You will have every opportunity to grow and advance in this organization."
Listen, not only to words, but beyond the words. Get to know your people and show them you care. Model high expectations and a strong work ethic. Ensure your words and actions match the vision. Develop relationships, build capacity, and establish trust. In many occasions, leaders are unaware they have lost connection. Keep a pulse on the culture. I am a believer in surveying your people. If you let your people provide you feedback, you will always know where you stand.
Make expectations clear and hold people accountable. It is made known that we value hard work and good attitudes and we recognize people for going above and beyond.
Employees need to know that if they are not meeting expectations, there will be a conversation with their direct supervisor regarding performance. Since we value and care for our people, these conversations should be geared to encourage the employee to reflect on why performance has been subpar, what he or she can do to get back on track, and what we can do to help get the employee on track. These conversations do not wait until an evaluation meeting. They take place as soon as the leader sees a negative trend in behavior.
How does your school system's approach to compensation differ from most public school systems? "Starting this year, our employees' earnings will be different, based on their effort and success." In most public school systems, a teacher's pay is determined by years of experience and courses completed. Each year the teacher completes, the teacher "step downs" on the schedule and they receive an increase in pay. The step down is generally the same; therefore the % increase is the same, no matter whether they have taught one year or twenty years. As a matter of fact, every teacher would receive the same increase regardless of performance. The structure described above did not match our vision for employees so we recently eliminated our salary schedule and moved to an incentive based compensation system. In our new system, teachers are rewarded for the things that we value in our school district, such as good evaluations, student growth, mentoring, coaching, targeted professional development, excellent attendance, etc. We believe that employees should be compensated based on the work that aligns to the shared vision. We value hard work and we recognize people for going above and beyond.
How is your school system's educational emphasis different from the approach of most other school systems? "We believe that soft skills are every bit as important as technical skills." We are trying to prepare students academically, but also socially, physically, emotionally, and spiritually. We believe that EQ is as important as IQ. We believe that success inside the auditorium, church, and gymnasium is important as success in Advanced Chemistry. We are trying to teach kids to master the art of learning, cycle of success, and being an outstanding citizen. My biggest concern is that too many public educational systems are focused on acquisition of content knowledge, assessed by the regurgitation of material by students, only to be forgotten after standardized test scores are published. As technology changes the workforce, we need to produce students with the human skills necessary to create conditions where technology can be maximized by humans interdependently to achieve greater good.
About Bruce Tulgan's "The Wisdom of Strong Leaders" Series Since 1993, Bruce Tulgan has worked with hundreds of thousands of leaders/managers in hundreds of organizations. Over more than two decades of research, training, and consulting, Bruce has encountered many, many truly great leaders: Strong, highly-engaged, rigorous, and steeped in proven best-practices. All of the best practices in Bruce's books and articles come from these real strong leaders in the real world. This series is a tribute to the wisdom of some of the very best of the best of those real strong leaders.
About Bruce Tulgan Bruce Tulgan is an adviser to business leaders all over the world and a sought-after keynote speaker and seminar leader. He is the founder and CEO of RainmakerThinking, Inc., a management research and training firm, as well as RainmakerThinking.Training, an online training company. Bruce is the best-selling author of numerous books including Not Everyone Gets a Trophy (Revised & Updated, 2016), Bridging the Soft Skills Gap (2015), The 27 Challenges Managers Face (2014), and It's Okay to be the Boss (Revised & Updated, 2014). He has written for the New York Times, the Harvard Business Review, HR Magazine, and Training Magazine. Bruce can be reached by e-mail at brucet@rainmakerthinking.com, you can follow him on Twitter @BruceTulgan, Facebook, LinkedIn, or visit his website www.rainmakerthinking.com.
This post was published on the now-closed HuffPost Contributor platform. Contributors control their own work and posted freely to our site. If you need to flag this entry as abusive,
send us an email
.