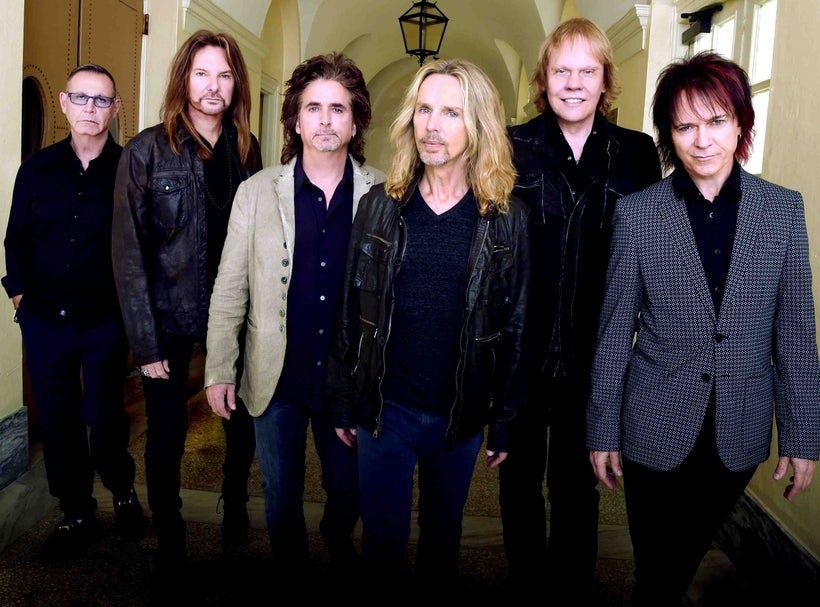 To be one's true self is the goal in life. This blog series would not exist if it weren't for a reunion with an old friend who had all the makings of a modern-day Mozart. But at a pivotal fork in the road, he chose the path behind a desk, instead of one behind a keyboard, which would've honored his gift - like Mozart did. Now, 20 years later, he's unrecognizable, this friend who once had music radiating from every cell, especially when singing in random bursts of happiness. The years have taken their toll - not just in the added 20 pounds that don't belong, but in the heaviness that comes when living someone else's life, and not one's true purpose. The life you came here to live.
As a writer, this inspired me to highlight the special souls who chose to follow their true path. The tougher path, but one that honors and expresses the powerful gift of music they've been given. To live the Mozart life. May some of their words help or inspire you to find your true calling in life.
As Styx makes its way around the East Coast this fall, fans who remember where they were when they first heard favorites like "Come Sail Away With Me," get to forget their lives for a night and become collectively transported back to another place in their minds, where the music spoke to them in their teenage hearts. And while they've played the same songs night after night, year after year, the band is in tune with what moves the audience in the power of their now timeless classics.
James "JY" Young has been with the Chicago-area band from its inception in 1972, and reflects on how he wrote notes that helped him when he first started out on this musical journey, the drive to get to where he is now, the capitalism of art, and the serendipity of finding lead singer Lawrence Gowan to replace Dennis DeYoung.
How did you know as a kid that this was your life path and your calling back in the day?
I was praised by many people for my musical talents, and I did really well at certain things in school, so I was praised by my teachers, so I knew that I had been given certain gifts. This is just what I always wanted to do. Most people don't realize just how much hard work has to be put in and how you have to eat, sleep, and breath this the whole time. This is what I always wanted to to. I saw what my father did for a living and I knew that was what waited in store for me – the family construction business, and I was prepared to go into that if I had to, but this is what I really wanted to do. And I worked day and night. awake and asleep. I was always thinking about this the first thing when I woke up and thinking about it the last thing when I went to bed, and I wrote these notes to myself - "Aim high" and set high goals for myself, I would write them down. This was always what I wanted to do, this was not anything I had to sit around and deliberate. I saw Hendrix, I saw the Beatles - sign me up. If I can make this happen, I'm going to make this happen.
There are divine moments of serendipity, where a catalyst opens the door that help lead to the path we're meant to be on, the one where we live out the fullest expression of our true selves. What was that moment for you and how did it happen?
There's been a number of things that have occurred in my life that I would say I'm a huge believer in - you have to know when the pathway of opportunity is right in front of you, you have to be smart enough to get on that pathway and not let it pass you by. Because most people will sit in one place and wait for opportunity to somehow find its way to them, whereas I have always chosen to be a seeker of opportunity. I'll go out of my way to plant, and see if I can have interactions with people that might lead me to interactions with somebody else, because every business is a business of relationships.
I would say that Lawrence Gowan, who was the first new member in the band since Tommy (Shaw) joined, which goes back to 1975. Lawrence replaced Dennis DeYoung and we had done a show with him in Canada and he had 10,000 people on their feet, just him at a keyboard, a rather amazing entertainer. And when Dennis didn't want to leave the house in 1999 that was the guy we called. But I had no idea just how gifted he was, so I would say meeting him, getting him involved in this band, was a serendipitous thing that I certainly couldn't have planned for, nor did I see it coming, just how great a partner he could be.
How easy he is to get along with. We had Kenny Aronoff, the noted studio drummer sit in on a few shows and as we rode around in a bus with him, he's played with tons of different people and it's more about, the way he said it was – there's a lot of gifted musicians out there, but if you can't coexist with them in the 23 hours that you're off the stage everyday, if that's uncomfortable or doesn't fit, a touring band has to find a way for everyone to coexist, and hopefully, joyfully coexist, and Kenny Aronoff just kind of said, "It's more about the hang, than it is about the time on stage and then who you're going to bring into your organization." And Lawrence Gowan is just the most amazing, he was born in Glasgow, brought up in Canada, but he's got this Scottish Irish twinkle in his eye every morning when he wakes up and he's a cheerful human being who is very entertaining and very clever.
As much as I refer to myself as a pragmatic pessimist. (laughs) Prepare for worse but hope for best is my philosophy. Lawrence is beyond whatever I've ever imagined in terms of as someone who can coexist on a bus, we coexist now for 17 plus years in a live concert setting and through all the travails and the ups and downs that take place, and we've lost a lot of people around us die this year, and to live through all these life processes, he's just been an incredibly wonderful human being, as well talented beyond my imagination.
Unlike any time in history, we're in an overwhelming digital era. There is so much detritus, noise and schadenfreude. How do you find quiet in this era, what do you do to connect with your Higher Self, your true self?
I live in a very tranquil spot, My wife and I did move to Los Angeles for a period of time in the mid '80s. We moved back to Chicago and we just live in a very tranquil old house that was built in 1871 that an uncle of mine owned before me and has been in the Young family for 50 years. It's just in a peaceful little suburb on the outskirts of Chicago. I have a tranquil home life. Been married to the same woman since 1972 and we're clearly meant to be together in so many ways, and she was the supporter and she's one of the main reasons for my success.
What do you do to help pick yourself up when you're feeling down and stay the course?
Just being on stage with Styx is the thing that cleanses all the clutter out of my brain and brings me back in focus to, "I'm doing something that I love to do, that I started out doing and I've achieved." There are people that have come to me and said, "You guys are the best band in the world." An ex-wife of a former record company president said to me, "I've seen you, I've seen the Police, Sting, the Rolling Stones, Paul McCartney, and the best show I saw last year was Styx." It's personal taste. But I've had a thousand people tell me that.
It must be gratifying and fulfilling to hear that.
The goal I set out for when I was 15 years old and I'm going to be 67 years old in a couple of months, I've achieved the goal that I set out. And I also believed that I would succeed without Dennis DeYoung and that was a never a goal, but I never doubted. Others around me doubted that it would happen, but I stood fast with my vision of what this band could be without him. I'm living my dream. Even though I'm at a Holiday Inn Select in Poughkeepsie, New York, I'm living my dream. (laughs)
It's been a tough year for music, losing its own. What are your thoughts on time, how it seems to go by faster each year. Perhaps it's made you reflect on what you want to do in the time we're given?
I have really decided that every day could be my last day, and everyday could be anybody else's last day. My philosophy is live each day to its fullest, find the joy in each day, and celebrate that to the highest. One foot in front of the other.
How do you find inspiration for the music? Is there somewhere deep within that you know where the inspiration comes from?
I tend to be someone that just sits around and noodles on a guitar. I want to find a guitar riff that's kind of catchy. And part of that comes from, I've always been the rock guy that wishes he was in Deep Purple or AC/DC, but the irony was when I got together with the Dennis De Young and the Panozzo brothers in the early '70s, we were doing a bunch of originals but we weren't getting hired to play for pay, because most of the work back then when we were younger were for school dances or get togethers where they wanted to hear popular music of the day, which means Top 40 radio as opposed to cutting edge psychedelic, which I was into. I saw Hendrix play live five times. When I got together with Dennis and the Panozzo brothers, they were about playing popular music and I've never been a mainstream writer, so the lyrical inspirations for me, I was looking for the offbeat and the quirky, and maybe the existential.
You have some of the more rock songs on Styx, do you feel some of your best songs were written in such an easy way, when you're most connected to your true self, your Higher Self?
A song like "Snowblind , it wound up being a co-write, but that came pretty quickly and "Miss America" that came pretty quickly. The first song ever to get on the charts, I wrote all the music for and half the lyrics and was the lead singer on half of it, was a song called "Best Thing" on our first album in 1972, and that one came up pretty quickly. I don't consider myself a great lyricist. Lyrics are something I really have to work at, that I generally like to collaborate with other people on. I'm not somebody that writes complete songs by myself. I'm a collaborative artist.
In my mind the thing that's most important about a rock song is the attitude that the music sets, but also how does the lyrical concept go with that. In the song "Rockin' the Paradise" from the "Paradise Theatre" album just to give an example, Dennis DeYoung was saying, "At some point we should write a song called 'Rockin' the Paradise.'" I can tell you exactly where I was when I started playing the guitar riff and I said, "Well this would be perfect for 'Rockin' the Paradise.'" And then I had a little riff I lifted from something by listening to by someone else, but it was different than it, but it resonates with that. The parts that I wrote for that song, my parts came within 20 minutes. We wrote the music for the verse and Dennis wrote the lyrics for the rest of the song. I was into jazz fusion at the time.
So something from jazz fusion inspired the riff?
Later on I did a rock record with Jan Hammer, who's probably the most gifted jazz fusion keyboardist on the planet. But, I looked outside of rock music for musical inspiration, so there was a complex musical line that I simplified and I changed it around a little bit, but it was an ascending thing (sings out the riff). It was inspired by what I heard someone play, it wasn't a direct lift.
Going back to Jimi Hendrix, you saw him five times, did it make you want to be a musician?
(laughs) I wanted to be that starting at age 14 or 15. I set my sights on that. I was in a band with my brother at the time and we took third place in a Battle of the Bands thing. We wound up going with this group of talented young people assembled by these well to do, rich folks from Chicago and we played in Montreal when I was 17 and my brother was 16. Then we went and played in England and then in Holland. I got a little chance to see a little bit of the world and that was our musicianship that got us there. The first rock festival in the state of Illinois was a year after Woodstock, and the band I had then got a standing ovation playing original music. But then that band fell apart because a couple of guys went into Jehovah's Witnesses.
When did you know you had this gift of music and how did it manifest for you? Sounds like you were doing it at age 14 and 15.
My dad is a gifted pianist, his sister was a very gifted keyboard player and everyone in my family started on piano at age 5. I played piano and clarinet. When the Beatles showed up on "Ed Sullivan," an uncle of mine bought a guitar soon after that. I never touched a guitar, but two months after the Beatles were on Sullivan, my uncle showed me this new classical guitar and I just said, "I can play this thing."
And I convinced my brother to go in and buy a guitar together and I started practicing seven hours a day with a Beatles songbook. And that was the genesis of that and we got our first pay to play for show when I was 17 and he was 16. But I had to leave my brother behind because when our band fell apart after the rock festival and a couple guys left, we couldn't put it back together and I was getting out of college and my brother was still changing majors at Northwestern, trying to figure what he was going to do and we couldn't find the right people to put the band back together as it was, so I went and joined up with what became Styx at that point.
How did you know that this is your life path, your calling?
This is not a hard decision as something to shoot for. Millions of people dream of living this existence that I live. But most of them don't understand that it's a whole lot more work than it appears to be on the surface, there's a whole lot more indignities than appear on the surface. There's a whole lot more of craziness than appears on the surface and it's like navigating a hurricane on the open seas from time to time. And if you're not hanging together, locking arms with the guy next to you, at times it's not going to keep going forward.
What's your musical process on a typical day, any practice?
We're playing songs now, (laughs) we started making records 44 and a half years ago. We signed a recording contract February 22, 1972. That's what the people want to hear at this point. So we're playing songs that I'm intimately familiar with, and every fiber of my being there's probably some portion of these songs stored in memory banks somewhere in my body. It's all second nature.
I don't bring a guitar into the hotel room. I'm busy doing other things. When we get to the halls, check sound, and if there's a lot of time and it's relaxing, with no interviews to do and no financial or business decisions I have to take part in, because I deal with that for the band, or legal decisions, so I'll go and noodle on my guitar for a couple hours. I'll do that when I get to the concert hall, but otherwise I don't spend a lot of time playing my guitar these days.
What inspired this blog series was seeing an old friend who has a special gift of music, but didn't choose that path, who, 20 years later, isn't living the life he thought he would live. People who make music and travel the world doing so are a rare example of a life where one is able to honor and channel their gift of music. What are your thoughts? Do you feel you're consciously living the life you thought you'd be living? You didn't choose the 9 to 5 path.
I pinch myself every day because I regard myself somewhat highly as a guitarist, but I'm no Eddie Valen, I'm no John McLaughlin, I'm no Jeff Beck. I do have a gift, but I think there are people are far more gifted than I am. I'm a good singer, I've got a lot business sense, and I've got some serious musical talent. To have the organization that we have, to have the amount of talent that we have, to have the ability to coexist and move forward in unison, but without an iron fist, it's just because the energy is correct and balanced in the organization.
Tommy Shaw and I call ourselves the Alpha Dog Tag Team. I said, "Tommy you're the alpha dog." He said, 'No, JY, you're the alpha dog." And I said, "Well then we have to be the Alpha Dog Tag Team." Dennis DeYoung was self appointed alpha dog, but in nature when there's a pride of lions, the head lion eventually gets replaced by another head lion. But sometimes there's two younger lions that come together as a team and get rid of him and they take over the pride. So Tommy and I, neither one of us I think is ready to lead by themselves, but together, we work together and we've been friendly rivals back in the day. He worked with Ted Nugent, I went out and worked with who I worked with on my solo career and we got back together and realized the incredible balance we have between the two of us. We don't play the same way, we don't do the same things on guitar, we don't sing the same. But we did some great work earlier in Styx that we shared a lot of mutual admiration for and the time away from one another prepared us to coexist wonderfully and lead this thing as two – as the blond leading the blond.
Life gives us catalysts, a release valve, which often is our lowest point in life, that allows us to push up to the next, hopefully better chapter. Like a desert, wilderness period in life, that helps raise our consciousness and stay true to yourself and your own path. What was that low point for you that helped you push yourself further and evolve?
I've had tons of low points. I think the lowest point for Styx was 1994. MTV was the tail that wagged the industry dog so much in the late '80s and all the hair bands, and Def Leppard and ourselves, although we weren't really making records after 1983, but when MTV decided to change to the Seattle sound and go grunge and go that way, that killed so many careers. So 1994 was a low point for me and I really believed that Styx was done, my career was over.
It didn't stop me from making a record with the solo band I had at the time, you're always hoping against hope, but the crazy thing was, then our manager came along - Charlie Brusco - and said, "There's people 20 years ago who really loved you guys and they've been out there establishing themselves and establishing families and growing up and making money, and now they want to see you guys come back together. If we do this right, we're going to put a reunion tour on and get the guys back together and in 1996 we did that. And after thinking it was all over 1994, we sold 15,000 tickets a night across North America.
What got you through that tough time just before 1996?
I just continued to put one foot in front of other, I had a solo band that was playing, "James Young Group." We started the making the record, worked on it in 1994 and 1994, released it in 1995, but I had very little hope of it succeeding, but nonetheless, there's always chance, one in a million. I just decided to keep working at it, but it seemed to me that I didn't think the band would necessarily get back together again, and then all of a sudden "Damn Yankees" lost their deal with Warner Bros and Tommy was thinking about it, and brought Charlie Brusco in with him as a manager. He said, "I can guarantee that you guys will get paid this much money to do this," and no one had ever said that before. Charlie's managed us ever since.
I believe in doing mitzvahs, especially in the tougher times of our lives. To give back, be of service, to use our time wisely, can only help us in the end. What are your thoughts?
I agree wholeheartedly. Styx has a charitable arm called "Rock to the Rescue." After 9/11, we put on a concert and we wound up ourselves collectively with a number of other bands, giving half a million dollars to the widows of the Port Authority Police Fund and we presented that at Ground Zero about a month after it happened. And we raise money for all kinds of different causes and donate hundreds of thousands of dollars a year that we raise just auctioning off autographed guitars at our concerts.
What advice do you have for people who have the gift of music, but don't know how to start channeling it, to develop that gift and bring it out?
My biggest advice is you want to succeed in a business where everyone else wants to succeed. It's an incredibly difficult thing. I don't care how talented you are, you have to be driven, find your own pathway of opportunity, because it may not exist. I've had people say, "My kid just graduated from Berklee" and they said all these great things about them. I said, "Are they getting paid for their music?" "Well, not right yet." I said, 'Well, if you're not getting paid, you're not a professional." I've had to basically compromise my purist standards to get together with Dennis DeYoung and the Panozzo brothers who were playing the popular music of the day, and go away from this cutting edge originality that I was clinging to if I expect to make a living at this. And everything ebbs and flows, but a career is something where you make money from it. So it sounds very capitalistic but you can be a purist and you can go play your music all day long, but if you can't feed your family that's not going to be a satisfying ride. The problem is, selling records and playing concerts - that's the commerce of art. I'm not a pure artist, someone who just sits around and creates and will wait for their stuff to be discovered after they die. I wanted to be known now, so there's a bit of a fame whore in me, and maybe that's what it takes.
This post was published on the now-closed HuffPost Contributor platform. Contributors control their own work and posted freely to our site. If you need to flag this entry as abusive,
send us an email
.