Saturdays used to mean syndication. Before streaming video made every show--present or past--available at the tip of our typing fingertips, mankind lived in a twilight zone world called "watching what's on." Ask a friend in 2007 if she watched "Big Bang Theory," and she'd say, "I will if it's on." Simply being "on" was the reason many new shows were discovered, and network ratings depended on it. Even though the way we watch has changed, this dependence has not. Why did ABC premiere new show "Notorious" in "Scandal"'s timeslot? Because they're hoping "Grey's Anatomy" folks will stick around and "How to Get Away with Murder" fans will tune in early.
Yes, broadcast television is, in its own way, still stuck in the land of "because it's on," lingering in the haze of linear programming like a hangover on Saturday morning. "Because it's on" was why we got stuck watching "Brothers and Sisters" a second time, how newer "Grey's" fans got caught up on early seasons. No, even though it's now more than Saturday filler, rewatching older shows is more popular than ever. But speaking as someone who doesn't own a tv anymore, I no longer watch "what's on." I watch what Hulu tells me to. I watch what I think to search for. And I watch what I remember to be good.
This era of recommendation engines and viewing on-demand is very different from the days of sitting through "Stargate: SG-1" just to cut the boredom. Last year, there were 409 original, scripted series airing for the first time via broadcast, cable, and streaming. That's scripted, people. "The Bachelor" is not scripted. "The Amazing Race" is not scripted. So when you add in reality programs, talk shows, and the like, to quote FX CEO John Landgraf, that's "simply too much television."
Many others call this the golden age. The preponderance of programs proliferating across your screen means no one ever has to watch anything just because it's on any more. Everything is on! To those in the golden age camp, this means freedom. It means the freedom to tell more stories, to--as Lionsgate Television President Sandra Stern puts it--"open the doors to talent who were not working in TV five years ago."
So what about the stories already told? Art is not made in a void. Art is made by the world for the world, to be shared with the world. If Ms Stern were to ask her new creators, I'm sure they'd say they're grateful to Lionsgate not for the opportunity to tell a story, but for that story's being heard. After all, artists are quite capable of telling stories on our own. Distribution is what we need help with.
If you were to watch every video posted on YouTube right now, it would take 28,539 years. From 2009 to 2015, basic cable has seen a 174% increase in the number of scripted programs. For premium cable, that's a 76% growth figure and for broadcast television it's 20%. These numbers are not receding any time soon, with video-on-demand (VOD) services like Stream Now popping up, as CEO Ron Valderrama puts it, to "break down the barriers in Hollywood" that keep certain shows off-air.
So how will the old stories survive? Does a show like "Dallas" still stand a chance? In 1980, the entire world wanted to know who shot JR. In 8 years, will anyone even know who JR is? If they don't, does it matter?
Yes. If we lose our older stories, if we do not remember the stories already out there, we are doomed to repeat these stories forever. William Foster Harris fans know there are only three stories, after all: man vs man, man vs himself, man vs the environment.
Environment is now filling our screens with more stories than man will ever have time to see.
So why watch the old programs? Going back to Stream Now, it's giving you one new reason to watch shows like "The Beverly Hillbillies": Maybe you want Granny's shirt. The video-on-demand (VOD) provider has recently integrated TVRunway. A visual search engine, TVRunway lets you interact with any women's clothing worn in a program, no matter when it originally ran. Computer vision identifies the item then comparative algorithms find its closest match from 300+ retailers' current inventories.
Click on Granny and you'll see her basic white button-up has modern matches at Saks Fifth Avenue, Club Monaco, and Nordstrom.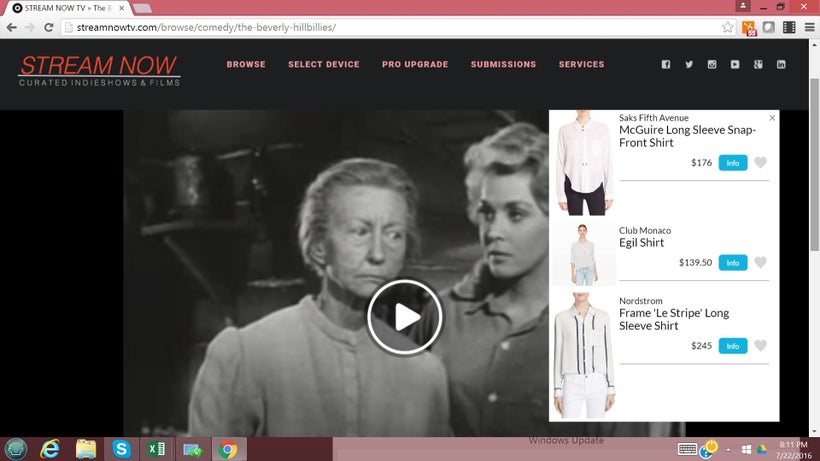 If you think about it, it's really quite incredible that you can click on a shirt in a show from 1962 and, in 13 seconds or less, a visual search engine will tell you where to buy it today. Or is it?
If a family's story ever stemmed from man's environmental conflict, it's the Beverly Hillbillies'. A rich city prospector finds oil in a poor mountaineer's backyard. Next thing you know, the family is living in another state, another socioeconomic condition, another life. Be it Beverly then or America now, as people we continue to find ourselves in a world full of change where we don't understand everyone in it and they don't all understand us.
If clicking on Granny's top to see that look still available today teaches us anything, it's the power of story. Yes, there's still something to learn from these older shows. And in the absence of syndicated Saturdays, if a search engine helps us sort through the noise to find that, so be it.
This post was published on the now-closed HuffPost Contributor platform. Contributors control their own work and posted freely to our site. If you need to flag this entry as abusive,
send us an email
.