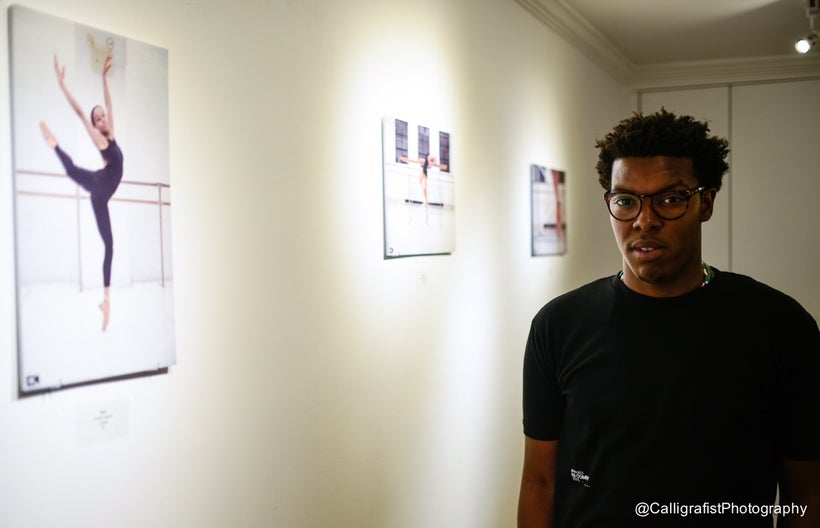 On the first Saturday of the Fall, Harlem gallery La'maision d'Art filled with a mellow buzz that's conjured when subculture exclusivity and New York City cool kids collide. The room was lowly lit with emphasis only on the photographs decorating the wall. People sauntered in and out of the space into the outdoor garden celebrating the artist's work over wine with a fine tuned playlist setting the mood in the background.
"It tells a story beginning with the dancer, it celebrates the dancer in her element and then it gets into the different awkward spaces" Chuck Marcus, photographer and creator of the "Awkward Spaces" explains of his first ever photography showcase.
Compelled by his own background in dance and passion for the art, Marcus found himself at an Alvin Ailey show this past winter enjoying a performance but rather than seeing a complete scene, he imagined each dancer's motion as an individual still photograph frame. In that moment the concept for "Awkward Spaces" was born.
"I knew I wanted to shoot dancers, I just didn't know how. When I shot this one [points] which was at the supermarket, that's when we came up with the idea of shooting in awkward spaces," the photographer recalls.
He commenced photographing trained dancers in their natural environment, the dance studio, and then ventured out into unexpected territory such as grocery stores, laundromats, railroad tracks and the library. Along the way he learned how to be patient in the pursuit of the perfect shot, not wastefully snapping away but instead allowing the vision to manifest.
In the thick of the crowd of culture-seekers was dancer, Tiffany Mellard with her girlfriend Sashawna Donaldson, also a dancer and designer gazing at the photos, laughing and exchanging thoughts.
"I grew up dancing, I studied classical dance and all forms of art. I think being a little black girl in the arts it was always so separate socially. So I think that events like this help bridge them together and we get a collective where it's like a social event and it's catered to the arts just to bring awareness to those that aren't familiar," shares Sashawna.
Tiffany adds, "It's especially great to see dancers of color presented in this capacity because a lot of times when you see dancers portrayed in media they are of fairer skin or they have a certain body type and a lot of times dancers of color are excluded from that and as a dancer myself it's really refreshing to see dance in a new angle in an unconventional setting with unconventional looks as well. It's very inspiring."
It's not by chance that this exhibit was on display for one day only in the artist's hometown, he understands that breaking into this industry by building interest and allure is a must.
Marcus smiles; admiring his own work on the walls. "I'm new, but I'm great. I'm excited to be bringing more. Just know there's more coming."
This post was published on the now-closed HuffPost Contributor platform. Contributors control their own work and posted freely to our site. If you need to flag this entry as abusive,
send us an email
.