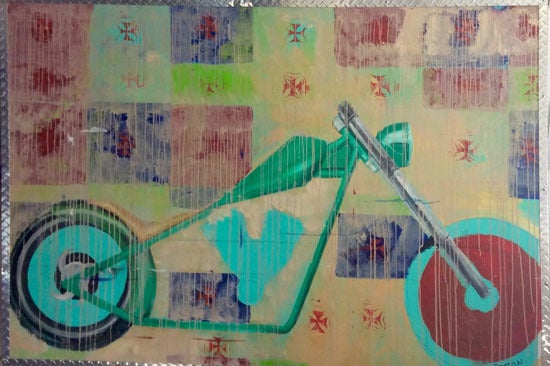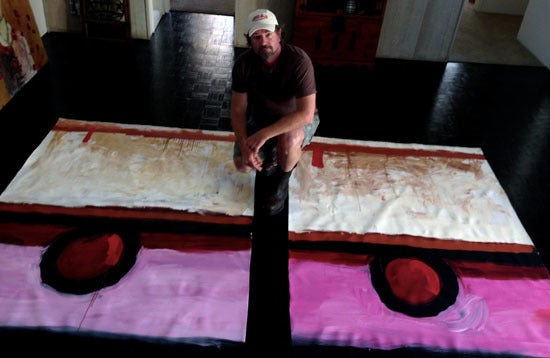 "I love to stand before a large blank white canvas and contemplate what it could be with total commitment and vigor, said artist Charlie Patton. "No Fear…this is how I approach a canvas." He said he believes the number one rule in art is…there are no rules. "I look for mistakes sometimes that are deep seated statements of my real inner self, this is originality and real thought that paintings can use to tell stories with."
On Sunday, October 23rd, Patton will be featured in a solo exhibition entitled "Visceral" at Upper West restaurant. The Santa Monica restaurant has been hosting rotating art exhibition with artist reception since it first opened.
Patton has been working in various art forms for over twenty-four years. In addition to being a traditional painter his work includes various mediums such as sculpture, photography, mixed medium, photo realism, furniture design, construction, murals etc. He is also a curator. Patton organized a group show at the Queen Mary in Long Beach. Art was exhibited throughout the large vessel and its boiler rooms and cabins amounting to over fifty thousand square feet were utilized as art gallery space.
The artist said he felt "Visceral" was a perfect title for the exhibition, since he paints with an intuitive visceral approach to subject matter, style, composition and medium. For this exhibition, he will show work from multiple series. "The motorcycle paintings where done a few years ago when I had a large art show on the queen Marry in Long Beach," said Patton. "The inspiration behind that was the bike builders who create one of a kind bikes that are master designed like art."
Working on several paintings at once, he chooses to use acrylic more often than oil…"Since it allows quickness in drying and allows him to be less concerned with organizing the painting and to make visceral decision on color, and application. Oil has a different end result that I prefer but it also needs a lot of time and thought in preparing for the painting process."
He went on to say that painting can be meditative, and that when he is working on a painting, or any type of art, one of the most important things about creating it is that it allows him to transform his perspective into a relaxed frame of mind.
He has attended several art openings at Upper West Restaurant and said the space is perfect for his work and he is looking forward to the opening. He added that the food is also some of the best that he has had…his favorite dish being the short rib.
On Sunday, October 23rd, enjoy the opening reception of "Visceral" from 4:00 p.m. – 7:00 p.m. at the Upper West located at 3321 Pico Boulevard, Santa Monica 90404. Call the restaurant for more details at (310)586-1111. Artist Charlie Patton will be in attendance. http://www.theupperwest.com/ For additional information about the artist visit https://www.facebook.com/cpattonart/
This post was published on the now-closed HuffPost Contributor platform. Contributors control their own work and posted freely to our site. If you need to flag this entry as abusive,
send us an email
.