A former Los Angeles-based music and English teacher, Metz has toured with multiple bands on multiple instruments, opening for the likes of Willie Nelson, Leon Russell, and Kris Kristofferson in venues ranging all the way up to the Walt Disney Concert Hall. Now Metz, an MFA recipient from the University of Chicago, is striking out on his own to bring his personal mix of pop-rock and nostalgic piano jazz to the musical masses.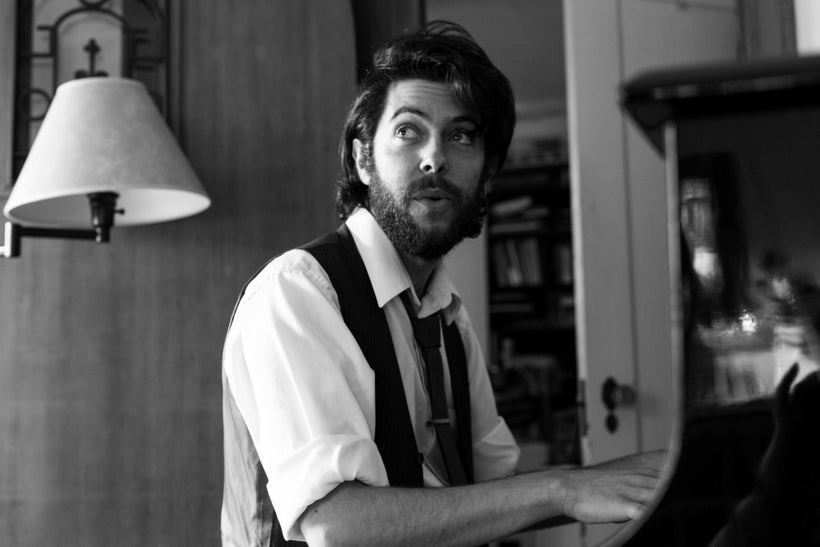 Payphone is a really good album. So good, in fact, that I stopped it during track five, "Jericho," then again at track seven and again at eleven, to Google Metz's song lyrics and make sure he wasn't just covering Billy Joel. Yeah. His songwriting is so strong I thought it was straight-up Billy Joel.
Some of Metz's most interesting musical and lyrical turns throughout the album are reminiscent of two more recent piano playing-peers, Rufus Wainwright and Ben Folds, pairing the bright sounds of piano keys with blunt and biting imagery. Payphone's lead single, "Interesting People," featured above, gives a taste of Metz's ability to dance on the line of light and dark in a way that makes big band sounds seem like something Larry David would want to sing. It's not your typical Harry Connick Jr.-esque songwriting, it's a nostalgic sound with an edge—it feels fresh. And it's where Metz might find his greatest success in the future.
A few other tunes on Payphone, like the title track, featured below, land close to the Avett Brothers' sweet spot of memorable folk harmonies matched with 21st century symbolism. The sound is not entirely different from what Metz accomplishes on piano, and it showcases his wide range of musical capability. What listeners might need from Metz next, however, is for him to do is own thing better than anyone else.
OCT 21 Album Release at Underground Wonder Bar! Chicago, IL
OCT 22 Angelo's Piano Lounge Milwaukee, WI
OCT 28 Angelo's Piano Lounge Milwaukee, WI
NOV 6 Angelo's Piano Lounge Milwaukee, WI
This post was published on the now-closed HuffPost Contributor platform. Contributors control their own work and posted freely to our site. If you need to flag this entry as abusive,
send us an email
.