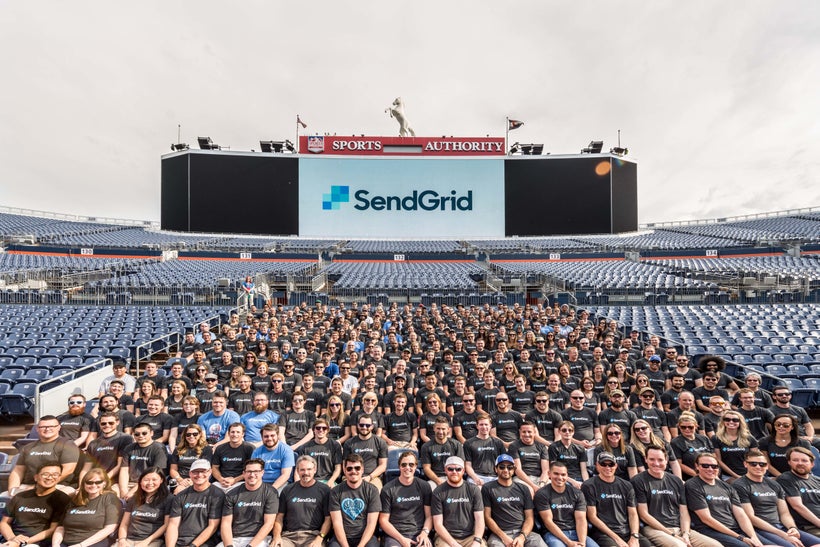 With the NFL season underway, it's a good time to think about what makes a great team. As you've probably noticed, the best teams aren't born. They're made — and the game of football provides an excellent case-in-point. The strongest football teams all share three things in common: prized uniforms, intentional recruitment, and shared values. If you want your employees to be stronger as a team, try thinking about recruitment and management the way a world-class football coach would.
Lesson #1: Give them a uniform.
The greatest sports teams are imbued with a sense of magic and invincibility — and the team uniforms embody that. The jerseys themselves become revered items, coveted by fans and cursed by rivals. At the company where I work, the most critical decision we make is determining who gets the next branded hoodie. Sure, we give away thousands of t-shirts every year at trade shows and events but only our employees get a hoodie — and we make sure every new hire understands that. Whenever a new position opens up we assign a group of interviewers called "protectors of the hoodie" who are steeped in our culture and expected to help raise the hoodie bar. The result is new hires who understand that they are becoming part of something special therefore, when they wear their hoodie they wear it with pride.
Lesson #2: Turn company values into team values.
The owners of NFL teams don't take all the glory for themselves when the team wins, they allow the team to bask in the glory of the win — and they never forget that their own success depends upon the cohesion, the culture, and the happiness of the team. When you're thinking about business values, make sure those values support and embody a sense of teamwork. We achieve a high level of teamwork at our company by developing what we call the Four H Legacy: Honest, Happy, Humble and Hungry. We are honest, we act with integrity, and we're transparent with ourselves and each other. We stay happy at work by bringing a constructive attitude to everything we do. We are humble, exhibiting a customer-first mindset, always learning from our colleagues, partners, and customers. We are hungry, we have high expectations, and we expect high performance. These four cultural attributes ensure that our company values and our team values are always in sync.
Lesson #3: Hire like you're drafting for the NFL.
Just like building a winning football team, building a great company involves the careful, proactive selection of new additions. Ask yourself, are the best candidates finding you or are you going out and finding the best candidates? Most of the time, startups or scaling businesses hire the best candidates who found them — and they end up with an underperforming team. It's crucial to hire employees that raise the bar, not just meet it. Identify and contact prospects that have the skills you need to help build a strong team and make the recruiting process as quick and painless as possible. Speed in decision-making is a competitive differentiator in the battle for talent. Our team aspires to provide "yes/no" calls within 24 hours of the last interview. We also require interview teams to reflect the company's diversity, especially for engineering positions. The point of all this is to create an environment in which the candidates feel a sense of respect and trust from the very beginning, so that when they do join the team, they are on a strong footing from the get go.
A lot of companies say their employees are a team but they don't act like a team and they certainly don't win like one either. My advice to business leaders who want to improve is this is to take some time this football season to think about how the winning teams act, both on and off the field, and find ways to translate what you see on Monday nights into a Tuesday morning game plan at your office. Then sit back and watch the magic happen.
This post was published on the now-closed HuffPost Contributor platform. Contributors control their own work and posted freely to our site. If you need to flag this entry as abusive,
send us an email
.