"The Check's No Longer in the Mail Study," which surveyed entrepreneurs and finance professionals in companies with annual revenues ranging from less than $5 million to more than $500 million.  The survey, fielded to nearly 3,000 U.S.-based businesses from September 29 to October 7, 2016, discovered electronic payments is the preferred method of payment by a majority of professionals (51.6 percent) and is close to replacing paper checks as the number one method of payment (paper at 37 percent versus electronic at 35 percent) for businesses—highlighting a migration that is helping to solve age-old problems with using antiquated payment solutions.
Nearly three out of four executives have embraced some form of electronic payments.  Nearly one in three (30 percent) say they have moved to both electronic payments and electronic invoicing.  Over a quarter (26.9 percent) have simply moved to electronic payments.  Meanwhile, 36 percent of entrepreneurs admit to being in planning stages of implementing electronic payments.  Only a small percentage (6.57 percent) said they would never move to electronic payments.
Benefit to Electronic Transactions
An overwhelming majority of executives (55.2 percent) said electronic payments gave them more confidence in their job performance (33.7 percent), in other vendors (10.1 percent), in hiring (2 percent), and in purchasing decisions (10.1 percent).  The most common reason for moving to electronic payments for a majority of executives (64 percent) is that it makes bill payment quicker and more efficient.  That was followed by 24/7 access to payment information (16.4 percent).  Less than five percent of entrepreneurs used electronic payments for environmental reasons. 
Bank Account Connected to Payables and Receivables: A Pipe Dream?
A majority of entrepreneurs (60 percent) admitted that banks could lure them away with offers on electronic payments and invoicing.  For example, one in three executives (34.8 percent) said they would consider opening a new bank account if it included the ability to send and receive electronic payments.  In addition, 80 percent of those surveyed agreed that integrating their bank accounts with invoicing and payments would give them better cash flow management. Electronic invoicing, meanwhile, was a lure for 15 percent.  Nearly half (40 percent) expected to pay nothing extra for an electronic invoicing and payments service.  Over a quarter (27.2 percent) expected to pay per transaction with no monthly fee, while 13 percent expected to pay between $1 and $9 monthly for unlimited electronic invoicing and payments.  Almost ten percent of entrepreneurs expected to pay between $10 to $49 for unlimited electronic invoicing and payments, while nearly five percent (4.23 percent) expected to pay between $50 to $99 for unlimited electronic invoicing and payments.
Checks Still Are Being Used by 100% Surveyed
All entrepreneurs surveyed (100 percent) admitted they still write paper checks for their business, with the number one reason (41 percent) being that some suppliers don't accept electronic payments.  One in five entrepreneurs said they trusted paper checks because there are no hidden fees.  One in ten said paper checks created a better paper trail.  Other reasons for sticking to paper included ease (8 percent), floating checks when short on cash (1.8 percent) and not trusting technology (1.5 percent).
Reactions to Checks and Getting Paid
Nearly three out of four entrepreneurs (74 percent) had a gut reaction to "the check's in the mail."  The most popular sentiment when hearing that promise was the wish that they could digitally track the payment online like a FedEx package (37.6 percent), followed by the desire to call the person's bluff by requesting a check number and postage date by phone (19.4 percent).  Nearly one in five entrepreneurs (18.5 percent) admitted to asking other suppliers if they've had a similar experience; charging interest; and stopping shipment or withholding services.
Nearly three out of four entrepreneurs (74.6 percent) said there were more important things than getting paid when it comes to work.  Almost half (48 percent) cited doing a good job.  Nearly one in ten said getting training and learning (8.36 percent), getting recognition (8.06 percent), and being a good manager (8.06 percent).  A small percent (2.09 percent) said getting a promotion was more important than getting paid.
"Our survey data clearly shows that traditional invoicing—and the entire antiquated, old-school payments process—are a big pain point," said Max Eliscu, CEO of Viewpost.  "Quite simply, businesses must have greater knowledge and deeper visibility when it comes to cash flow management.  The Viewpost network and its partnerships with a growing number of the nation's largest financial institutions address these needs to enable a new era of frictionless commerce. We're empowering all firms of all sizes to take control of their cash flow destiny, freeing them to focus on serving customers, rather than chasing down invoices, bills and payments."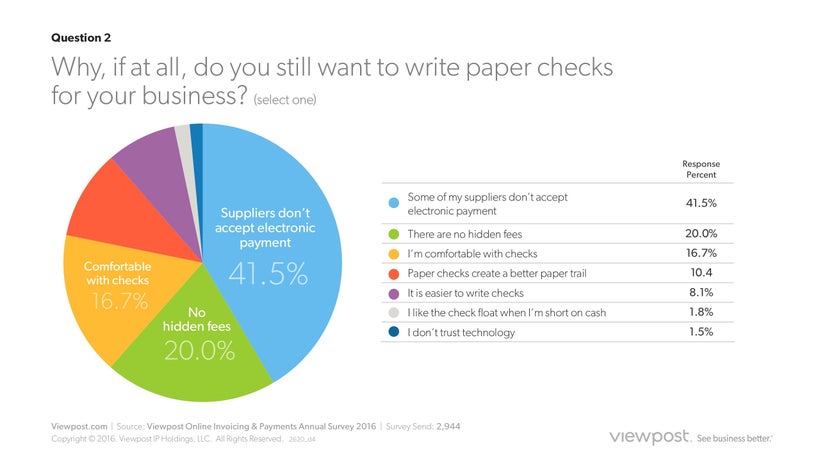 This post was published on the now-closed HuffPost Contributor platform. Contributors control their own work and posted freely to our site. If you need to flag this entry as abusive,
send us an email
.