In Los Angeles 75% of emancipated foster children experience homelessness. PodShare a startup run by Elvina Beck is trying to raise 100,000 through the My LA 2050 Grant Challenge to get 40 homeless youth off the streets. PodShare will build a pilot program for transitional housing for Homeless Youth in Hollywood to host 40 individuals selected by partner organizations, for a period of up to six months while they seek long term housing. The property will offer co-living pods for sleeping, shared co-ed amenities, a 'maker's lab' for content creation, and hospitality job training with placement to PodShare and hotel service companies. Each youth pays a nominal fee and must either have or be actively seeking a job.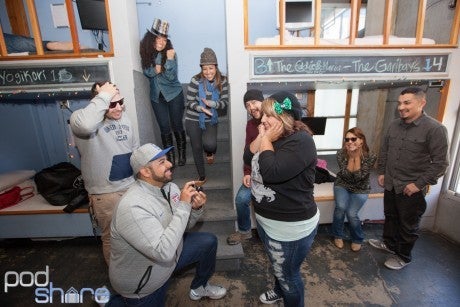 PodShare is a membership based live/work community, by purchasing a pass to one location - you have access to all PodShare locations during that duration.
We recognize the rise of the Freelance economy leading to minimalist social travel (digital nomads) and the need for affordable housing in urban cities (for travelers, temps and people moving to the city) so we custom build "pods" as a model for adaptive re-use of space (commercial, warehouse and underdeveloped neighborhoods) with basic necessities included (some food, utilities, WIFI, bikes, 24 access code)
Over the years, we have seen many Podestrians move out of the pods as new roommates at apartment buildings nearby. If we can create an open community of like-minded individuals who live/work together, then maybe we can cultivate supportive communities for homeless and recently emancipated youth.
Short term success in launching this project will involve:
- Signing a lease for a 40 pod location, and building the pods and community space.
- Seeking gift-in-kind sponsors for ongoing supplies.
— Signing partnership agreements with nonprofits regarding daily operations and staffing.
Long term success involves evaluating:
- The percentage of youth who transition from our program to longer term housing.
- The number of individuals we can help find jobs at local hotels, motels, and property management companies through our hospitality training. We will look to existing organizations like the LA Kitchen and Homeboy Industries for key metrics and milestones for job training and placement.
- Our ability to secure additional and sustainable funding to lease, equip, and staff this pilot location.
- The location's ability to foster communal living without conflict. The strength of our screening process with be tested within the first few months of the program, and we may need to reevaluate.
- Surveying clients and partners to identify which resources are most beneficial, and how we can meet not only physical needs, but also encourage creativity and growth.
This post was published on the now-closed HuffPost Contributor platform. Contributors control their own work and posted freely to our site. If you need to flag this entry as abusive,
send us an email
.