As a child growing up in India, Adarsh Alphons was expelled from school for doodling in class. His former principal told his father, "Your son is too dumb to learn." Now an adult, Alphons is on a mission to unleash creativity in kids from underprivileged backgrounds and show others the value of arts education for children.
Alphons is the creator of the non-profit ProjectArt,  a program that turns public libraries into art studios where children who don't receive art in school can have access to free weekly art classes.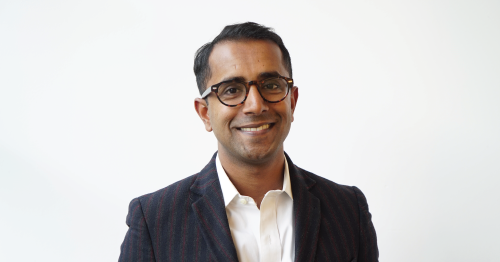 "Art saved my life," Alphons said.
Alphons was born in Kerala, India, a cultural epicenter where he first realized his love for drawing. His family then moved to the nation's capital, Delhi, where they spoke Hindi and English—languages he hadn't learned yet as they weren't native to his hometown. School officials frequently reprimanded Alphons for his doodling in class, which eventually led to his expulsion. 
His family then put him in a different school that nurtured his creative talents, leading to an increase in confidence and academic performance. He was even able to meet Nelson Mandela to present him with a drawing that he had made of the former South African president. "I learned differently," Alphons said, "I felt a sense of validation from drawing and making art."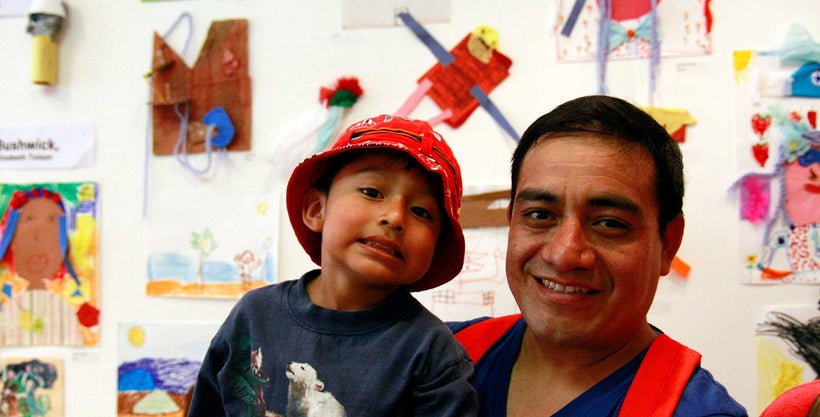 After emigrating to America in 2002, Alphons was struck by the staggering numbers of schools without classes for visual arts—many of them in low-income communities. ProjectArt was Alphons' answer to fill that void and give students the necessary tools for innovation and confidence. "There is a solution," Alphons said. "It's collaborative, cost-effective and empowers existing public infrastructure."
Alphons started ProjectArt in Harlem in 2011. Each class is a 10-week program taught by local artists who are embedded in the community. At the program's end, students exhibit their work in a local art gallery to share their work with friends, family and art connoisseurs.
"Programs like these are important," said Somali Green, 17. "I go to ProjectArt and maybe I'll become the next Picasso or the next Mozart--maybe I don't even do art, but maybe I'll be creative."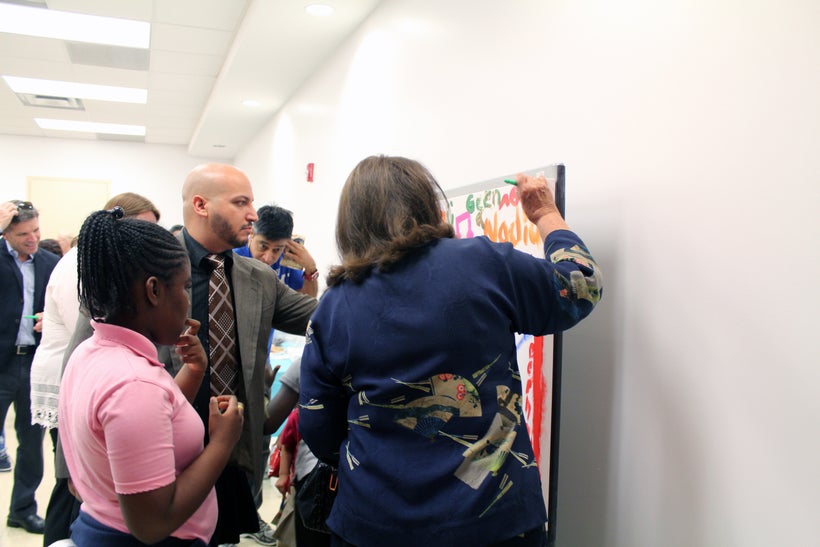 The students range in age from 4 to 17 and tend to come primarily from POC communities. "We focus on neighborhoods where there is a lack of art education," said Grace MacDonald, Head of Programs.
Although free and art are two words that don't usually appear side-by-side, Alphons and his skeleton crew have developed a minimalist framework that eliminates most fees. The classes take place in public libraries, which are free to use and accessible to diverse communities. Teachers are paid to teach classes, but the organization also makes use of volunteers from the community.
The art classes have also had a ripple of effect on children in these communities to make use of their local libraries. "For 50 percent  of the youth who attend ProjectArt programs, it's their first time engaging with their local library," Alphons said.
There's no such thing as a typical day in a ProjectArt classroom. Classes are capped at 15 students and kept small so that instructors can give individual attention to each child. The students work with different media and materials, but the emphasis isn't on creating artists.
"Our classes encourage design thinking, problem-solving skills, and asking questions rather than telling them how to create a masterwork," said McDonald.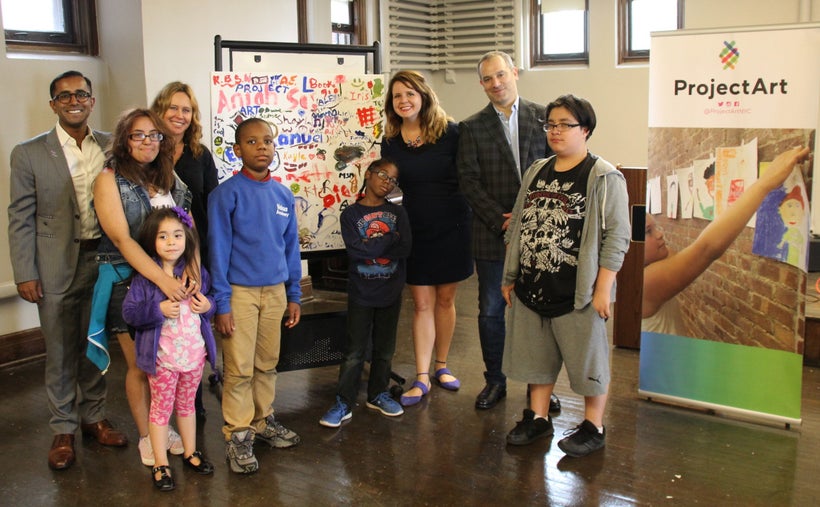 Arts programs are having a tough time as many schools focus their students learning on STEM subjects.
"This is a systemic issue that has been caused by policies that have discounted the downstream benefits of art such as creativity and thinking in non-standard ways," Alphons said. In fact, research has shown that learning art has an influence on a child's future socioeconomic status, community engagement and level of education.
In New York City, ProjectArt offers several weekly classes at 20 locations across all five boroughs throughout the year, serving up to 1000 children per week that otherwise wouldn't have art. But Alphons and his team are expanding the reach of their mission to include more arts-based initiatives.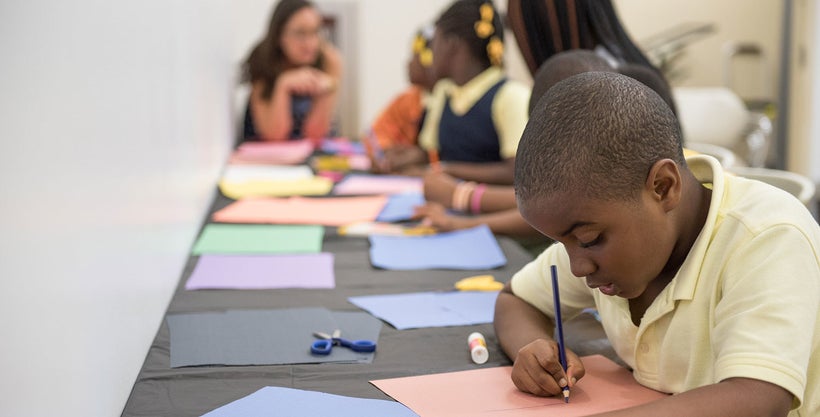 In 2015, the organization piloted a program for emerging artists to have a year-long residency at a local library in exchange for teaching ProjectArt students. This not only supports new artists but enriches the bond these instructors have with the students and the greater community.
This October, ProjectArt opened new locations in both Detroit and Miami using the same successful model from New York.
Alphons has projected new locations in three more cities—L.A., Chicago and Pittsburgh—  in the following year, and within the next 10 years hopes to serve upwards of 10,000 students weekly.
Even with all of ProjectArt's accomplishments, Alphons says his main challenge is the perception that art is nonessential. "It's extremely hard to convince people that arts are important for children," said Alphons. "It's still met with such skepticism."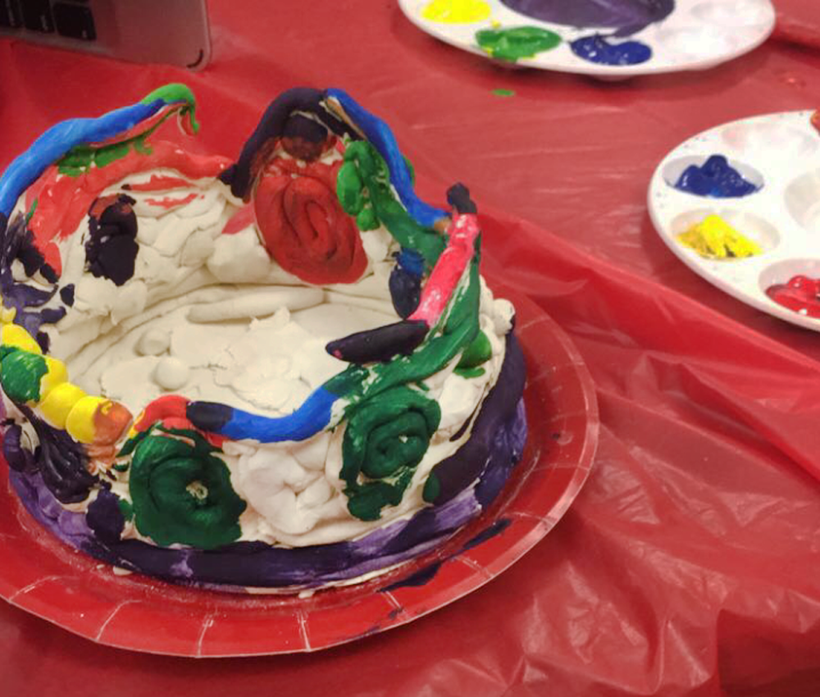 In just five years, Project art has gone serving 10 students a week to 1000. "The biggest realization is that we can replicate our work," Alphons said, "It is possible to extend our hand and touch the lives of children."
"What motivates us to do this work is the power of the mind," said MacDonald. "Art allows kids to see their value. We're giving them the opportunity to defeat things that seem impossible in life.
This post was published on the now-closed HuffPost Contributor platform. Contributors control their own work and posted freely to our site. If you need to flag this entry as abusive,
send us an email
.