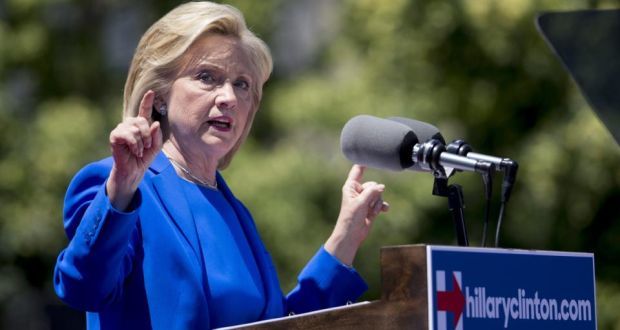 "We have to keep families together. We have to treat everyone with dignity and compassion, uphold the rule of law, and respect our heritage as a nation of immigrants striving to build a better life." -Hillary Clinton
America is a nation of values, founded on an idea - that all men and women are created equal, and that all people have rights, no matter what they look like or where they came from. Hillary believes that how we as a country treat new immigrants reflects our commitment to the values that define us as Americans. It's not about what you look like or where you were born that makes you American - it's how you live your life and what you do that defines you here in this country. That's why Hillary believes that all Americans who contribute to this country, our communities, and economy deserve a common sense immigration process, one that includes a roadmap for people who aspire to be citizens.
Americans of all political persuasions agree that our current immigration process is broken and that we need to create a system that includes a roadmap to citizenship—more than 3 in 5 Americans believe we should allow illegal immigrants to remain in the United States and become U.S. citizens if they meet certain requirements. Hillary has a long history of fighting for legislation and policies that would address our country's broken system and create a common sense immigration process. She cosponsored the DREAM Act, which would allow immigrants who came to the U.S. as children to become citizens. She has also fought continuously for comprehensive immigration reform, arguing that its passage would ensure that families could stay together: "It is time to take all the rhetoric about family values and put it into action and show that we mean what we say when we talk about putting families first."
The need for immigration reform is clear, and not only will Hillary's commonsense immigration process improve the U.S. economy, it will also bring our country closer to the core American values that define us as Americans—opportunity, equality, and respect for the dignity of all human beings.
This blog is part of a series based on the book, 52 Reasons To Vote For Hillary. In an effort to provide the facts about Hillary Clinton, her record, and her plans for America, the authors of the book have decided to publish one reason through Election Day. To find out more about the book, visit the website or buy your copy here.
This post was published on the now-closed HuffPost Contributor platform. Contributors control their own work and posted freely to our site. If you need to flag this entry as abusive,
send us an email
.