In the following side by side review of some great education options for real estate agents, we'll breakdown various aspects of each to help give you an idea of which might be right for you. Specifically, we'll focus on the Continuing Education options they provide. Keep in mind there are some great online options for getting your Real Estate license in the first place, post-licensure education, and even some courses designed to help those looking to run their own Real Estate agency or related business. For this assessment however, we'll stay focused specifically on the most common need of real estate agents, which is to fulfill their required continuing education hours every 2 years in order to maintain their license.
● Take a look at usability and ease of purchase
● Provide visual comparisons along the way
● Assess security and compatibility specifications
● Give you pricing information
● Cross compare a number of features

Bottom line, we're recommending the option that is doing things differently: Real Estate Game Works. If you look around at various CE providers, you'll find it's actually a little hard to tell them apart, that is, other than Real Estate Game Works. Very similar content wrapped in the same 'interactive' shell of multiple choice quizzes asking you to basically run out the proverbial clock on your required hours.
Real Estate Game Works offers a more engaging option with its 'Generation' game. A truly interactive experience that allows you to move through a game mimicking the experience of a real estate agent all while completing the necessary CE courses within the game. Genuinely addictive and available on all devices, there certainly isn't a more fun way to complete your CE requirements. Along with the improvements to the standard online course model, REGW also shines on some other features we dissect below such as security and speed, among others. REGW stands out in a crowded marketplace with a fresh approach we haven't seen in any other product.
The checkout experiences across the board were good, no complaints about the ease of payment and all offered the standard security considerations (see more about security later).The CE Shop integrates the ability to donate backpacks to schoolchildren into their checkout process, which is a nice touch, but they force account creation before purchase. Other than that, we really liked that REGW is using Stripe as its payment processor and that 360 Training offered an easy account creation with Social Oauth.
REGW was the clear winner in this category, posting the best overall result at an exceptional 92 on the Pingom Tools 'Performance grade' and loaded the fastest overall by over a full two seconds. We found 360 to be generally a bit more sluggish, with REGW and CE Shop moving at a consistently fast clip through all the site's pages.
Speed with regards to these courses isn't simply about how fast their websites run, though. We found that each ported the user out to a subdomain with the application or LMS (Learning Management System) running on it in order to engage with actual courses. REGW and CE Shop performed well and didn't lag when loading content. 360Training left us hanging for a bit, but did eventually load the course and was smoother from there.
We won't dive too deeply into the meat of the content here, each of our contenders meets standard required by the Washington State continuing education for real estate brokers and by and large, the courses present very similar content.
All 3 providers offer neatly packaged courses with indexes and clean tables of content. You can get an idea from these pricing and course breakdown screenshots of what is available to you: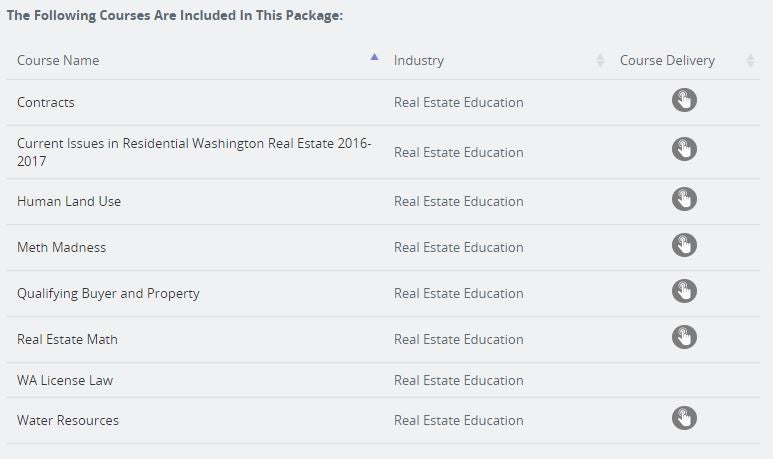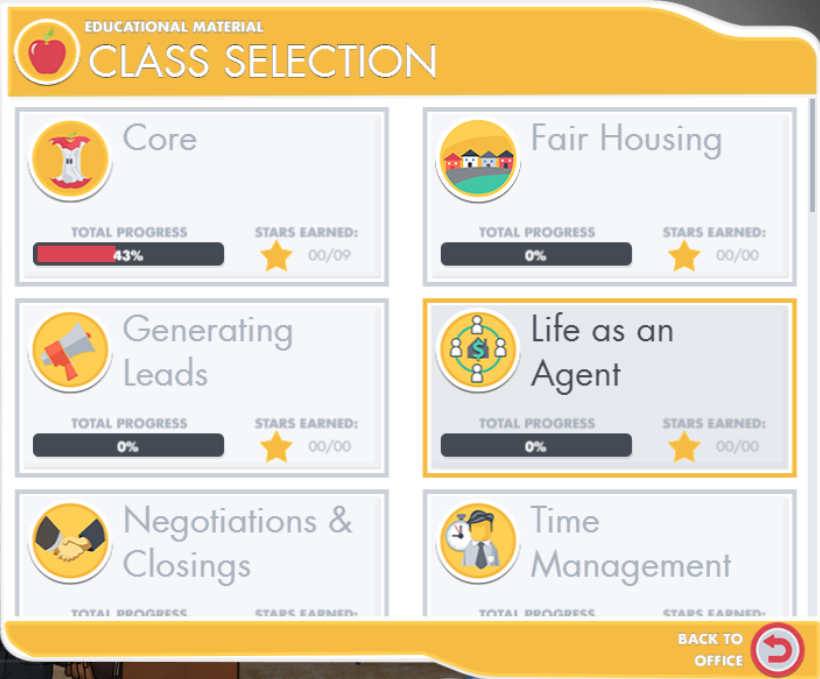 This is where some key differences start to emerge between the 3 products and how they are approaching education. REGW really blows the others out of the water with the game mechanics here. The CE Shop and 360 (along with many of the other options out there), are primarily text-based.
We've all been through online courses, they look and feel much the same. An occasional video might liven things up and a quiz might break the monotony, but for how long? If you're truly looking for a unique CE experience that will keep you engaged and is proven to be more effective in terms of retention, you'll have to look at REGW.
Here's what their site references in terms of research into gamification:
● 14% higher in skill-based knowledge assessments.
● 11% higher in terms of factual knowledge.
● 9% increase in retention rate.
Because it is so unique, we're going to highlight some of the gameplay here for you so you can get an idea of how it is different from other online courses you may have taken and what The CE Shop and 360 Training are offering in their product.
The game itself puts you in the familiar position of being a Real Estate agent and after picking an avatar, a boss introduces themselves and keeps in touch with you via text message. You start each day within the game in an office (you actually start out in a basement office, but you can work your way up to better digs by having success within the game).
During our hands on testing with REGW, we intended to spend just a few minutes to get a feel for gameplay, but the hook of selling a home took us through a few courses (to earn money) and before we knew it, we had 3 hours done toward our CE requirement.
To help you compare and contrast, here are a few screenshots behind the scenes of 360 Training and CE Shop. They are heavily text driven, provide simple audio, video, PDF, or external links as material and resources, and leverage multiple choice quizzes.
Here is a look at one of the multiple choice quizzes, you must keep taking the quiz until you get all the answers correct in order to move on. The progress indicator at the top was nice for an easy way to know if you were close to completing the section and the arrows served fine to move through the pages.
To view certain resources, you'll need to open a new tab or window. We marked the CE Shop down in usability for this decision, it would have been easier to stay in one place to consume the necessary content. This also made opening up the other resources cumbersome on a tablet and phone.
The 360 Training system was a bit more intuitive and immersive that CE Shop (though still largely text driven), it took better advantage of available screen space and didn't force you to open resources in separate windows. However, there were PDFs sourced in the lesson that needed to be downloaded and read.
360 offers quite a bit of audio as part of the courses we sampled, which was helpful in breaking up some of the monotony, but we still wish we were playing REGW's game instead.
Pricing among the three was very competitive, with the CE Shop being on the higher end. REGW includes all the necessary material and the game experience $25 less, however. As we expected, 360 being the biggest player here offered the lowest price. (Remember that while content might be similar, their experience is not tailored to that of the real estate agent as they are more of a general provider of online education for professionals. We're not sure if this matters to you, but CE Shop and REGW are designed for real estate agents, by Real Estate experts. We think that this is notable enough to bring up for your consideration here.)
Lastly, if you're choosing a provider strictly based on price, remember to ask yourself what your time is worth and what enjoying the time you have to put in anyway, is worth to you.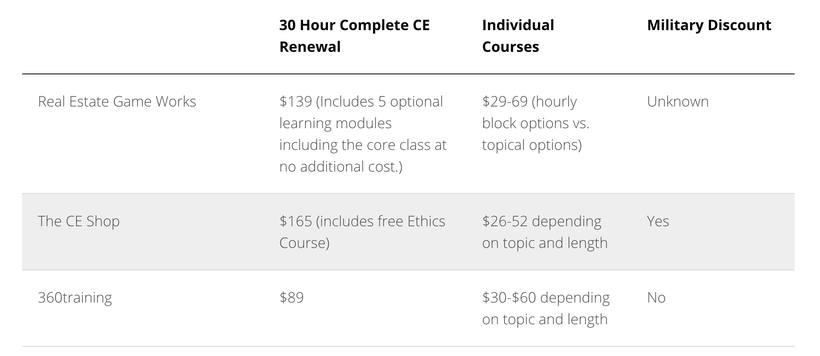 All of 3 of our competitors shine in the support department, offering a broad range of ways to get in touch and offering great coverage hours. Important note: The only site to explicitly state that full refunds are given for any unsatisfied customers was Real Estate Game Works.
We couldn't find much on security from CE Shop or 360 Training, but REGW points out that they use Stripe for secure payments. This is hugely preferable to self-built checkout systems or most other payment gateways as Stripe consistently receives the highest marks in security. It also means that REGW isn't keeping any of your credit card information on hand, which should give you some piece of mind.
Security scans of all three sites from the experts at Sucuri provided just one concerning result and that was from The CE Shop, noting that their core infrastructure is out of date. It is potentially a concern as there are security issues that were patched in the more recent versions of Drupal. It doesn't mean their site is unsafe, but it isn't as buttoned up here as we'd expect for a site potentially accepting our payments.
All 3 sites are served with SSL.
All 3 providers claim to support all major browsers and devices. The only exception is that CE Shop lists only tablets as being supported, whereas 360 and REGW both work on smaller mobile devices like Android phones and iPhones.
After a thorough of these Continuing Education providers, we recommend giving Real Estate Game Works a try. It is the only platform that stepped out of the standard online class structure to offer a more engaging experience. The makers clearly spent a lot of time thinking about how to make the experience more enjoyable than your cookie-cutter text-based offering and the extensive support for research on retention related to gamification are definitely compelling. The fact that the platform also outperforms the other (arguably more established) options, in a number of key decision areas like speed and security, is comparably priced, and works on every device--makes spending your 30 hours with REGW a no-brainer. We think with REGW's approach, it's possible to actually have a good time crossing one of those things off the list that we all usually don't terribly enjoy.
Let us know what you think in the comments and tell us what other CE providers you're a fan of.
This post was published on the now-closed HuffPost Contributor platform. Contributors control their own work and posted freely to our site. If you need to flag this entry as abusive,
send us an email
.