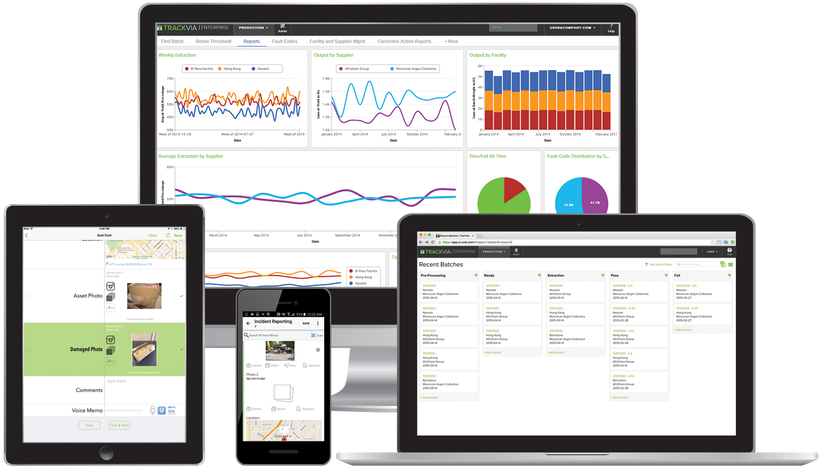 The proliferation of technology in our personal lives is changing how we expect to be able to get our work done. In addition, companies and their employees are now faced with keeping up with the pace of contemporary business, which is rapidly accelerating. In order to support their work in an increasingly complex and fast-moving corporate era, employees are demanding more web and mobile applications than ever. And they want them, and often need them, "Right now!"
Unlike in our personal lives where new applications are released daily to our smartphones, the speed of development of traditional business software is struggling to keep up with the staggering demand of the enterprise.
Organizations today rely heavily on their internal IT departments not only to develop and implement new solutions but also to manage and maintain their legacy systems. However, these are not the only tasks that IT departments must focus on, as they are also charged with other critical activities, such as network security. The rapidly increasing demand for new or improved business solutions, which sits on top of all of their other significant responsibilities, has put newfound pressure on today's IT departments. In fact, the IT backlog has increased by 29 percent in the past 18 months alone. If dealing with a growing workload alone weren't enough of a challenge, they are also facing a global shortage of traditional IT and development talent, with 88 percent of businesses citing this as a critical business challenge.
Couple the growing demand for new technology with under-resourced and understaffed IT departments, and it's easy to see why IT teams are struggling to keep pace. Applications cannot be developed quickly enough, updated often enough, or maintained well enough to deliver organizations with the tools they need.
This situation leaves employees stuck using outdated software, which fails to adapt readily to their company's unique processes and workflows of businesses or adjust to their constantly changing operational needs. Worse, employees are regularly forced to turn to spreadsheets, paper, email, and other manual tools to fill the gaps and to manage their departments and work.
Becoming tired of using inadequate tools or frustrated by the waiting game, employees often will bypass IT by finding and using solutions on their own. According to our own TrackVia research, more than half (52%) of employees admit they use outside applications to support their work for a variety of reasons, including that they feel the tools their company provides don't meet their needs and/or that the tools are outdated.
As if the IT headaches weren't already mounting, these unsanctioned software systems, commonly referred to as "Shadow IT," leave IT teams with less control and visibility into the applications employees are using—ultimately creating an entirely new set of data management and security challenges for businesses.
So what's the solution to this growing problem?
Many organizations are turning to a new breed of technology, which leading analysts refer to as, "Low-code Application Platforms." Offspring of first generation software-as-a-service, these new technologies accelerate the time it takes to build and deploy custom software by replacing time-consuming programming with drag-and-drop mouse clicks. These new low-code platforms are akin to the early content management systems that were used to develop websites. For example, five or ten years ago, most websites were built from scratch with hand coding. Today, however, most websites are "assembled" using visual tools and features available in popular systems, like WordPress or SquareSpace.
Along the same lines, low-code solutions eliminate the need for a developer to write hundreds or even thousands of lines of code in order to create software. Instead, technical professionals can use this type of technology to quickly "assemble" an application's framework. From there, they can easily customize their app around their company's specific operational processes and employee needs. Some low-code platforms, such as TrackVia, provide built-in mobile capabilities, which allow IT personnel to configure an application once using a single codebase and then deploy it simultaneously across both desktop and mobile devices.
Demand and adoption of low-code solutions is increasing. In fact, Gartner predicts that by 2020, 75 percent of application purchases supporting digital business will belong to the "build, not buy" category. Many companies, such as DIRECTV and KS Industries, have already embraced this type of technology and utilize low-code platforms for quick development and deployment of web and mobile applications that are easily customizable to their company's current and future needs.
While new advances in technology are helping companies to reduce the amount of time it takes to develop and deliver software that works efficiently for their organization, there's no one place you can look to solve this problem. To ensure that your organization can keep up with the pace of business, a comprehensive approach is needed, and businesses should to look at a few key factors, including whether they are employing the right solutions:
Do you have the best strategies in place to attract and retain talent in your IT department?
Are your line of business leaders and IT team in alignment when it comes to the prioritization of development efforts?
Do you have a strategic plan for how your organization will leverage enterprise mobility?
Are you looking to optimize your internal processes and operations with the goal of speeding up how your company is able to provide its final product and/or services?
In today's fast paced business world, time is the most expensive and valuable resource throughout almost any organization. Slow execution alone can drive the failure of even the best-laid plans. As such, it is imperative that companies address any and all problems that are leading to slow development and to an over reliance on inefficient, inadequate software solutions.
This post was published on the now-closed HuffPost Contributor platform. Contributors control their own work and posted freely to our site. If you need to flag this entry as abusive,
send us an email
.